Colored denims are really ruling the fashion scene at this moment. Going by their popularity, it can be definitely said that they are here to stay. When it comes to trends, how can celebrities stay behind? In fact, we saw many celebs who were dressed in colored denims at the recently held 23rd Annual 'A Time for Heroes' Celebrity Picnic Benefitting the Elizabeth Glaser Pediatric AIDS Foundation in Los Angeles.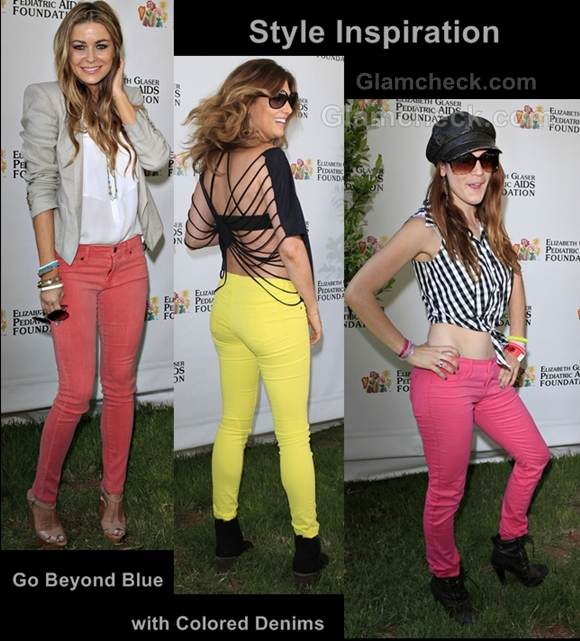 Style Inspiration: colored denims
These gorgeous ladies pulled the trend effortlessly and are our style inspiration now. So, let us take a look at how they wore their colored denims.
Carmen Electra in Peach-Pink Colored Denims
A glowing Carmen Electra was seen in a pair of eye-catching peach-pink colored denims.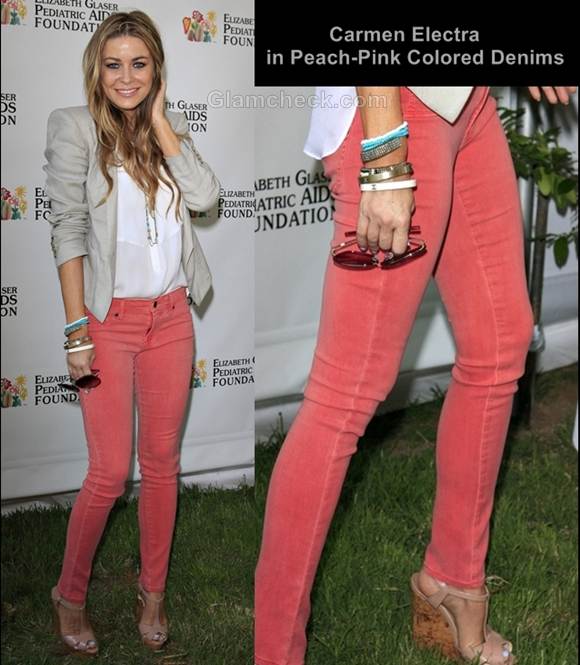 Style Inspiration: colored denims
She wore a white tunic top and a grey jacket with her denims. The sexy pair of nude wedges that she wore added oomph to the ensemble. We like the random mix of chunky bangles on her wrist – very stylish!
Daisy Fuentes in Canary Yellow Colored Denims
Daisy Fuentes turned heads at the event with the canary yellow colored denims that she wore with a string top.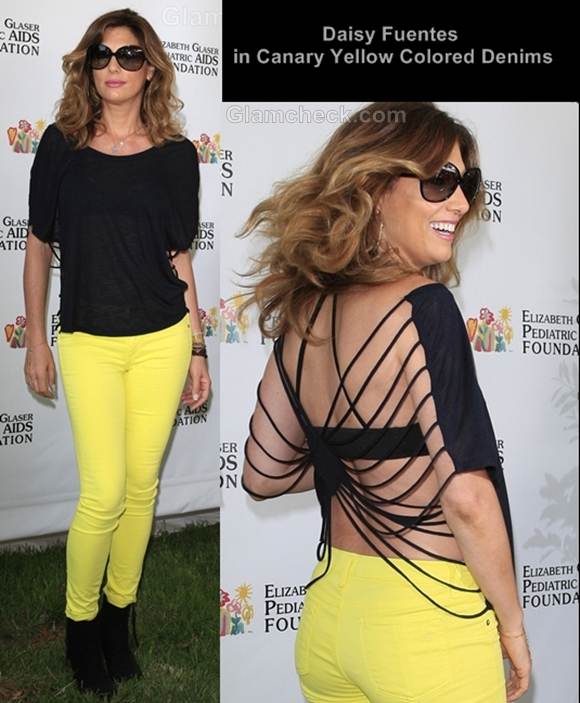 Style Inspiration: colored denims
Her look was sassy, and she really rocked in her colored denims. The black stringy top also deserves special mention because of its unique style – it definitely caught our eye.
Robin Sydney in Bright Pink Colored Denims
Robin Sydney presented a fun picture in the bright pink denims that she wore with a black and white striped tie up sleeveless shirt.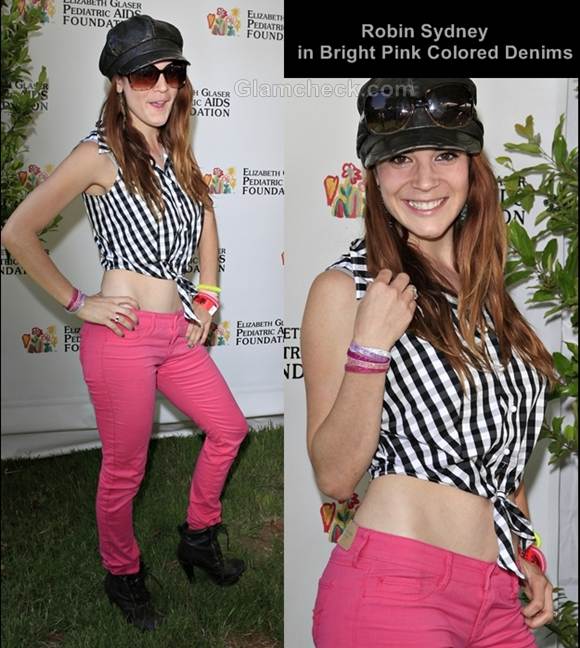 Style Inspiration: colored denims
A black leather beret and black leather booties added a biker-chic touch to her overall look.  
The ladies here carried off the trend of wearing colored denims effortlessly, and you too can carry off the look stylishly.
More Tips
Read our tips below to add more panache to this trend.
Color Block it :
Color blocking was a huge trend last year, and this year you can give a new dimension to it by amalgamating it with the trend of colored denims. The splash of colors will not only jazz up a dull surrounding but also make you feel vibrant. So, you could pair yellow denims with a turquoise blue top, or pop pink denims with a parrot green top. Don't feel shy to try out contrast combos, go ahead and play with the colors.
In fact, you could also add a belt in a contrast shade to show another interpretation of color blocking. It will definitely lend some fun to your outfit.
Don't restrict colored denims to pants only :
Broaden your colored denims to include capris, hot pants or skirts. And, if you opt for colored denim pants – there is no compulsion that they have to be skinny fit only. Play with the cuts.
Keep the color of the footwear different :
Do not match your shoes to the color of your denims, too much of a good thing can be bad!
We hope that our style tips help you to make the most of the colored denims trend this season.
Image: Joe Seer / Shutterstock.com