Of all the women based clothing that exist-the skirt remains an eternal choice. The feminine flow guided by a breezy feel, wraps a part of a women's body beautifully and the way that it does is what that makes it such a special choice. Ranging from the minis to maxis, pleated to printed, divided to flared, there is a delightfully endless variety when it comes to skirts.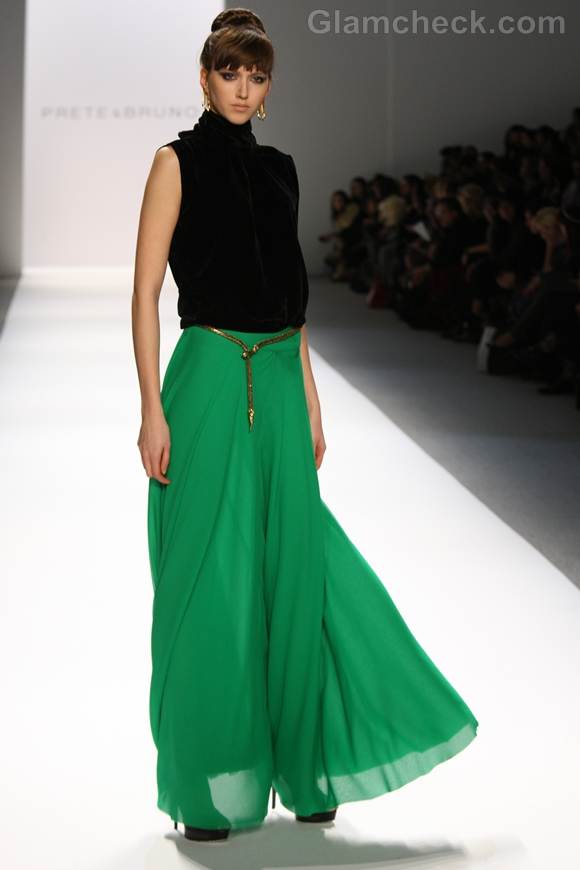 Style Pick : Fluid Maxi Skirt
The comfort and style that these reflect is unmatched. Recent fashion seasons have witnessed an immense outburst of color which has translated into a glamorous emerald green skirt with a completely fluid and a flowy character, spotted at Prete & Bruno's Fall Winter 2012 show is our style pick of the day.
Styling Options:
The Prete & Bruno show saw the skirt impeccably styled with a black high neck and a sleeveless blouse, black peep toe pumps to match and a stylish thin metallic belt which truly made a difference.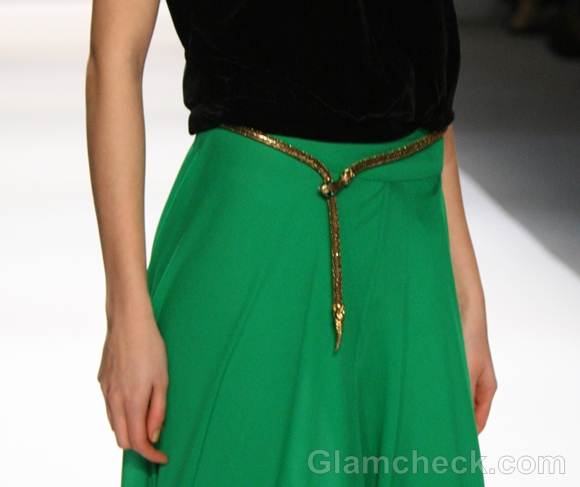 The look achieved is simple yet high on class and drips of easy sophistication and is easily achievable. The look is close to prim and proper and perfected in every which way.
However, a solid color skirt always has a potential to be styled in more ways than one. The rules remain the same for this piece too.
The trend has embedded itself so firmly in the fashion world that it pretty much has become the first fashion solution when it comes to playing with color. Thankfully, the trend is very much alive making it a trendy option even though it might be predictable by now. Color block the skirt with Blues, Tangerines, Reds & Yellows and accessorize with metallics to complete the look.
Prints will steer the skirt towards different characters and each print will do it differently. Be it the dotted delights, tropical haven or serious stripes, all will add a new dimension to the skirt and make it a styling delight. Keep the look bohemian by styling your into easy curls.
Classics always work and in this case, the classic colors like white, beige, brown and greys are the colors in point. This styling option is an extension of the Prete and Bruno Fall Winter 2012 show. Instead of Black the skirt can also be styled with all these colors effortlessly making it one versatile piece of clothing to own and cherish.
Tips & Cues: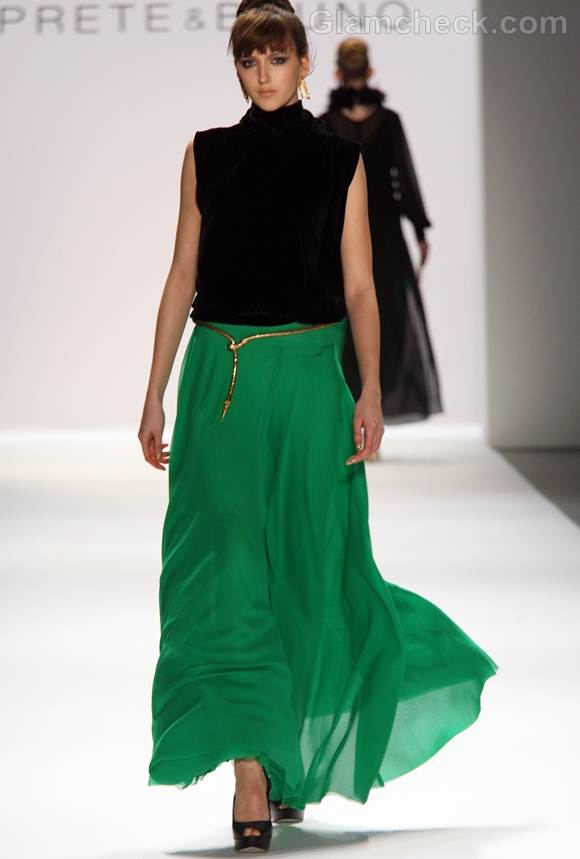 Maxi skirts always look better with a pair of heels. The posture and the added height, contribute to the aesthetics of the skirt too. Invest in some comfortable pairs that will make you last in it.
Makeup is best kept nude with smoky eyes, which lets the color of the skirt take over the garment.
The skirt has a lot of room for accessorizing. Add your additions to make the skirt your own and make your personal statement with the style pick of the day.
Image: Nata Pupo / Shutterstock.com