The occasions for wearing formal business wear after office hours could be many – be it a formal sit down dinner to discuss business, a cocktail party to celebrate the success of cinching a deal, an annual bash at Christmas and so on; appropriate dressing at these occasions not only counts, in many cases it is responsible for making often lasting impressions.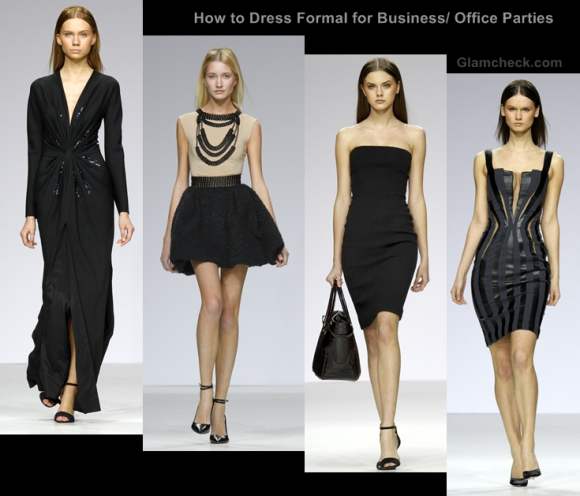 Dressing Tips : How to Dress Formal for Business / Office Parties
Valentin Yudashkin's collection in the Volvo Fashion Week earlier in April this year at Moscow Russia, surely had quite a few ideas for dressing up at office/ business parties. Inspired by the tough times the Russian society went through in 1990's, the collection is best described by how the French term it – "Aggressive Elegance" or more simply put conservative.
General tips
Dressing up for the office party, one should keep in mind that there is a certain civility & graciousness that is required and so the look should be primarily conservative. Usually, outfits which could play the dual role of strict office wear during day time and after being prepped up with some interesting accessories, for wear after office hours work well for official / business parties.
The little black dress, always a favorite with the office goers is great for day time, when teamed with a cropped neutral colored blazer. Without the blazer, the off shoulder dress is great for a business party. The straight cut and the knee length make it versatile for both occasions.
Perhaps the unsaid law for dressing up for a business party would therefore be an outfit, which is fit for the day, and prepped up with interesting accessories or additions during the night.
General tips : Makeup, Hairstyle and Accessories
The makeup and hairstyle for business parties could actually be a little more experimental. Nothing whacky still, but perhaps more bold in terms of color usage. Yudashkin's models went with the conservative classic look, a look you could team with any of your outfits at any of the occasions – nude makeup, with at best some color on the cheeks and lips and slight definition to the eyes.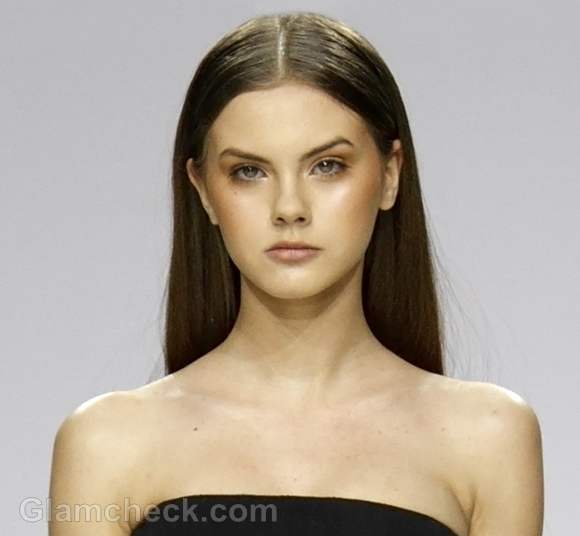 Nothing works better for long hair than, when it is left open, combed and gelled neatly with a center parting. Elaborate hair dos can be avoided and reserved for a more informal do.
In terms of accessories, large office bags prove to be a boon rather than party clutches. It is not difficult to guess why. The roominess of the large office bags ensures that you have all that you may need in case some work related discussion takes place at the business party. You could however be bolder and choose to carry smaller hand held clutches to a cocktail party or an awards party, where official discussions are not likely to happen.
Jewellery is one area, where you can decide to be bold. Where day time office jewellery tends to be usually quite minimalistic, evening parties call for more eccentricity. Statement pieces such as above necklace work wonders. Belts in antique metallic gold look classy and at the same time are considered semi formal for such parties too.
Footwear needs to be comfortable – pumps and strappy stilettos look great with almost all outfits and are stylish as well as formal. You could opt for interesting designs in flats too, if you find heels not as comfortable.
Tips for dressing up at a cocktail office party
An after office cocktail business party is usually, time for some informal bonding with office colleagues and some fun. Look for this can be bolder, yet formal. Accentuating the look with some shimmer works wonders for any outfit. You could follow the general tips on makeup, hairstyle and accessories stated above. Personally, I would make attempts to dress up in a stylish and bold, out of the mundane outfits.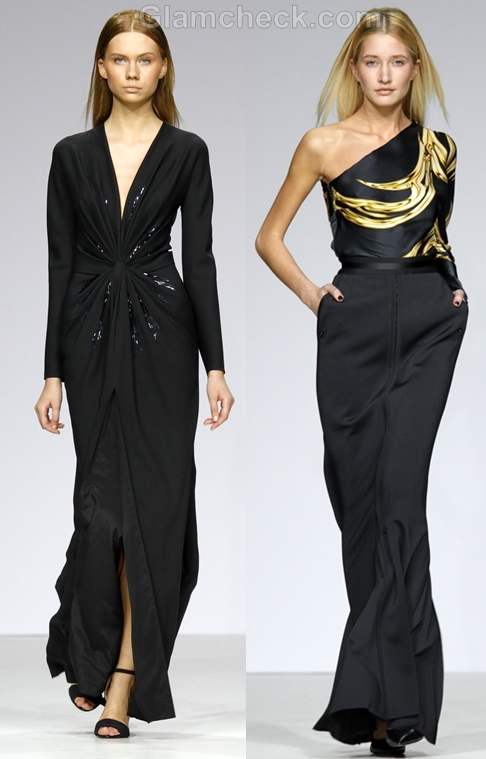 Ditch the pant suits for some your office hours. You could choose to wear a gown or a skirt at an official cocktail party, both look trendy. The floor length draped dress such as the above, will look lovely on any body type. The drape of the stretch fabric is great, it hugs the curves at the right places. The center gathers and the subtle shimmer at the waist look great and also add the funky element to the gown.
The straight line, hi-waist long skirt teamed with a chic asymmetrical top muted gold print is classy without going over the top. The deep yellow matt gold adds to the beauty of the understated elegance.
With these subtle looks opt for more color on your lips, cheeks and eyes- ditch the browns, beiges and pinks and go for corals, oranges and peaches.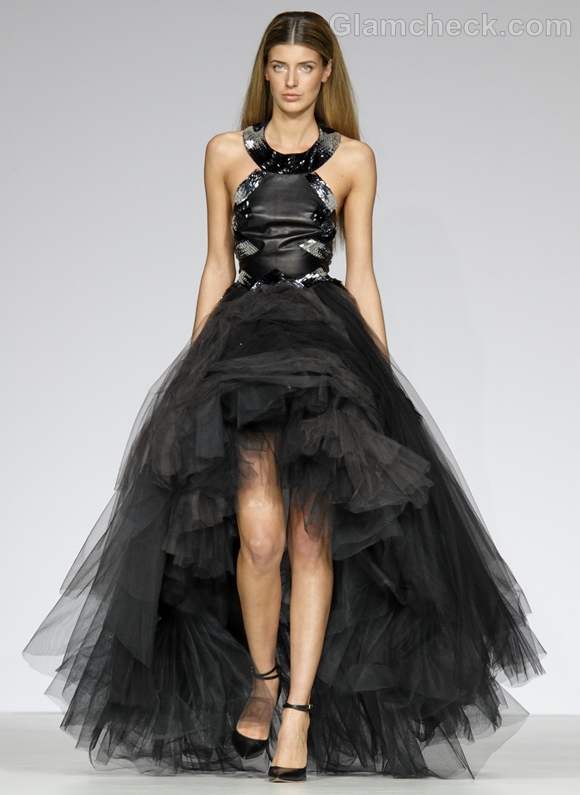 Not for the faint hearted, the black dress is a mix of net, leather and some shimmer. The asymmetrical length of the dress, the flouncy skirt and the shimmer makes it perfect for cocktail evening wear. When the dress is this bold, I would prefer to have the overall look simple – nude make up, straight, pulled back hair and the conservative pointed toe pumps. Try this one if you are the adventurous sorts and want to make a statement at your business parties!
Tips for dressing up for sit down formal dinners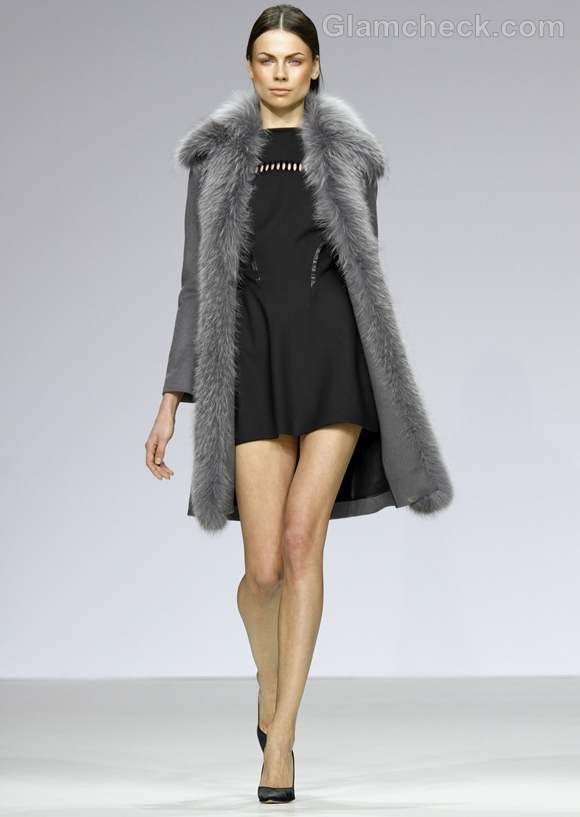 A sit down dinner is precisely that – formal and meant for taking further your business discussions. A short black dress is great for the occasion.
You could arrive at the venue in a warm, grey fur coat especially for a chilly night office party. Nothing makes a statement than a good fur coat. Even when you keep the fur coat aside, the short black dress will continue to create a great impression of authority and responsibility.
Short fitted dresses look great too. Try these on however, only when you have an hourglass figure. A Boat neck could be bold, but still great for the sit down dinner. A short cropped jacket or a fur coat will be great additions to these dresses.
Tying your hair in a neat bun, or wearing it open in a neat center parting, with simple make up, a nice watch and an office bag will complete the look. Try and not go overboard with either accessories or make up with this look.
Tips for dressing up for Annual parties or Christmas parties
Annual parties or Christmas parties are usually fun events, with perhaps almost no work related talk being planned. However, don't make the mistake of dressing up as whackily as you wish for these too. All work related events, however informal they may be, deserve a certain level of decorum. Our tips will help you do just that. 
Skirts make the perfect choice for such events. You could go trendy and choose to wear above knee length skirts.
Anything which is trendy and "in fashion" at the moment can be worn. A balloon hem skirt teamed with sleeveless top looks great. To tide over the simplicity, opt for statement necklaces or other interesting trinkets.
The hi-neck knit top teamed with a beige and black mini skirt is the perfect answer to a casual business party. With the top being fitted, the A line of the geometrically panelled skirt makes it a little flirty and perfect for evening wear.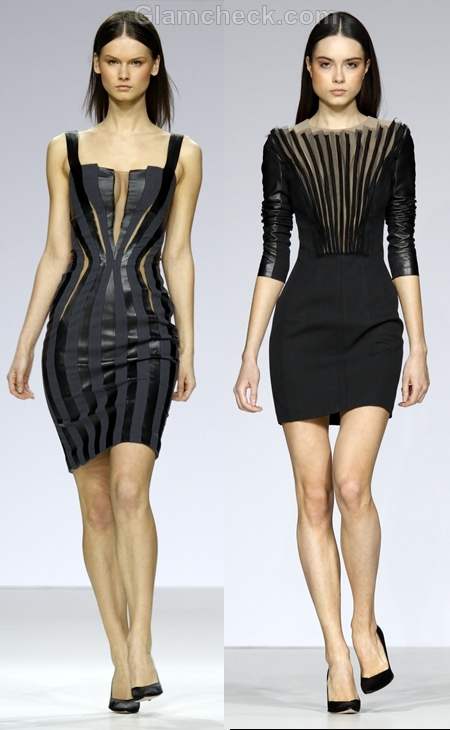 If you are not the skirt kind of girl, you could opt for avant garde dresses too. Fitted dresses look great and are a perfect choice for casual business parties.
Choosing a dress which has some interesting feature, such as the vertical shadow stripes look great and can accentuate your hourglass figure and your height. We love how the length of the dress is just right. The plunging neckline on the other hand adds to the slightly chic element.
The stretch dress with sheer almost beige panels and fitted leather sleeves is also great for casual parties. The sheer beige peeping through the front panel gives a great twist to a simple fitted black dress. The stretch fabric ensures the dress fits well and hugs the curves where it should.
Makeup can be a little more creative too at these events. Opt for deeper richer tones rather than nude makeup. Hairstyles could be more elaborate too. Wearing wedged heels and strappy sandals can complete the look.
Image: Degtyaryov Andrey Leonidovich / Shutterstock.com