The little black dress, or LBD as it is more commonly known as, was introduced in the 1920s by Coco Chanel and has come a long way since then. It is a safe bet that most girls opt for due to its ability to hide imperfections and flaws and highlight the best of the body. However, in order to stand out among a sea of people wearing the same outfit you should spruce it up with the smart use of accessories like jewelry, bags, belts and shoes.
Little black dress for your body type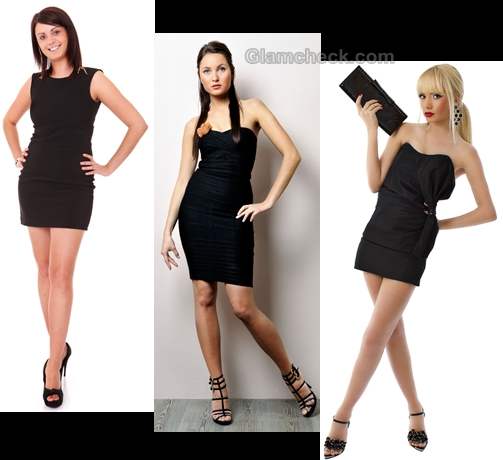 How To Look Beautiful in Little Black Dress
The LBD should be chosen according to the body type in order to make the most of it. Half the battle is won if you can select the perfect dress that accentuates your body instead of highlighting the flaws that you think you have. Let us take a look at the type of LBDs that are best for specific body types.
Pear – Halter LBD
Petite – Sheath LBD
Apple – Shirred LBD
Curvy – V-Neck LBD
Plus Size – Wrap LBD
Accessorizing LBD
Every event calls for different accessorization and this holds true even if you are wearing the safe little black dress. The same dress can be made to look glamorous, funky or classy with the right play of accessories. Let us see how.
Occasions
Formal Party: You can pair a jacket and a structured bag to give a formal element to your LBD.
Fun Night:  You can choose a theme like Grecian, Far East or the Eighties for a fun night out with the girls. For the Grecian look, you can stylize your hair in a curly half updo and wear golden jewelry, like a delicate filigree gold earring and golden bracelets or bangles. For an oriental touch, you can use an obi belt and carry a kimono embroidered bag. For fun eighties look, pair funky/neon colored accessories like red or pink pumps paired with a similar colored patent leather clutch or a belt.
Date Night: Wear silver jewelry, carry a sequined clutch and step into a pair of slinky stilettos.
Social Event: Add a pair of diamond solitaire earrings or a statement necklace and pair it up with sling back shoes and an envelope clutch.
Jewelry, Bags, Shoes and Belts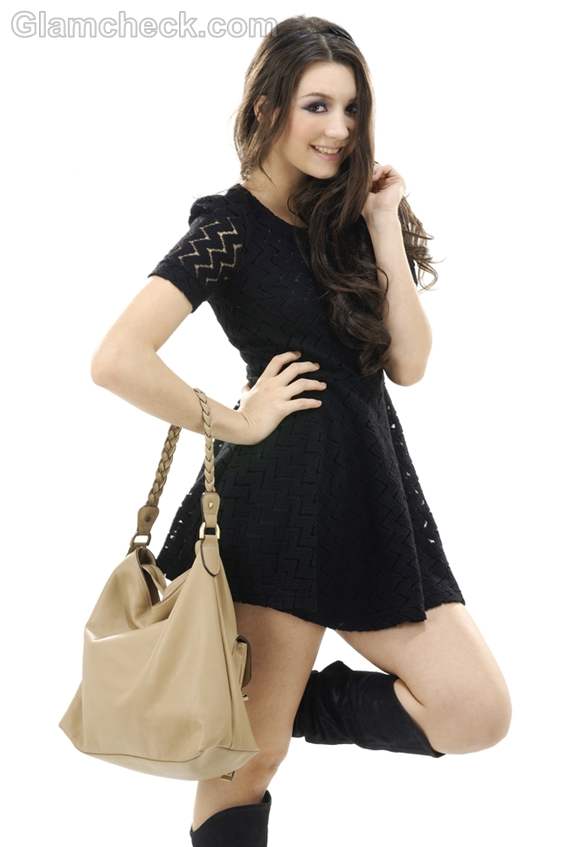 Golden, silver, crystal, diamond, colored gemstones, wooden and even plastic jewelry goes with the LBD. You have to choose it according to the occasion. If it's a fun night then choose funky and if it's a formal do then choose classy jewelry.
Match your shoes and bags accordingly. Clutches and strappy stilettos, sexy sandals or elegant pumps go with the classy/formal look, whereas for a more relaxed style, you can opt for colorful jewelry, closed wedges and bigger bags.
Belts in matching or contrasting colors can be used to make a more stylish statement as well as to cinch the waist. You can also add brooches, statement rings and neckpieces.
Stoles, wraps, shrugs and jackets can give an altogether different look to the same outfit – so much so that you can wear it on a repeat mode without anyone realizing it!
Hair & Beauty
Straight hair, half updos, chignons, beach curls, ponytails or even hair left down in its natural style looks good with the LBD. Same goes with the makeup department.
You can opt for smokey eyes with nude lips or barely there eye makeup with red lipstick.
The baby doll look with flushed cheeks, courtesy of pink blush, and a pink pout also looks good with a little black dress.
If you are not shy of experimenting with makeup then you can also opt for neon eye-shadows, and this shows us how flexible the LBD can be!
So, go ahead, walk into a room in your little black dress. Don't forget to look confident and wear a smile, this will give off the right attitude, and see people get dazzled by you.
 Image: Shutterstock.com