No matter how perfect a woman's crowning glory is there are bound to be days when the tresses will just not look right. These much dreaded days are referred to as bad hair days. The curls will not sit well, the straight will appear limp and the waves will look frizzy. To add to one's misery one will often find that one's hair is the unruliest on the day of some special event where looking good becomes absolutely necessary. Whether mistreatment of hair or misfortune whatever the cause maybe bad hair days happen when they are meant to happen.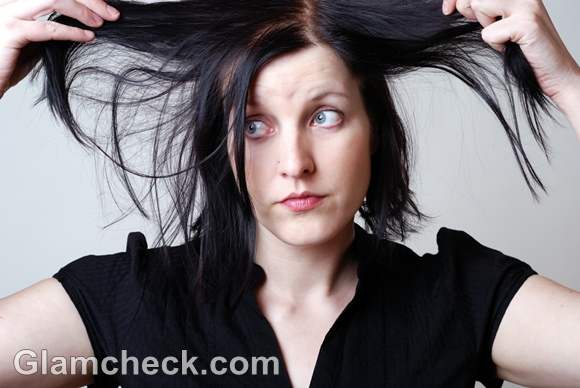 The best of looks fall flat on a bad hair day and no amount of makeup, accessories or fine clothes can undo the damages of an unfortunate hairstyle that does not agree with one's appearance. Much to everyone's relief there are remedies available to help distressed ladies out of such bad hair day situations. So just read on to find out how
Wash it Up:
What if all the problems in the world could be effaced so easily? It really is the best way to tackle a bad hair day. Just start afresh and that is all. If one's hair looks too frizzy and messy then wash it with a shampoo made for dry and brittle hair, these kinds of products are heavily loaded with extra and heavy conditioners that hold the hair down and provides one with a well settled appearance. Follow up this wash with a conditioner that is made for similar hair type and leave it on for a few minutes. If one has oily and greasy hair then one should shampoo it with a product that promises a clean and healthy scalp and use a conditioner but one must remember to apply it only from the middle section onwards towards the tip of the hair because any residue left on the scalp will further add to the greasiness. Once the hair is towel dried use a hair brush and hair drier to blow dry the hair as desired. That's the easiest way to avenge a bad hair day.
Decide, Prepare and Think Ahead:
The best cure for bad hair days is to be prepared for it from a day ahead. Think about how one would wish to wear one's hair like. Will it be straight, curly, wavy, tied in a pony tail, left loose or scrunched up as a bun? Usually a straightener will ease out minor imperfections so it comes very handy in such bad hair day occasions. If time permits then use a curling tong.
Get a New Hair Cut:
If these torments of repeated bad hair days occur more than one can handle then it a sign of changing one's hair style altogether. Go to a good hair stylist and invest in a proper hair cut. Frequent bad hair days will come to a stop automatically. However it must be remembered that it takes a few days, sometimes even a couple of weeks, to adjust to a drastically new hairstyle. So allow it some time for adjustments instead of getting into a huge frenzy over it.
No Soap Please:
People who are into the extremely discouraged habit of rubbing the same soap they use on their body into the strands of their hair should stop wondering about why they have bad hair days. Soaps or other body washes are obviously not meant for hair; it dries out the strands by washing away all the essential oils from it and leaves them looking ever so frizzy! Bad hair days will be inevitable if one keeps on using soap instead of the correct shampoo.
Tie it Up:
If the hair looks beyond one's control when left open and loose then the best way to deal with such a bad hair day situation is to tie it up well. There are hundreds of braids and buns to choose from so just a little bit of internet surfing is sufficient because there are innumerable sites devoted to teaching hairstyles that people can learn from and make new kinds of hair dos all by themselves. After experimenting with these new hair styles at home try and remember at least three of them for all occasions. If the situation is such that there are not enough bobby pins, hair gels or hair sprays available then it makes perfect sense to just tie a simple pony tail and comb out the uneven sides for getting a smooth finish. The pony tail has indeed saved many a bad hair days.
Create a Show Stealer for the Hair:
When one is trying to shift focus from the hopeless mess that one's hair is on an unlucky bad hair day it is very wise to pick up a cool hair accessory like a nice hair band, a classy bow or a chic hair clip that will take the attention away from the imperfections of one's hair. Knowing how to strategically use them will indeed come very handy. This is a great and hassle free way to tackle a bad hair day.
Learn to Organize:
It is usually seen that disorganized people come for events in a shabbier appearance than the organized ones. The reason is very simple: the disorganized people never find the right tools for their hair on time. So keep a fixed corner in mind while arranging for hair products, brushes and other electronic tools meant for styling. Not finding the right kind of brush, clip, band, pin and comb at the right time has a lot to do with the consecutive bad hair days!
Self Knowledge:
The ones who know themselves well will tend to have less bad hair days than the ones who do not because how one looks has a lot to do with knowing what looks good on one. Whenever one strikes upon that golden hairstyle that is a sure shot formula on any bad hair day then one must remember it and repeat it instead of experimenting with styles that does not suit one's face.
It is often found that the cause of dissatisfaction with one's looks or hair has got nothing to do with repeated bad hair days. The problem is often something else altogether. Maybe one is annoyed with oneself for gaining a few extra pounds or other such issues that take a toll on one's happiness. So do not let a bad hair day camouflage a greater issue within. Be honest and accept the problem instead of tagging it as a coincidental bad hair day. It is therefore very important to be happy and content with the way one is. So flaunt a dazzling smile which is sure to eclipse any minor flaw that occurs in one's appearance. A genuine smile is the ultimate weapon against any bad hair day.
Image: Shutterstock.com