Tattoos have been an object of fascination for the fans of loved celebrities for more decades than we care to count. From taboo to mainstream, it was a long journey for the art. From representing a tribe or society that you belong to in the earlier centuries, it today represents individualism.
The stars choose to ink their bodies to represent their views, important landmarks in life, current flames and also their kids. Some tattoos are removed later or covered up too, but inking is addictive and the fame that it gets you can not be over looked.
Some celebs talk freely about their tattoos and their meanings while some prefer to leave it to speculation fuelling debates. Today we try and reveal the significance of tattoos of Alyssa Milano the darling of American society.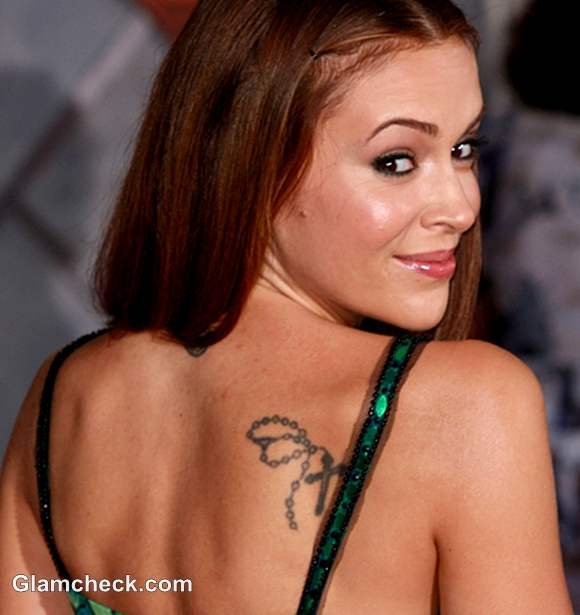 Alyssa Milano Neck & Shoulder Tattoos &  their Meaning 
Alyssa Milano a.k.a. Phoebe Halliwell of the famous T.V. series Charmed has a total of eight tattoos on her body including neck, shoulder blade, wrist, ankle, hip and lower back. Two of her much loved tattoos are on the neck and shoulder.
Back in 2008, on her My Space blog she wrote a full article describing each one of her tattoos. According to her all her tattoos are tied to religion.
The fact is evidently clear when one looks at her rosary tattoo complete with its holy cross and twirling beads. It is visible with a lot of her outfits purely because of the location and the aesthetics of the design look beautiful.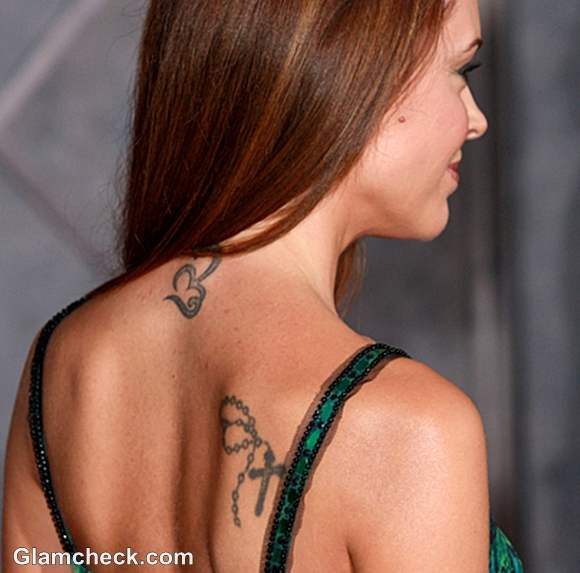 Celebrity Tattoo: Alyssa Milano Neck & Shoulder Tattoos & their Meaning
The second tattoo is the highest on her body – at her neck and is a variation of the Buddhist symbol for HUM. It is clear that Milano perennially has beliefs in the teachings of more than one religion, which is an interesting aspect visible in the lives of many celebrities today as they hand pick the principles of many world cultures and religions to form one belief system that is unique to them.
The symbol of HUM represents depth of wisdom and unity for Milano. It originates from the mantra 'Om mani padme hum' which can not be translated into a simple sentence but rather be explained with each syllable. Om stands for generosity, Ma for ethics, Ni for patience, pad for diligence, me for renunciation and hum for wisdom.
This tattoo is visible less often than the rosary. Her long hair, unless tied up, hinder the view. We feel it's a perfect balance of revealing the tattoo on whim and according to the attire.
Milano keeps her good girl image with these positive and religious tattoos and they are well placed on the body too adding more to their appeal.
Shutterstock