The San Francisco based Academy of Art University, since 2005, premiers the collections of recent graduates biannually at the Lincoln Center during the Mercedes Benz Fashion Week. At it's Spring / Summer 2013 edition, it staged fresh talent which won accolades from the industry professionals. There were collections in all white, in suede with leather and also colorful bursts.
What caught our discerning eye was a look fresh off the runway which you can steal in real life with a few style pointers. A young and casual look with a pin striped shirt knotted at the waist, paired up with a pair of straight fit boyfriend jeans.
Why we love it?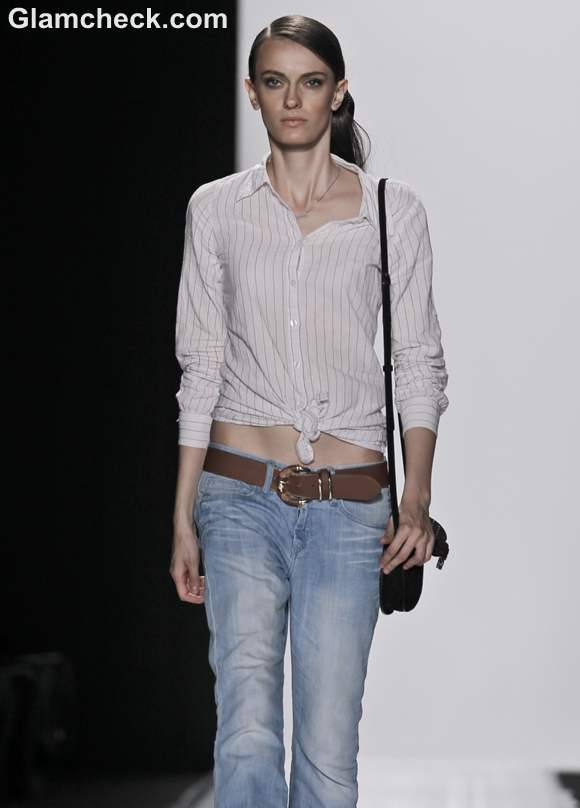 Wearing Boyfriend Jeans with Front tie shirt –  Uber cool Androgynous look
If there is a way to reach high levels of cool with your day to day ensembles, this styling shows the way. Knotting at the waist is a great means to exude a laid-back and effortless vibe and also to shorten a longer torso. This trend is back again from the 90s and celebrities like Kristen Stewart, Rihanna, Selena Gomez and Beyonce have been spotted wearing it.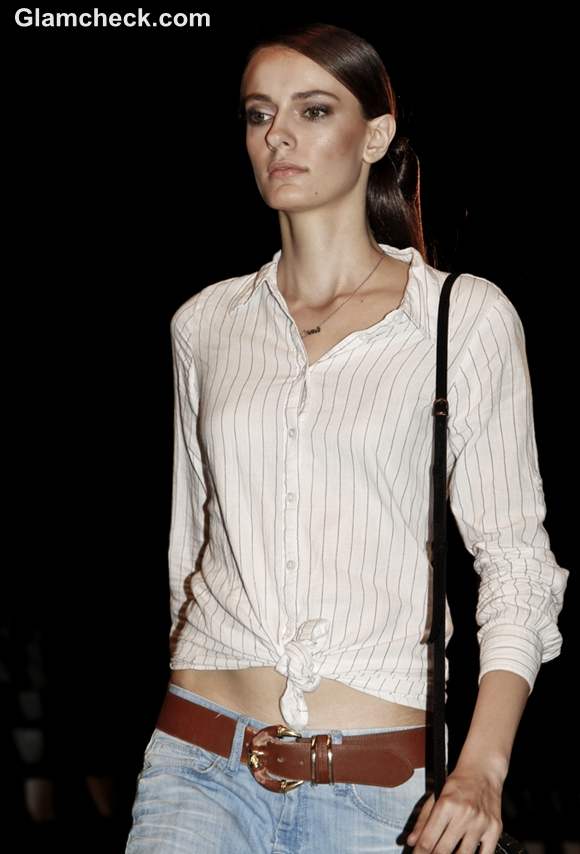 Androgynous look Wearing Boyfriend Jeans with Front tie shirt
Complete with washed androgynous jeans, tan belt and sling bag, the look is fairly easy to achieve with items in your wardrobe.
Wear it where?
Off to a long day at college? Wear your attitude and do so in style.
Sport this look when you are running errands and need to be dressed down.
A great look to sport with a group of friends over a cup of coffee and some fun.
How to Steal?
Androgynous look jeans with knotted shirt
Start with a lightly washed androgynous pair of jeans that do not hug your lady curves. If you don't own a pair- steal your boyfriend's, they were named that way for a reason!
Next opt for tailored pin stripes shirt in cream or white and leave a few buttons open at the end to tie the knot with it. To incline more towards the feminine, choose a tangerine or coral color shirt instead and tie a front knot. You could also opt for a denim or chambray shirt on top as denim on denim is trending again.
Add jewelry in the form of a pendant necklace sitting close to the neck or a bohemian long pendant neckpiece.
Don't forget to add a tan belt ( as it is a great combination with blue jeans ) and if necessary a watch with tan straps or braided leather bracelet in the same hue.
The sling bag can be your classic black and choose loafers or smoking slippers or women brogues for the feet.
Tie your hair neatly while parting them on a side. Another fair option is a ballerina bun on the side.
Pay attention to details with either your nails painted in pop color or smear your lips with one, only if your shirt is not bright.
Tip: Be sure to work-out to achieve that flat tummy before you dare to bare. It would be a positive step towards a healthier and more confident you.
Shutterstock