Do you have to go to an impromptu gathering of friends who haven't seen you in some time and don't know how much weight you've put on in the interim? Or maybe you are a week away from your best friend's wedding and have just realized that you've piled on the pounds because you're friend has been bridezilla extraordinaire and you've been eating due to stress. It's obviously too late to lose weight now. However, you can still pull some timeless tricks to make yourself appear to be slimmer than you actually are without shedding a pound.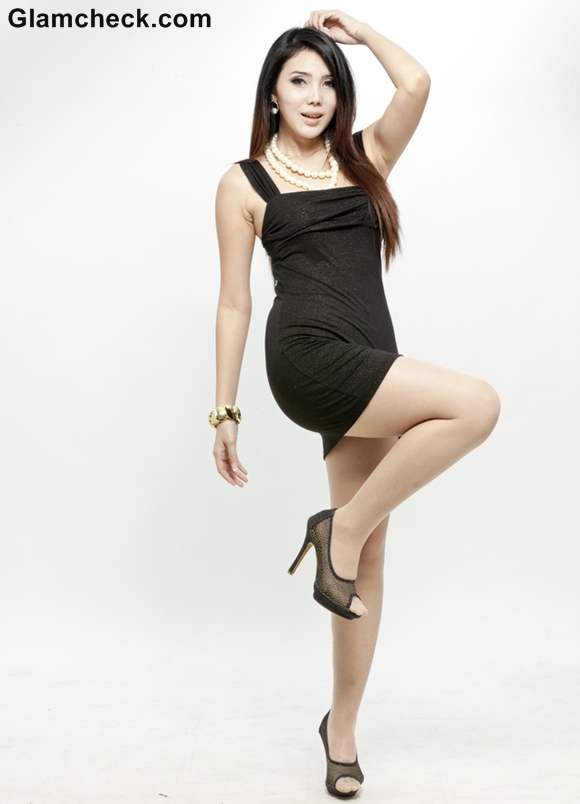 How to Look Slimmer without Losing Weight
Is it magic? In a way, it is. Many forms of magic are all about misdirection i.e. making the viewer think the magic is happening in all the frills and fancy abracadabras when in fact the magician is simply pulling a practiced sleight of hand while the audience is occupied with all that frivolous hoopla. Your goal here then is to concoct enough dash in your ensemble to draw the focus away from your weight. You'll be surprised by how well it works! Now let's begin that transformation from head to toe.
Stand and Sit Up Straight
This simple way to look slimmer is so effective that even talk show queen Oprah Winfrey featured it on her show a few years ago. It involves a sage piece of advice which our mothers and teachers have been imparting since we were tots (and which we have been dutifully ignoring).
Your posture contributes greatly to how your body looks. If you slouch, your breasts and stomach become one massive mass and you can look stocky. Plus, a hunch isn't attractive on anyone. Bad posture also harms your back and joints so it isn't just your vanity that will benefit from better posture.
Here's the trick Oprah showcased. Stand (or sit) with your arms hanging by your side. Now bend at the elbows and bring your hands up in front of you in a ninety degree angle with your palms facing upwards. Maintain that angle and turn both your arms to each side of you. You'll notice immediately that this movement pulls your shoulders back, lifts the chest and pulls in your tummy, What it's doing is automatically correcting your posture! The way that your body aligns when both your arms are at your side at that angle is your natural alignment and will immediately make you look slimmer. Pretty nifty trick, no? It impressed Oprah, anyway!
Sport a Bouffantesque hairstyle
Volumise your hair a bit. No, you don't have to go all beehive (unless you want to). Use product or a blow dryer, preferably both, to make your hair look fuller. This adds a few inches and draws attention away from your body.
Wear Clothes That Fit You Well
Ditch all baggy clothes when you want to look slim. No, the seemingly age-old wisdom that you have to wear loose clothing to camouflage your weight is no wisdom at all. In fact, all that does is make you look sloppy. Clothes that fit you well and are right for your body type do wonders for your sex appeal. Think peplum silhouette on Kim Kardashian. She adores the style and is often seen looking like a dream despite her very generous curves. Tailored clothes will make you look much slimmer than readymade ones since they are customised to fit you.
Now, a common mistake people make based on this advice is to wear tight clothes or those that are made of stretchy fabrics. Those will just make your stomach bulges prominent or really put your huge bottom in the limelight. Clothes that 'fit' and clothes that are 'tight' are obviously two different concepts, but most people have a hard time seeing that when it comes to themselves while being able to spot it at a distance on other people.
Avoid Large Prints
Prints are not bad, per se. However, they are best avoided when you are trying to look slimmer. If you must wear prints, steer clear of large block printing and go with smaller prints instead. Or sport the print on a part of the body which is not your problem area. For example, if you are stocky from the waist down but have OK upper body definition, you can wear a skirt in a dark color to slim your pins and team it with a printed blouse for some pizzazz.  
Wear Vertical Stripes
Thin, vertical stripes will create the illusion of length and draw the eye downwards instead of sideways, making you look both taller and slimmer at the same time.
Camouflage with Optical Illusion- style Clothes
Curvy and delish Hollywood actress Kate Winset often complains about her weight and we've seen her in optical illusion style dresses more than once which make her appear younger and slimmer.
Asymmetrical skirts or jackets can also sometimes appear to make you look slimmer by visually slicing away from your problem areas.
Control top Pantyhose
There are wonderful body-shaper underwear options that allow you to customize the areas where you want to appear slimmer. There are tummy control panties which are just like regular underwear but which extend all the way up to slightly above the waistline to hold your gut in. Then there is shapewear that extends to your thighs too to help you lose inches and give your buttocks a lift.
Wear an Excellent Bra
Excellent means something that makes your breasts look perky and your waist smaller. A push up bra is usually best. You can decide on the kind of padding based on your personal preference. A good bra gives you better shape and as we've seen that's one of the important tips in looking slimmer. With a nice lift imparted by a good push up bra, your waist tends to look smaller too. If your breasts are all saggy in a regular bra which does not offer support, it will contribute to a thickening in your mid-section. If you wear a sports bra which gives you support but makes your breasts look flat, you'll be missing out on the misdirection that a fittingly-highlighted pair of breasts will make.
Slip into a Pair of High heels
You've probably noticed that extra weight is not that obvious on taller people. That's because their height makes it seem like the weight is evenly distributed and there's no extra fat. Does that mean that weight is unevenly distributed on shorter folks? Not at all. However, the extra weight has to distribute over a lesser expanse of mass and so the end result makes you appear compact and stodgy. Fortunately, this is one little problem that can easily be amended. Just add a few inches with a stunning pair of heels. That way, not only will it seem like there's less weight on you than there actually is but people's attentions will also be diverted by your pretty footwear.
However, not all heels will make you look slimmer. Wedges without an ankle-strap work best for several reasons. The most important is that have a pretty comfortable heel so you can sport them for longer hours. Secondly, the shape of a wedge heel gives your calf and ankle a much more slimming effect than, say, kitten heels or stilettos.
Accept your Body Size
Body image is more of a mental thing than a physical one. Because we are bred in a world of stick-thin models, we tend to view ourselves as far larger than we are simply because we do not fit into that stupid mould. You may be overweight, but chances are that you are not as hideous or malformed as your perceive yourself to be.
World-renowned style experts Trinny and Susannah hilariously stated that "entombing your giant arse in black won't make it disappear". They were, of course, talking about the power of colors in making you look shapelier. However, it was also a veiled comment about accepting that there are some things that you just cannot change overnight, and that perhaps embracing it and mentally coming to terms with it can change how you see yourself which, as you probably know, will change how others see you too.
Armed with these classic tips, you'll look slimmer immediately without having to move a finger. That wedding/reunion/party that you wanted to look thin for will go swimmingly. Once it's over though, perhaps you will consider taking steps to actually lose the extra pounds…? Life will be so much simpler that way and you'll be healthier to boot.
Shutterstock