ITv2's 'I'm A Celebrity… Get Me Out Of Here Now!' presenter Laura Whitmore was seen attending the, "Wicked" VIP Media Night Performance, in a viridian green crop top and a pair of black high-waist denims. A black leather jacket with fur detailing was carried snugly on her shoulders for the December chill in London.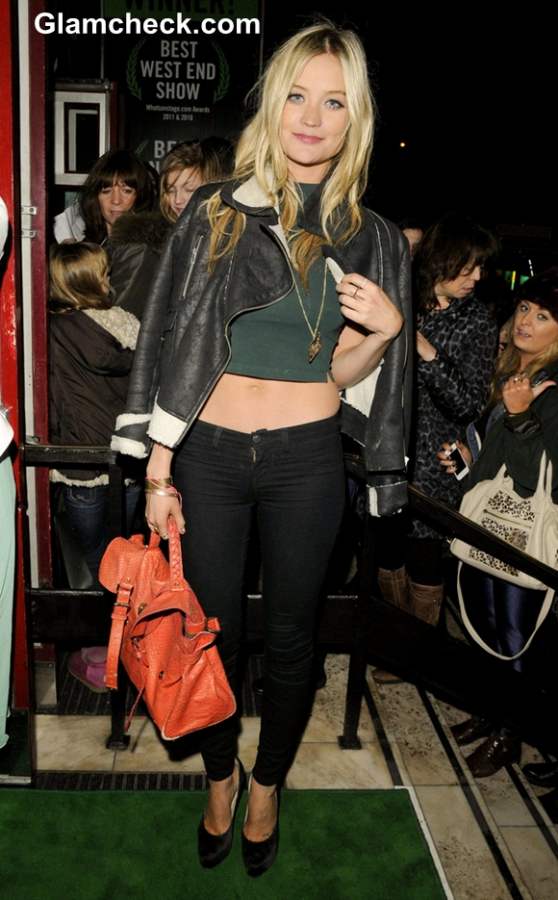 Laura Whitmore
The blonde TV presenter accessorised her look with a burnt-orange leather bag, gold bangles, an eccentric stereo pendant and black pumps. Her hair was left loose for the night. The look was apt for a performance night that was deemed, "Wicked".
Get Her Look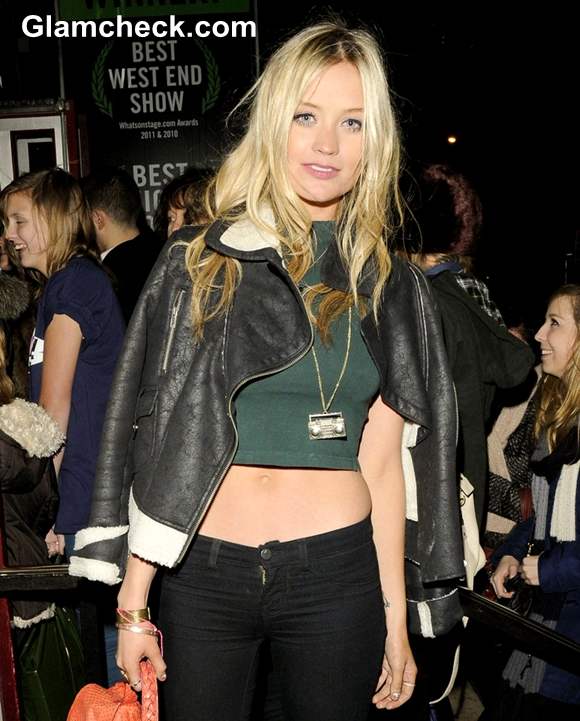 Laura Whitmore Hot In Crop Top And High-Waist Denim
The crop top is a versatile piece of garment and one of 2012's most loved one too! The mid-riff baring top has been seen on many celebrities and Laura Whitmore just puts a stamp of approval by wearing it at the "Wicked" VIP Media Night Performance. She is cool and fashionable! We love her casual style with a bit of spunk in it! So, here we are with a few tips for you to rock this look.
A crop top has many variations and lengths, choose one that suits your style. You can wear a crop top with an uneven or a long hem at the back that ensures you are not exactly breaking the rules and yet, putting your best fashion foot forward. I would rather advice you to wear the garment according to the occasion
Wear a crop top that shows a hint of mid-riff in colours like black, tangerine and other pop colours. You can go for layered ones too or create layers with your creative bent of mind. Wear a tank or a tee underneath your crop top for that layered look
Now, combine your top with a pair of high-waisted denims in black. The colour absorbs all the unevenness and projects your pop-coloured top with more brightness and clarity
Carry a black jacket with you for the December chill. Faux-fur detailing or just a quilted version will play up your style quotient. Keep it smart and black
A chunky watch and high heels should be your accessory pick for the night. Get a pair of black pumps or better, a pair of wedge-heeled sneakers, so cool!
Complete this look with an eccentric pendant. See how Miss Whitmore has carried a mini stereo pendant on her, you too can source a similar one from the nearby flea market if, you don't want to spend your earnings on a designer one!
You can wear this look to a college fest or a casual outing with friends. This look will turn you into a college bomb for sure! Carry it off with lots of attitude and dark nail paint. Rock the town, girl!
P R Photos