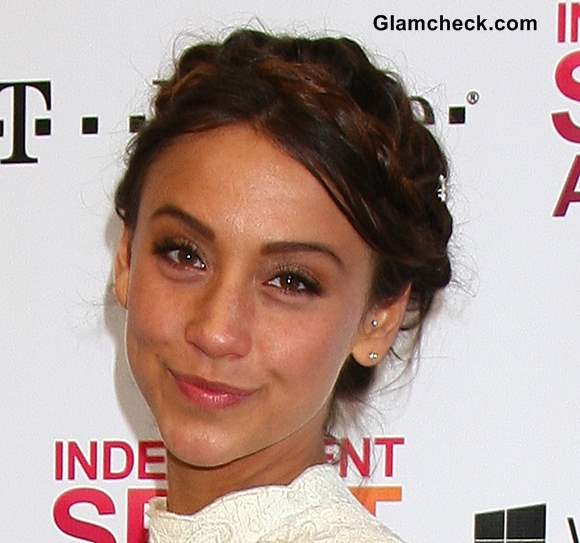 Stella Maeve's Milkmaid Braids Hairstyle
Stella Maeve sported a timelessly feminine hairdo as she attended the 2013 Film Independent Spirit Awards at the Tent on the Beach in Santa Monica, California on February 23.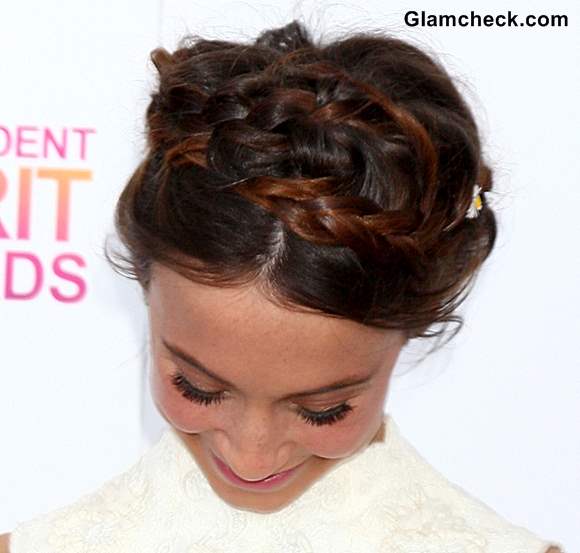 Hairstyle How To – Milkmaid Braids Stella Maeve
She styled her hair in milkmaid braids, but instead of going with the traditional doubling-as-a-headband look, she pinned the braids randomly onto her crown so that it gave her whole head a textured look.
It's chic and looks oh-so-complicated. However, milkmaid braids are actually pretty simple to create – they just look hard to do. Which is exactly what you want when you want to look your best without wasting too much time getting there.
Easy-peasy Milkmaid Braid Tutorial
Part your hair down the middle so that you have two sections.
Make one braid on each side. The braids should be loose. Initially, you can go with a simple pleat but as you get more skilled in braid weaving you can try French braids, Dutch braids, fishtail braids and all the other tougher varieties. Tie off your braids with a simple rubber band, preferably one that is the same color as your hair.
Take one braid and loop it over your head so that it forms a head band. Use a bobby pin to hold it in place behind your ear.
For a regular milkmaid braid look, you would do the same with the other braid too. However, since we're going for a textured look in this one, take the other braid over your head again but this time pin it in place at random spots to create an abstract pattern.
When you're done, make sure that the ends of the braids do not stick out in an unsightly manner. Tuck them in where possible with bobby pins.
Set your look with a light layer of hairspray.
After a couple of tries, you'll be able to do this in under ten minutes!
Shutterstock