When temperatures rise, you can bet that fashions will change to make that thermometer tremble even more. The cast of TOWIE's special summer episode "The Only Way is Marbs" has been filming at the Sisu Boutique Hotel in Marbella, Spain for a few days and they seemed hell-bent on making a statement in white. On May 28, they were all spotted wearing different ensembles with one thing in common – they were all white. 
Check out how these style-savvy TOWIE girls and a couple of other celebs are sporting the timeless color this summer. Ferne McCann, Sam Faiers, Billie Faiers, Chloe Sims, Lauren Pope and Lucy Mecklenburgh made for quite the fetching and yet sexy visual as they strutted their stuff around the block in all-white ensembles.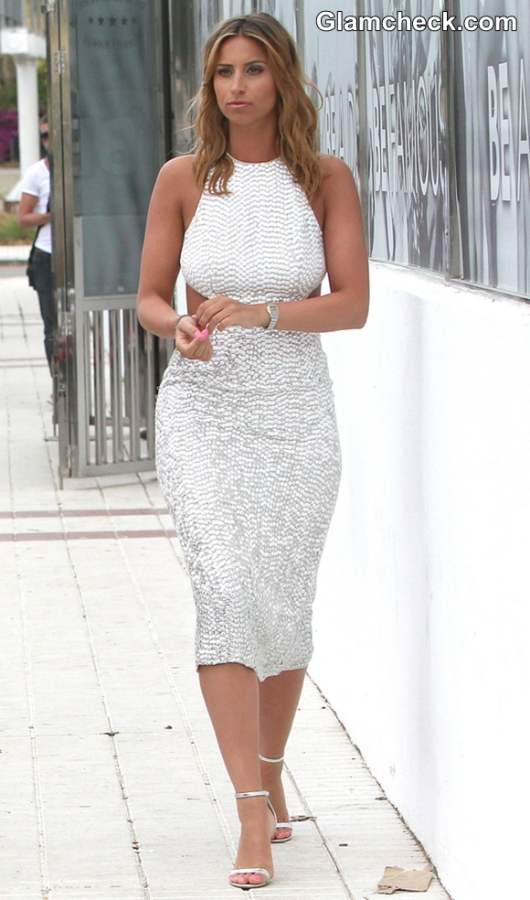 Ferne McCann 2013 white dress
Ferne McCann poured her generous curves into a white, knee-length, fully-sequinned dress with cutouts on the waist. It was veeery high on glamour and could easily pass off as a red carpet ensemble. We love the subtle silver strappy heels she accessorized with as well as the pops of pink that her manicure contributed to the look.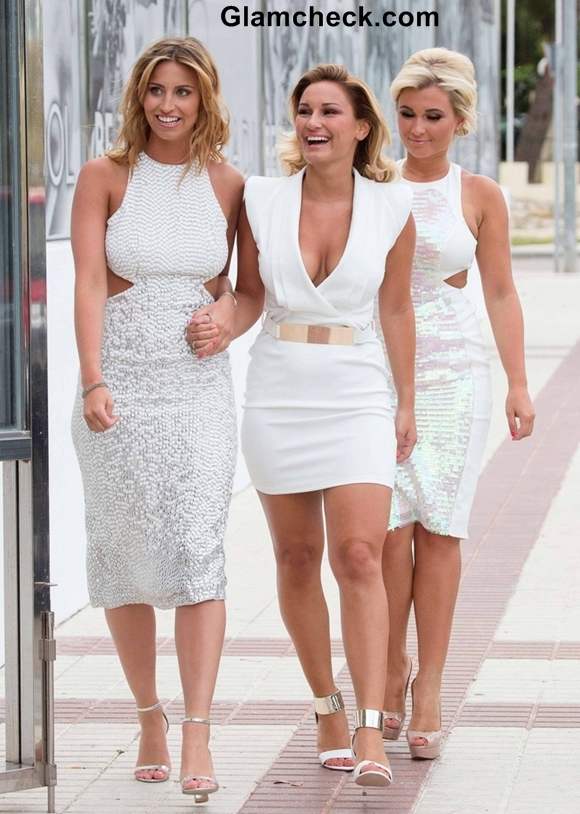 Celebrity White Outfits – Summer Style : Ferne McCann, Sam Faiers & Billie Faiers
Billie Faiers wore a dress that was very similar to Ferne's – sequinned, cutout at the waist, knee-length and sleeveless. She, however, paired hers with nude peep-toes.
Sam Faiers opted for a short white dress with a collared neckline that plunged deeply to show off cleavage. The metallic silver ankle-strap heels she accessorized with were seriously killer and what mainly made this look, which would otherwise not have been glam enough to make the cut.
Is that a dress or a beach coverup? Whatever it was, it made for one provocative ensemble for Chloe Sims. Her outfit seemed to be a wraparound dress with an asymmetrical hemline and an opening at the bust, her modesty shielded by a twisted bra. She was undoubtedly going for a sultry vibe which we think she accomplished to perfection. There was also something of the femme fatale to her look which was reinforced by her statement cutout while heels, statement necklace and white clutch.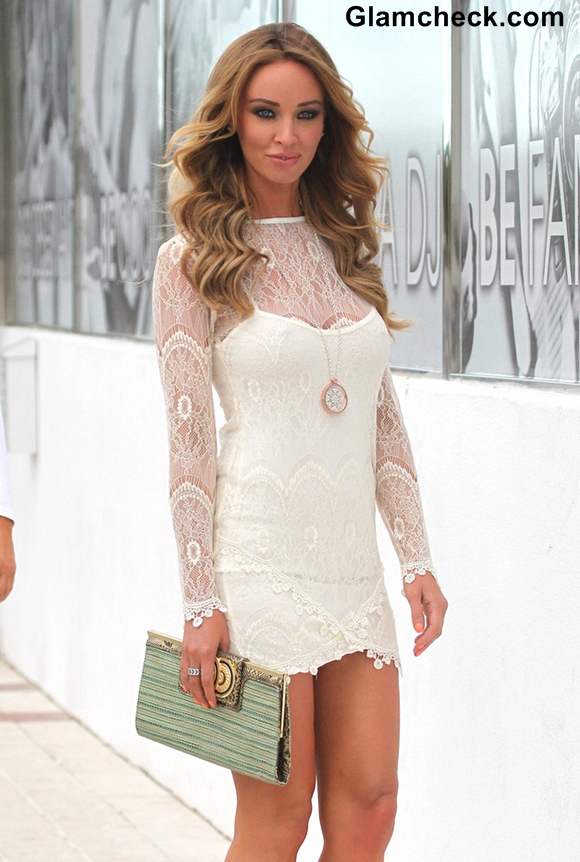 DJ Lauren Pope went with a very titillating kind of white ensemble. Her frock was uber-short, finishing just below her shapely behind. It was basically a white, full-sleeved lace overlay with a strappy plain white mini dress underneath. Nothing subtle about what she's trying to say. Instead of going with neutral accessories, Lauren added touches of glamour and personality to her ensemble with a large circular pendant and a striped green clutch.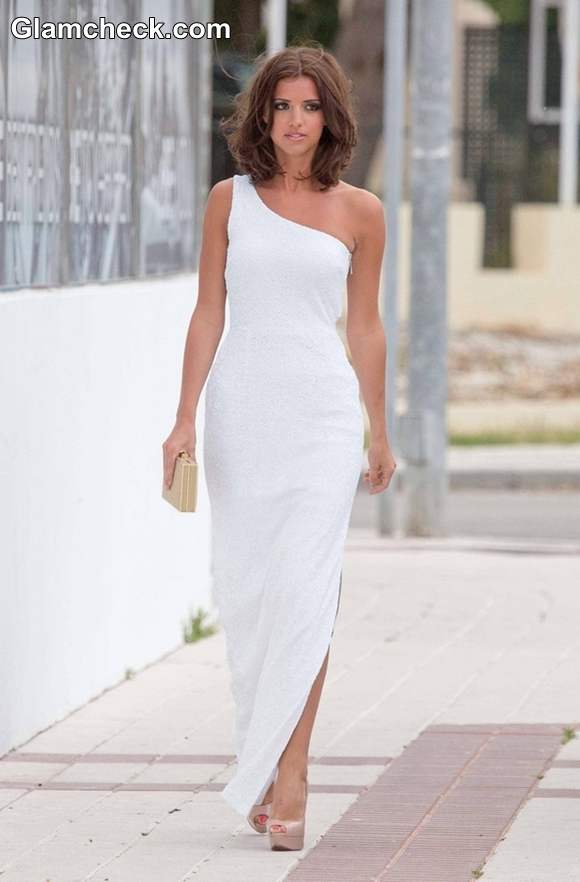 Lucy Mecklenburgh 2013 white dress
Lucy Mecklenburgh looked cool, calm, collected and oh-so-effortlessly-sexy in a one-shoulder plain white gown with a side slit. She accessorized the dress with nude peep-toes and a matching clutch so that nothing interfered with all that sexy white fabric. Even her hair and makeup were understated, though nowhere near plain, so that the outfit could fully take center stage. 
P R Photos