Actress Josie Bissett looked glam yet sophisticated as she arrived for the Hallmark Channel Summer TCA event at the Beverly Hilton Hotel in Beverly Hills, California on July 24.

Josie Bissett 2013
The Melrose Place star paired fitted silver pants with a flowy blue blouse. She wore a black tank top underneath which peeked out from the relaxed neckline.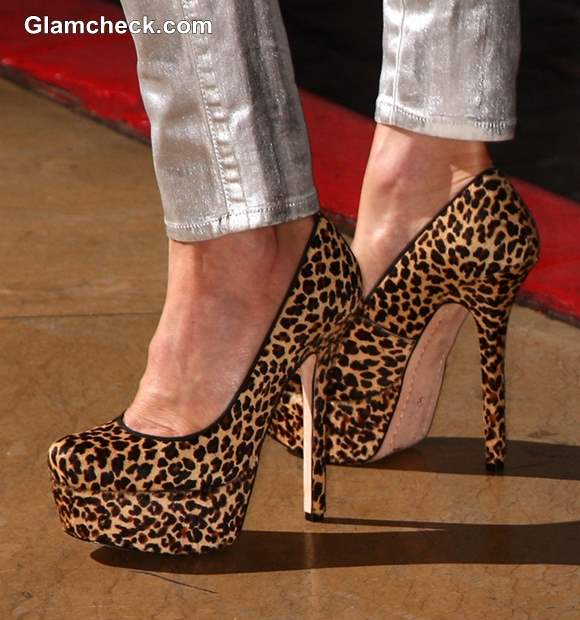 Animal Print Pumps
We love, love, love the animal print stacked pumps that she accessorized with. They were fun and so incredibly sexy! A gold pendant on a long necklace, a gold ring and a gold cuff bracelet added notes of bling to her ensemble.
Flowy curls from an uneven parting, deep pink lips and slightly lined eyes made her look at least a decade younger than her 42 years.
Get the Look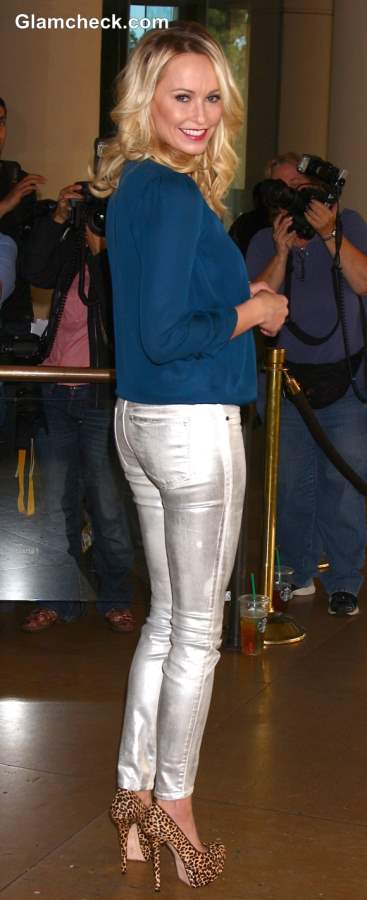 Jodie Bissett Sports Animal Print Pumps with Silver Pants
Granted you can't express your wild side every day and everywhere. It's not always appropriate (like when you have to dress for work or meet your in-laws-to-be) and it can get boring soon too. However, a little bit of spunk never killed anyone or made them appear less stylish. Infuse your staid, practical ensemble with some spice simply by adding a wild accessory. Jodie's animal print footwear is the perfect example, but you can achieve the same effect with a scarf or belt. And although animal prints are the best way to introduce that element to your look, you can also play around with graphic and abstract prints if you find that those styles are more accurate representations of your personality.
The bottom line here is to allow yourself to have a little fun with your ensemble while still maintaining its overall elegance and poise. 
Image: Shutterstock