Actress Caroline Sunshine recently showed us how to wear horizontal stripes in two ways, when she appeared dressed up in them for two different occasions in entirely separate ways.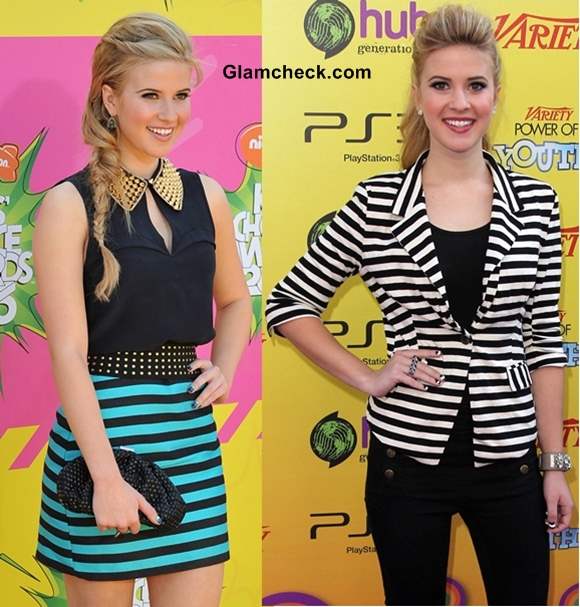 Horizontal Stripes Skirts and Tops – Style Inspiration
Caroline Sunshine Wearing Horizontal Striped Black and White Jacket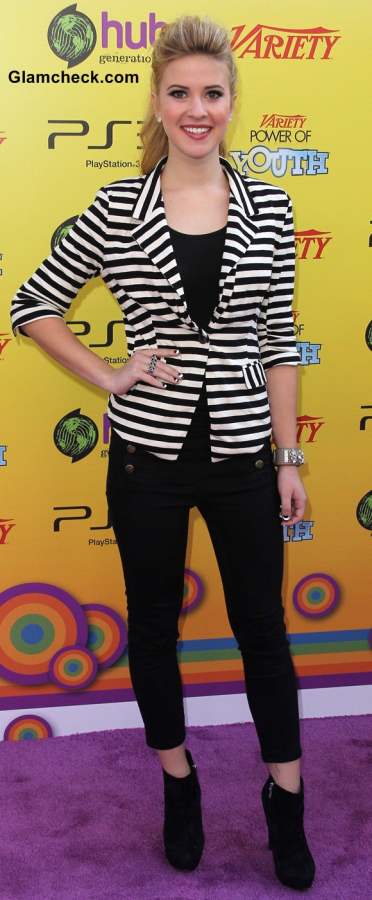 How to wear Horizontal Stripes – Caroline Sunshine
The actress was seen at the Varietys 5th Annual Power of Youth Event Paramount Studios in Hollywood CA sporting a black and white horizontal striped jacket. She had worn it with a pair of black ankle length pants and a black inner. Black booties completed her ensemble. A statement ring and a quirky bracelet were part of her accessories. We liked the way her manicure went hand in hand with her black and white striped get up. Back combed voluminous ponytail hairdo added spunk to her. It was a very rocker chic look.
Caroline Sunshine Wearing Horizontal Striped Black and Green Short Skirt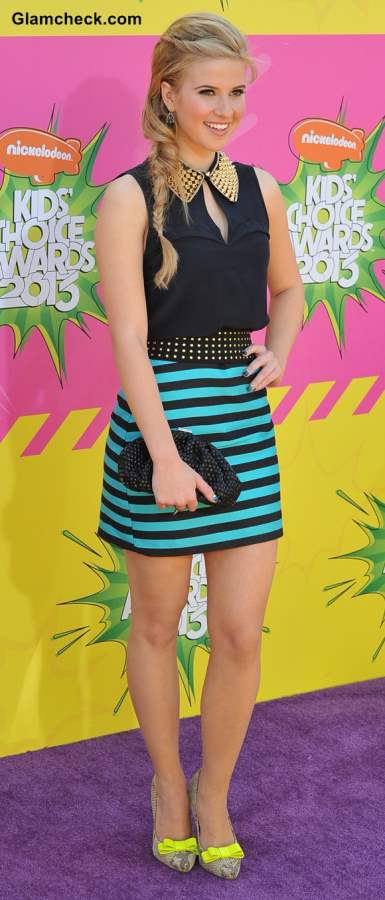 How to wear Horizontal Stripes – style inspiration Caroline Sunshine
For the Nickelodeons 26th Annual Kids Choice Awards at the Galen Centre Los Angeles, Sunshine was dressed in a candy green and black horizontal striped skirt. She wore it with a very interesting black top which featured a peter pan gold spiked collar. The black belt with gold dots matched the collar, and blended together to create quite an eye catching outfit. We love the way the yellow bows on her beige snakeskin print pumps added color to the ensemble. A clutch bag and delicate earrings completed the ensemble. Her hairstyle was an interesting mix of twists and plait. Once again she matched her striped manicure with the color combination of her outfit. The look was delicate and dark at the same time – a combination that worked for her.
So we see two looks that revolve around horizontal stripes –and Caroline seems to be in love with them right now. However, which look did you like more?
More Stylization Tips for wearing horizontal stripes
You can also work horizontal stripes in the following three ways:
Image: Shutterstock