Singer Fergie is known for her glamorous rockstar-chic style. It is no wonder that she is a style and fashion inspiration for many – right from her sartorial choices to beauty ones.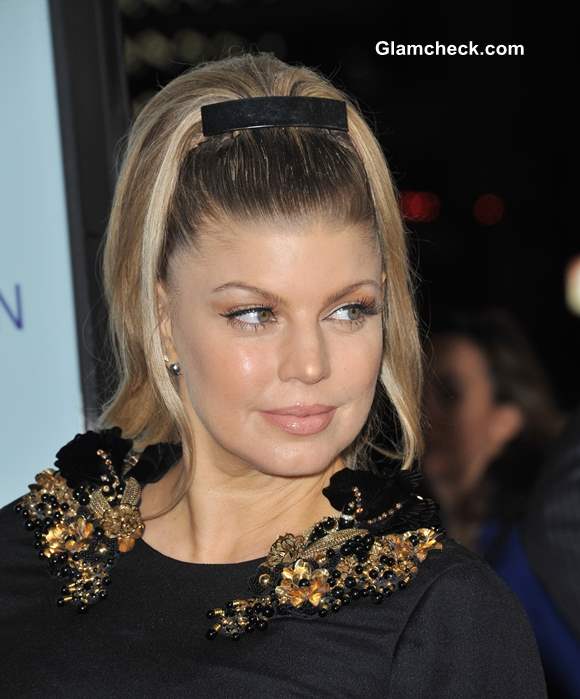 Hairstyle DIY – Sport a High Ponytail like Fergie
We love the high ponytail that Fergie is seen sporting here. This hairstyle imitates a blunt cut and also gives more structure to the face – because it frames the face as well as adds length to it due to the bouffant style. We bring you the hairstyle DIY steps – so that you can work this look too.
Hairstyle DIY – Fergie's High Ponytail
Hairstyle DIY – High Ponytail with Barrett hair clip
Start by brushing your hair well because the strands need to look sleek and smooth
Back brush all your hair and gather them together at the top of your head in a ponytail. Secure this with a hair elastic.
Take a thick and long flat hair clip and use it on the ponytail – right on top of the hair elastic. So basically, your ponytail will be secured with both the hair elastic and hair clip.
Spread the ponytail by brushing and arranging it out on both the sides, so that it falls around the face like a fountain.
Lift a layer from the top portion of the ponytail and back comb/tease it well so that there is a voluminous bouffant like effect. For the best effect, do this same step with 2-3 more layers underneath the topmost layer of the ponytail.
Use a good hair spray from a distance of about one hand away to give extra hold to the high ponytail.
You do not necessarily need to have long hair in order to sport this hairstyle. Chicas with neck length hair can follow the first two of the DIY steps, after that use hair extensions on the ponytail to continue with the rest of the steps.
This variation of the high ponytail is a definite eye catcher, and will give you that extra zing when you are heading out for a fun occasion. 
Image: Shutterstock