The lovely Julianne Moore bagged the 2507th star on the Hollywood Walk of Fame. She was officially awarded the star at a ceremony held at the W Hollywood Hotel in Los Angeles, California on October 3, 2013.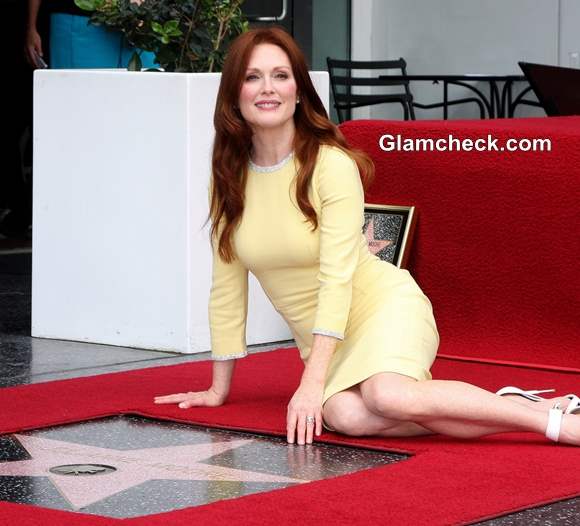 Julianne Moore Star on Hollywood Walk of Fame
Julianne looked magnificent in a knee-length Dolce and Gabbana dress which boasted a cheery yellow color. You'd think, in theory, that the yellow would clash with her fiery red locks. But she actually painted a gloriously beautiful picture and was more radiant than the sun in her choice of attire.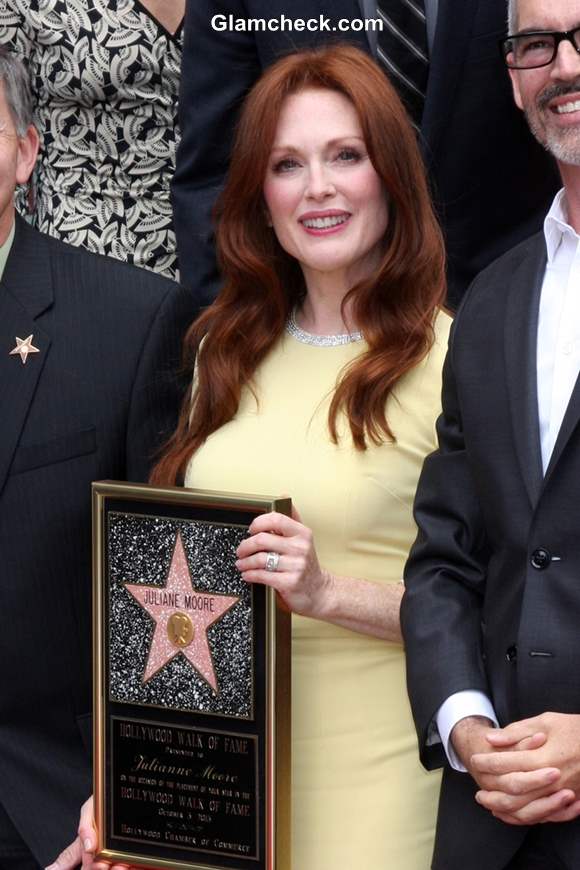 Julianne Moore Star on Hollywood Walk of Fame 2013
The cuffs of the three-fourth length sleeves as well as the neckline were embellished delicately to impart just a hint of glamour to her outfit. She accessorized with white a cocktail ring and ankle-strap heels by Givenchy. This beauty looks nowhere near her 52 years and could easily pass for a woman ten years younger.
She was joined by her husband Bart Freundlich, their two children Liv, who is 11, and Cal, 15, her Carrie co-star young Chloe Moretz who also wore Dolce and Gabbana, actor Joseph Gordon Levitt, and director Jay Roach.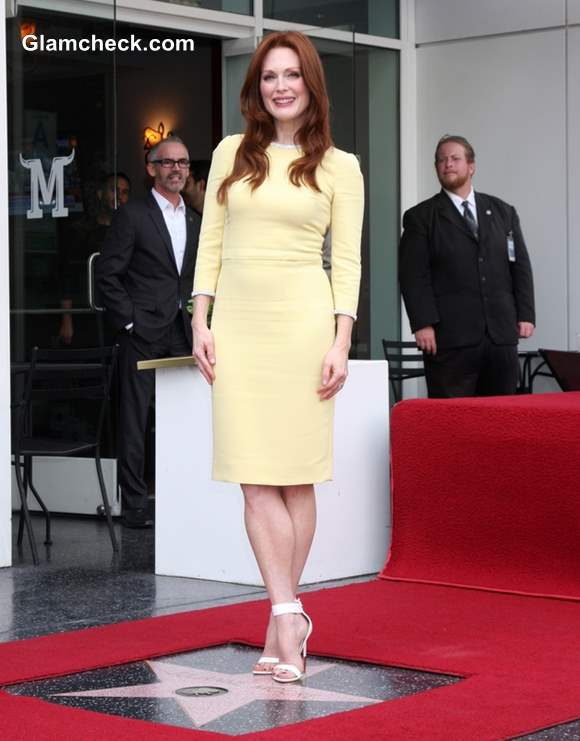 Julianne Moore Celebrates Star on Hollywood Walk of Fame
Julianne revealed at the ceremony that she has been lucky in that she has always had good roles, even as she grew to the age when Hollywood actresses traditionally start being offered fewer roles or only those that portray a mother, grandmother or aunt. She said although she used to be afraid of getting older like all other actresses, but she was fortunate that her age had not come in the way of her career as is the norm.
She has had a long and successful film career spanning three decades, been nominated for several awards, and won Emmys, Golden Globes and Screen Actors Guild Awards on several occasions.
She will next be seen in the remake of Carrie, premiering October 18, 2013. 
Image: Shutterstock