While most of you will be busy being confused on which Halloween Costume to wear, Glamcheck is here telling you a Halloween Makeup DIY that you can work with various costumes and look scary and totally on theme.
Isn't that an easier way to go anyways? To decide upon a good makeup and then later stress less about the costume! It puts the fun back in Halloween for sure. So here we go telling you a step by step tutorial for the scary skull face makeup. It was Lady Gaga in her video Born this way that really set the ball rolling for this one. But here we are telling you how easy it is to achieve at home.
Things you will need
White Face Paint
Black Face Paint
Smudge-friendly Eye liner Pencil / Eye Liner Pen
Small Paint Brush
Smudge Brush
Sponge
Halloween Scary Skull Face Makeup DIY Steps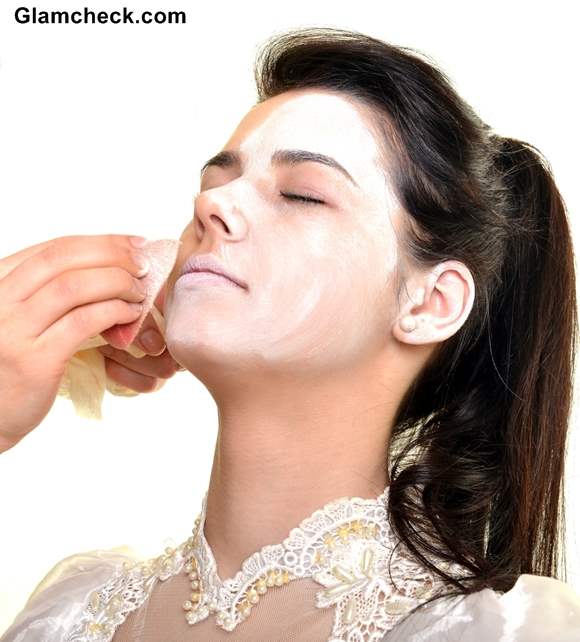 Halloween Skull Face Makeup DIY
1. Begin by using a sponge to cover your face with the white face paint. You do not need to apply a very thick layer, only a thin opaque layer as it will serve better. Cover your eyebrows and lips as well.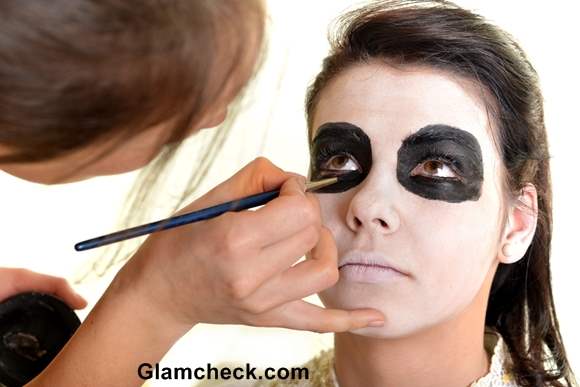 Halloween Scary Skull Face Makeup DIY
2. Next, using a small/thin brush dipped in black face paint and start covering around your eye. These represent the eye sockets and hence pay attention to achieving a circular shape which covers eye lids, eyebrows and under eye area as well, as shown.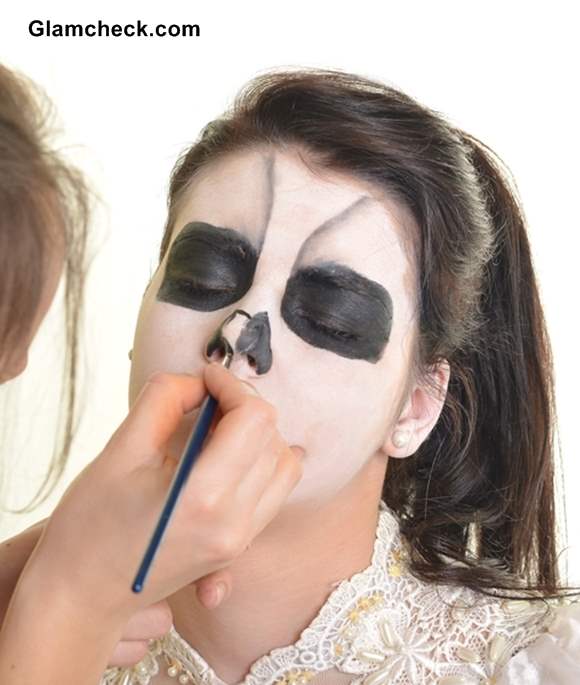 Halloween Scary Skull Face Makeup DIY steps
3. Next using your eye liner pencil extend the bridge of your nose, on to your forehead, meeting the hair line and funneling outwards as shown. Smudge the line using a smudge brush. 
4. Paint the tip of your nose black with the face paint as shown. Be sure to cover the whole tip well, even around the nostrils.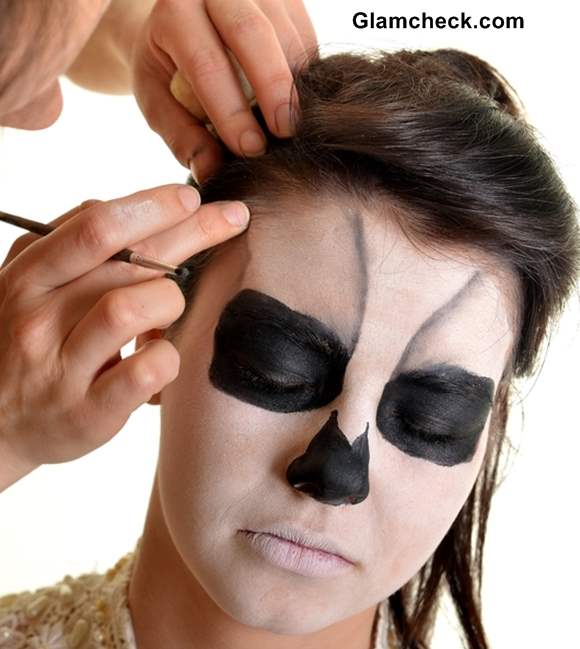 Halloween Skull Face Makeup
5. Next, using the same eye liner pencil draw cracks on each temple of your face and smudge with finger or brush.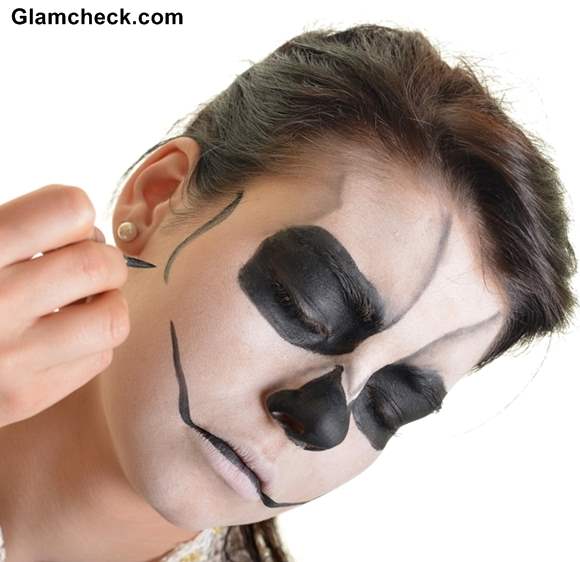 Skull Face Makeup for Halloween
6.  Start drawing a line from the middle of your lips and extend it on either side at an angle on the cheeks. Draw a curve from the hairline above the ear and complete the line as shown.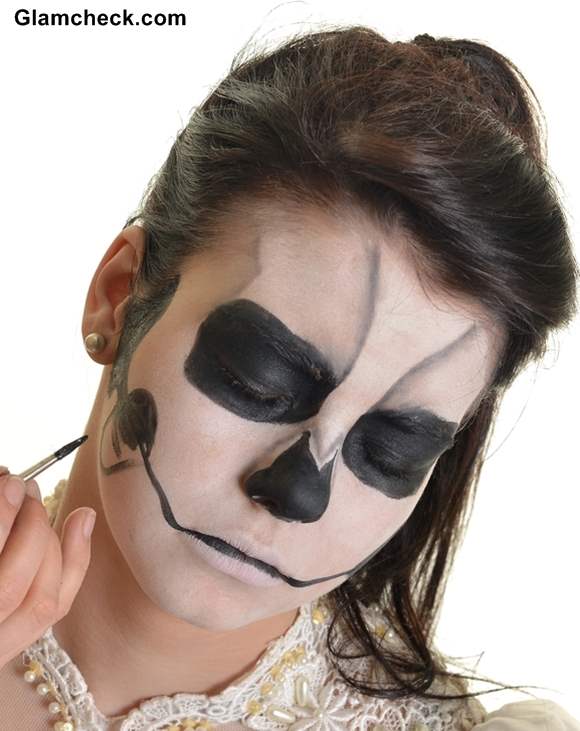 Skull Face Makeup Halloween
7. In the shape of another socket, fill the black color near the hairline and ear on the side. Next on the cheek draw another circular socket, fill it and smudge it to create an illusion of depth and hollow.
8. Draw vertical lines starting from the middle of your lips on either side of the face. Think of a fence and you will get an idea. Draw them as shown.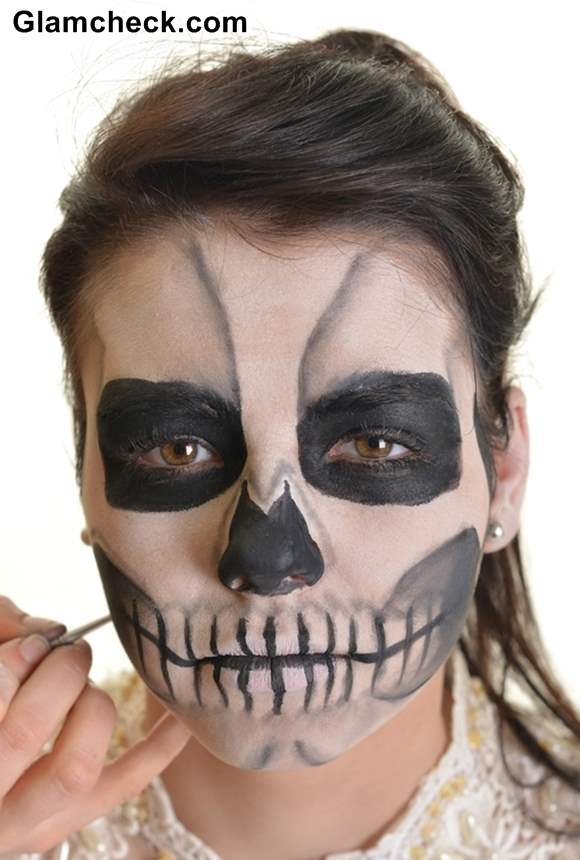 Skull Face Makeup Tutorial Halloween
9. Next start drawing thin zigzag lines above the vertical lines in the last step. Smudge them to make them very light. Similarly draw lines around the nose tip patch and smudge it. It will all give depth to the look.
 10. Use the same technique to give depth to chin as well and the cheek and eye sockets as well.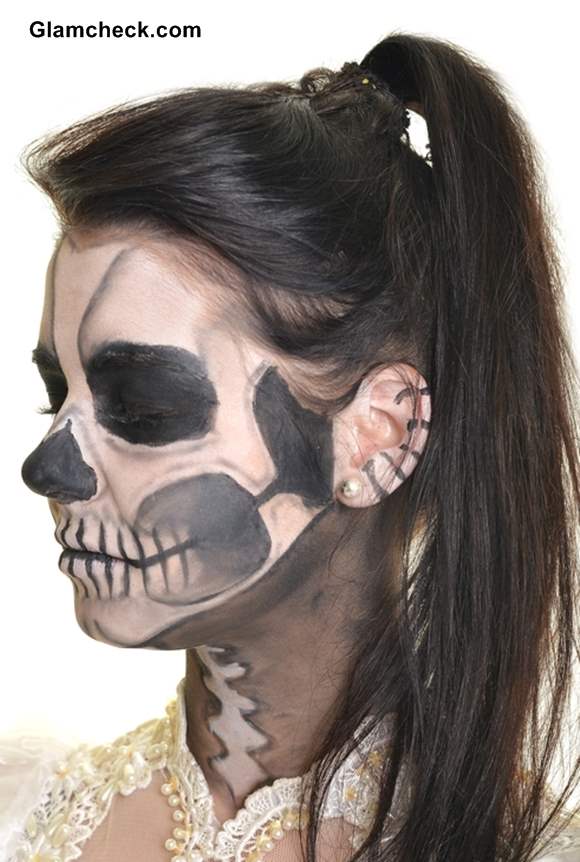 Skull Face Makeup Tutorial For Halloween
11. Next draw a vertical space in the middle of your neck enclosed in vertical zigzag lines as shown. Fill that area with white paint and the rest of the neck with black paint.
12. Complete the look by drawing line on both ears as well.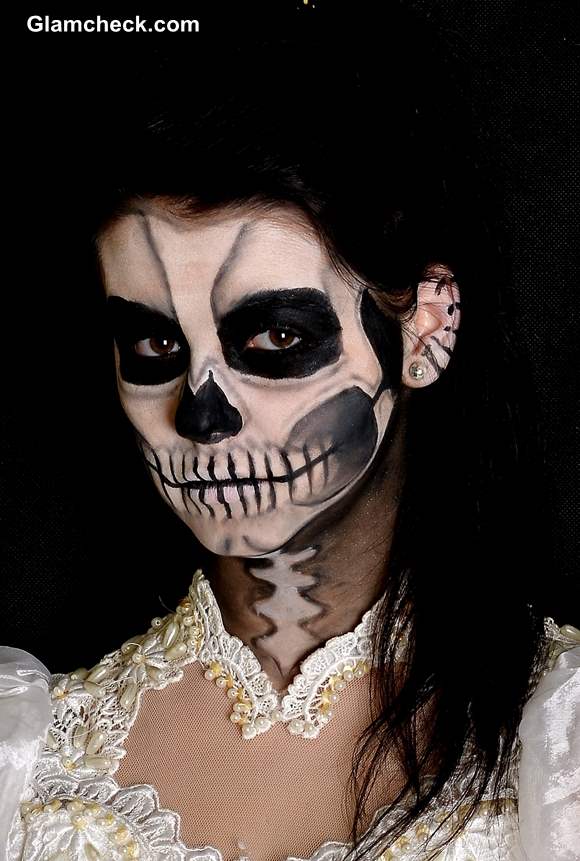 Scary Skull Face Makeup Tutorial Halloween
Pair this scary Halloween Skull Makeup look with any costume you desire. It will give a spooky twist to your costume. We have a few favorites illustrated here. Be a scary nurse, a dead bride or a medieval ghost.  Happy Halloween everyone!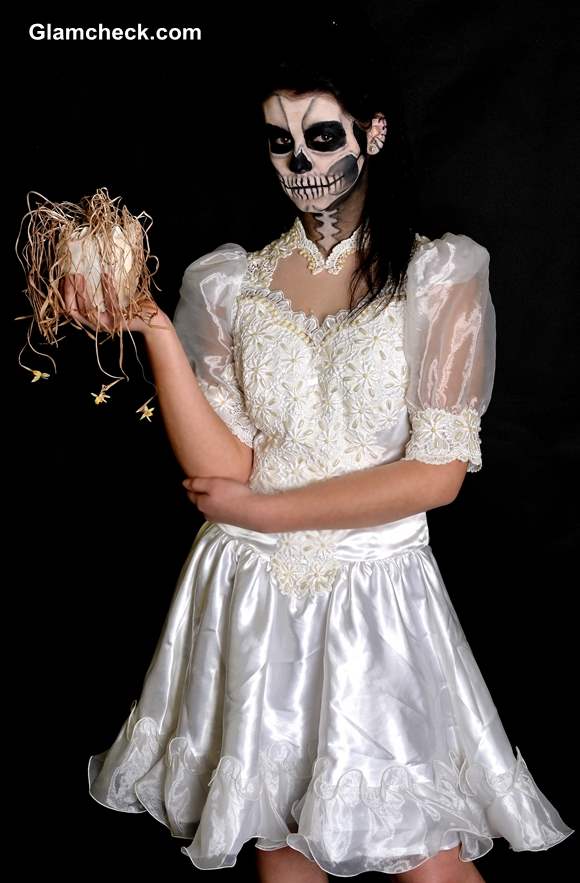 Horror Bride Makeup for Halloween
WATCH – Last Minute Spooky Nails VIDEO Tutorial
Witch Makeup for Halloween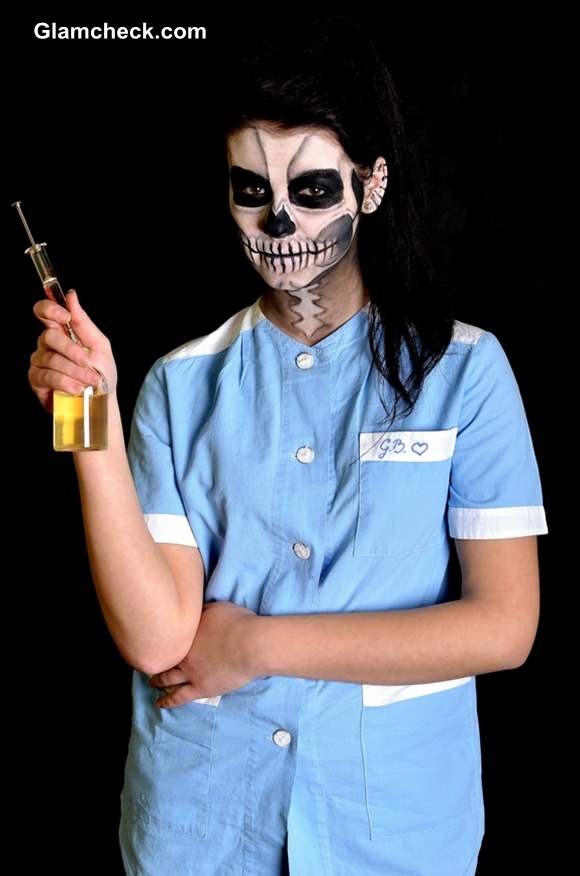 Scary Nurse Makeup for Halloween
Image: Shutterstock