Sisteronline has been dressing up women in fashionable attires for well over two decades. Their online store takes the commitment wider by enabling chicas from various parts of the world to get their hands on trendy clothing items. All the apparels retailed at the shop are handpicked designers labels which are also affordable. If a relaxed yet exciting shopping experience is your forte – then Sister is the place for you.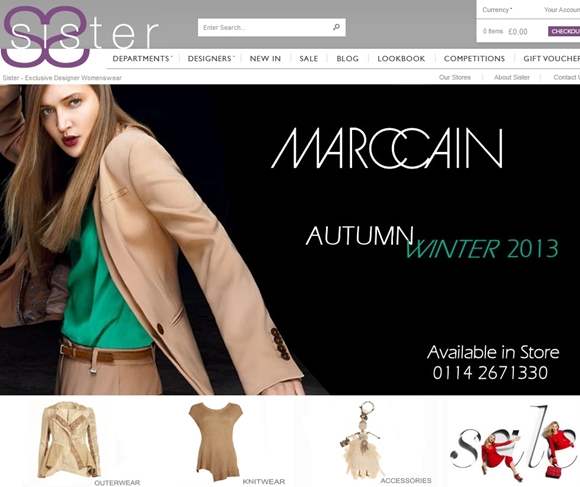 SisterOnline
The wide range of beautiful things that you will find at sisters include dresses, jackets, coats, knitwear, leggings, jeans, outerwear, shirts, skirts, tops and trousers. There are well segmented sections for accessories, bags, purses, footwear and even gifts. A special section is devoted to the mother of the bride and groom – a well thought of notion which you will not find at very many stores. The store is associated with big names from the fashion world like Armani Collezione, Elisa Cavaletti and Vilagallo among others.
There are a lot of pretty pieces available in the accessories area like fascinators, gloves, shawls, scarves and key rings. You can also buy a gift voucher to celebrate a special day of your loved ones. The online store has a loyalty scheme that believes in rewarding customers by giving a free £10 voucher for every £100 spent on the website. So, you can do the math and calculate how much worth of free stuff can be availed on what denominations. Various competitions are also held from time to time on the online store so that lucky and loyal customers can make use of good discounts and offers.
The store offers a full refund to customers not happy with their order, in order to know more about the related terms and conditions you should visit the website. An extremely transparent policy regarding delivery and returns makes shopping at Sister a really hassle free process. To know all about the latest styles and designs the store retails, you can head to the look book section. Each department is also well categorized with all the items nicely catalogued with accompanying descriptions – to make the selection process easy for the customer.