Singer Rihanna started the Mohawk trend when she shaved off the sides of her head a couple of years ago. She continues to sport that look on and off and has inspired a whole host of celebrities to take to the razor and redefine their looks. Actress Jada Pinkett Smith was the latest to jump on that bandwagon. Here she is in a quasi Mohawk hairdo as she attended the Equality Now presents Make Equality Reality event at the Montage Hotel in Beverly Hills, California on November 4, 2013.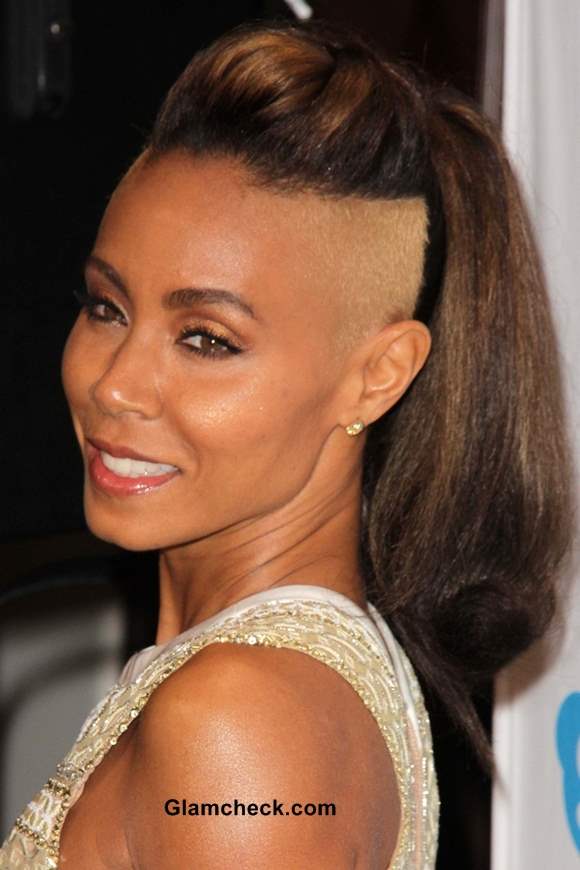 Jada Pinkett Smith Sports Mohawk Ponytail
Jada shaved off both sides of her head and went on to style her remaining locks into a beautiful ponytail. The hair on the crown was raised slightly to mimic a Mohawk, but there was a clean, elegant and very feminine vibe to it.
This Mohawk is a modern look with plenty of edge and sass to suit the sensibilities of the contemporary gal. Shaving off the sides of your head will also make you feel lighter. Plus, you'll have less maintenance to do, or at least you'll think you do which amounts to the same thing. However, the look can be a little hard to pull off. So you may want to get the opinion of a qualified stylist to see whether or not it will work for you.
If you want to check out whether the look will work for yourself, just slick down the sides of your hair with loads of gel so that both sides get completely flattened. Don't forget to style your hair in a bouffant-esque ponytail like Jada first. This hairdo will give you a pretty good idea of what you will look like with a shaved Mohawk. But why not just take a chance and try it for real? The hair will grow back pretty soon anyway so you have nothing to lose. 
Image: Shutterstock