The Cannes Film Festival is always a super-sweet treat for fashionistas all over the world. Check out these celebs who made our hearts throb with lust for their outfits as they attended different events at the Cannes Film Festival 2014.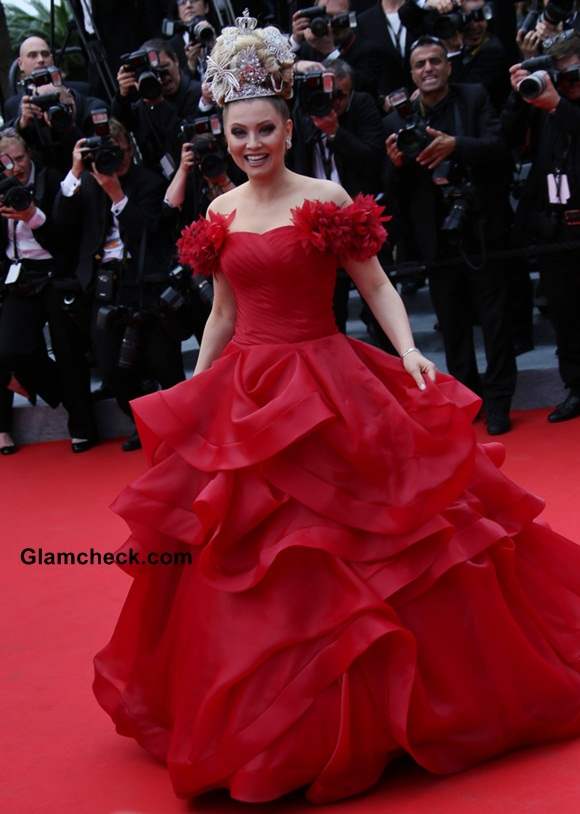 Elena Lenina at Cannes 2014
The premiere of "Grace of Monaco" on May 14, 2014 was attended by a bevy of beautiful women. Elena Lenina caught our eye in flamenco-inspired red princess gown. Her full skirt boasted layered ruffles while the off-shoulder sleeves featured feathers. Going really royal, she piled her hair high on her head, we're sure most of that was a wig, and then proceeded to top things off with a tiara.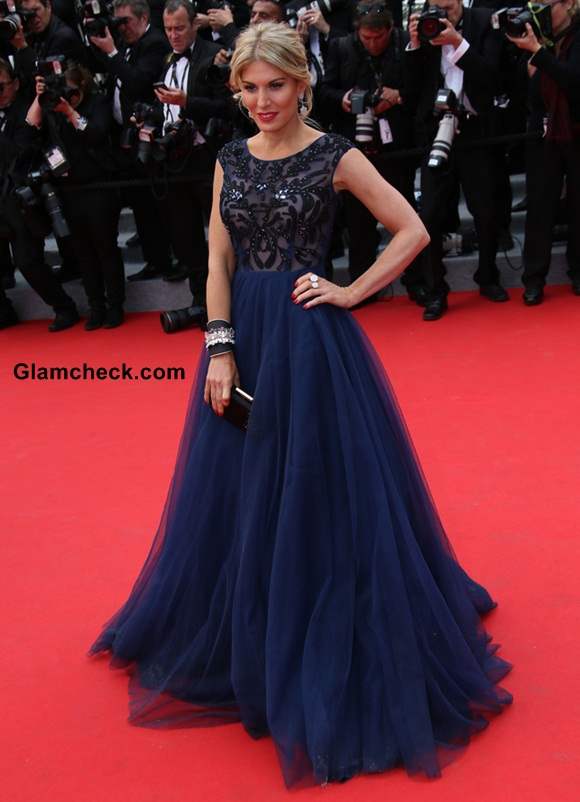 Hofit Golan at Cannes 2014
Hofit Golan was exuding a totally different kind of royalty in her elegant blue gown with a sequinned bodice. She chose simple yet glamorous jewellery in the form of a diamond cuff bracelet, a couple of finger rings and diamond dangle earrings.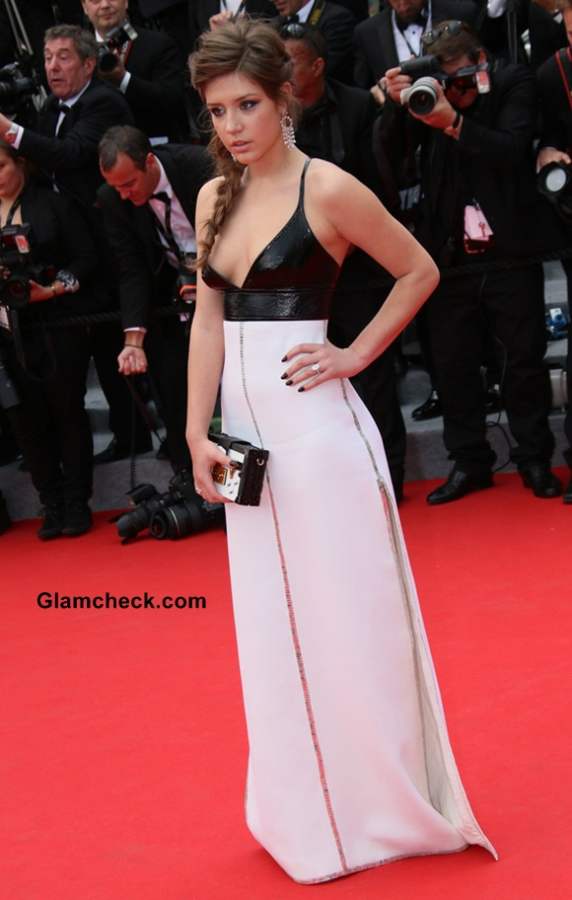 Adele Exarchopoulos at Cannes 2014
Adele Exarchopoulos was trendy but quite risque. She wore a monochrome gown – black on the very low-cut bodice and white on the floor-sweeping skirt. Love the delicate filigree of her dangle earrings, love the monochrome box clutch and love the ever-popular side braid.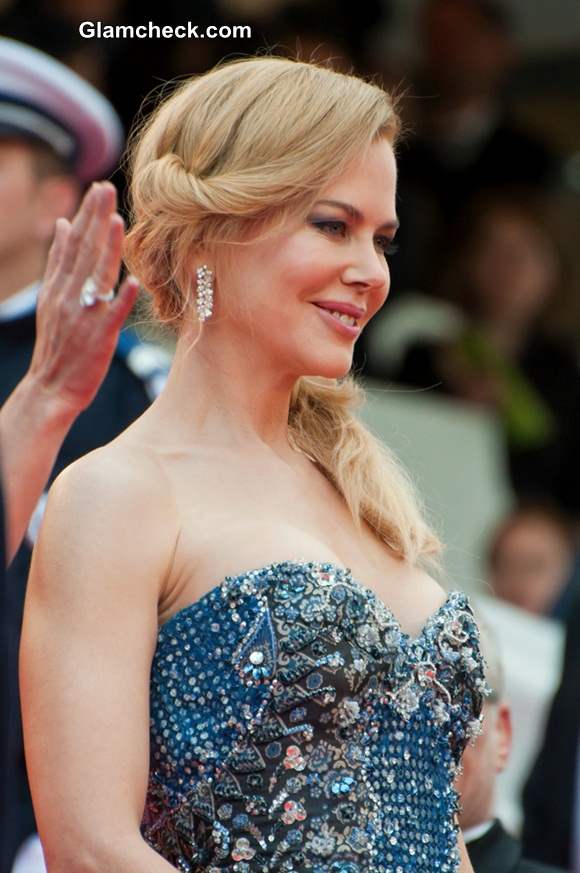 Cannes 2014 Nicole Kidman
Classy Nicole Kidman stepped outside her comfort zone in a strapless, heavily-embellished blue lace gown from Armani Prive's Spring 2014 line. It was an exquisite piece which ensured that all eyes were on her.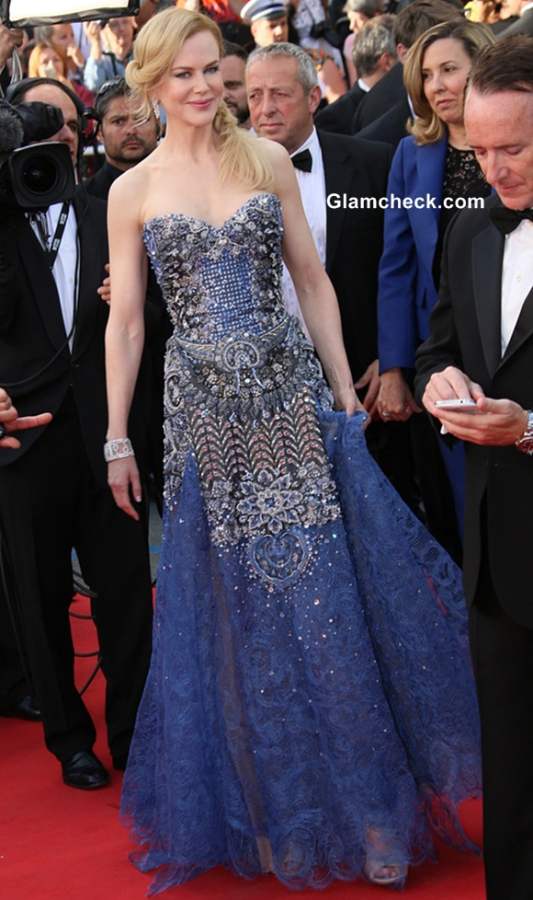 Nicole Kidman at Cannes 2014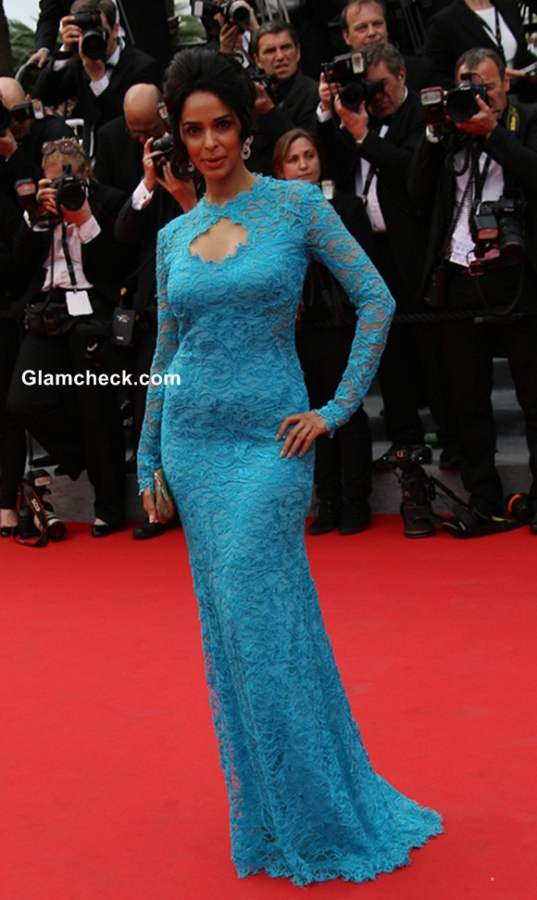 Mallika Sherawat at Cannes 2014
Mallika Sherawat was one of the few ladies who chose colour over monochromes, pastels and a hundred shades of nude. She wore a fully-lace blue gown featuring full sleeves, a high neckline, and cutout detailing on the upper bust.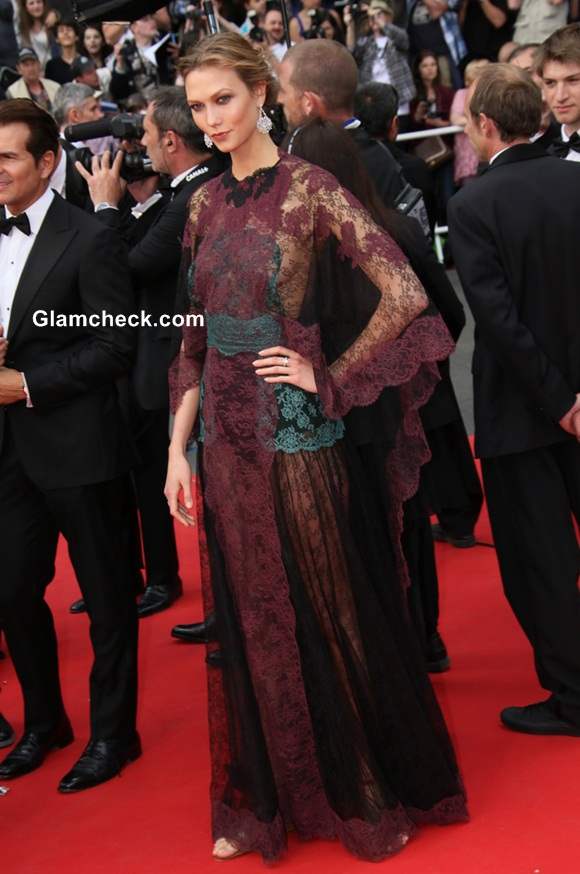 Karlie Kloss at Cannes 2014
Karlie Kloss also chose lace, picking a sheer maroon, blue and black creation from Valentino's Spring 2014 collection. She rounded out the look with flat footwear and subtle jewellery from the Chopard Green Carpet Collection.
We head on over now to the lovelies who indulged their inner child by taking in the animated film "How to Train Your Dragon 2" on May 16, 2014.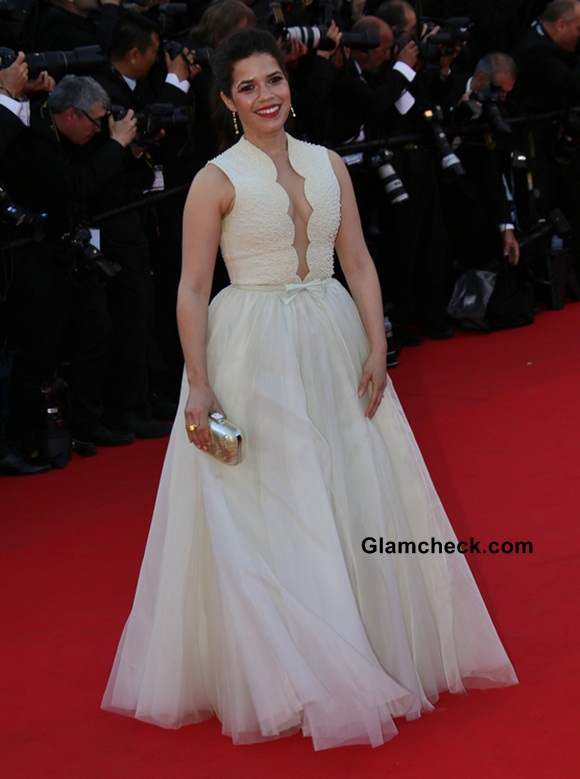 America Ferrera at Cannes 2014
First up is America Ferrera in a sweet, elegant pale yellow princess gown from Georges Hobeika Couture. Scalloped edges trimmed the plunging neckline, ending in a little bow around the waist. A pretty look.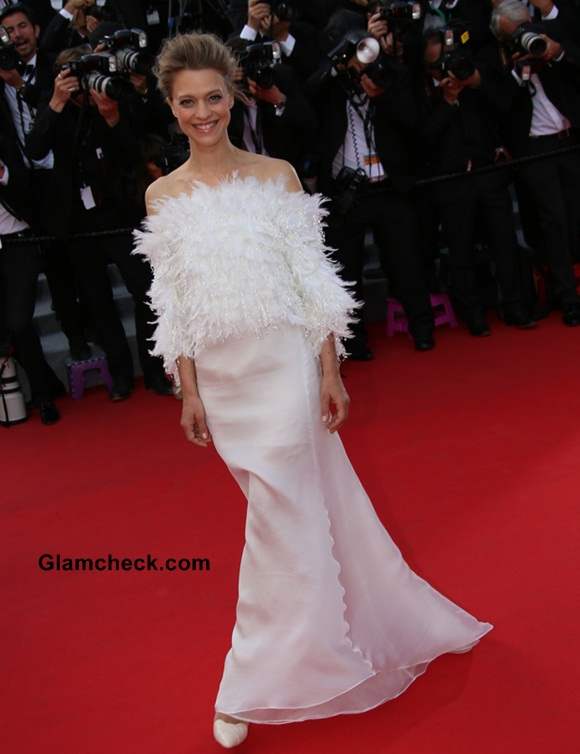 Heike Makatsch at Cannes 2014
Heike Makatsch had a fun look going in a pale pink gown featuring a textured, off-shoulder bodice. She rounded it out with matching pumps, a pink lippie and wispy updo. We like.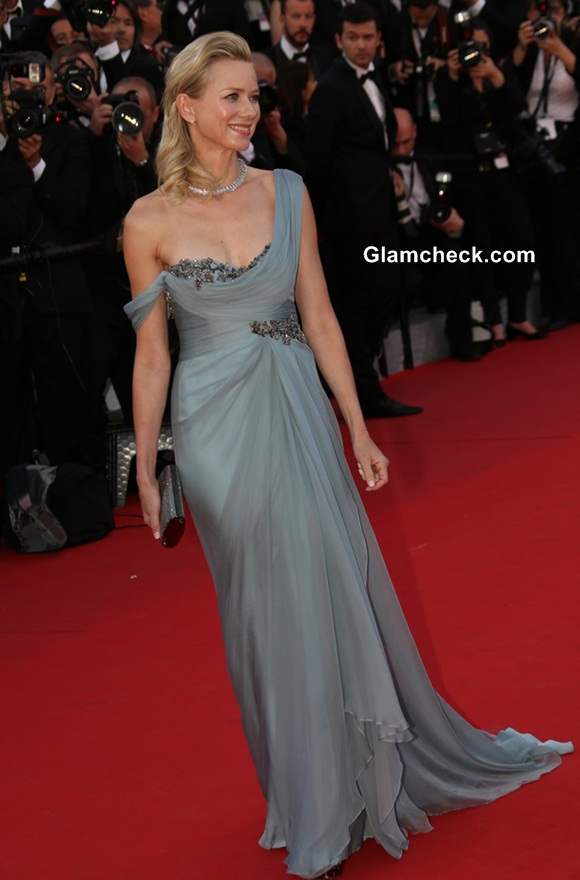 Naomi Watts at Cannes 2014
Naomi Watts went with a Grecian vibe in a draped chiffon dress by Marchesa with crystal embroidered accents on the neckline and waist. A serpentine necklace by Bulgari, tiny diamond stud earrings and a blue-grey clutch completed the look.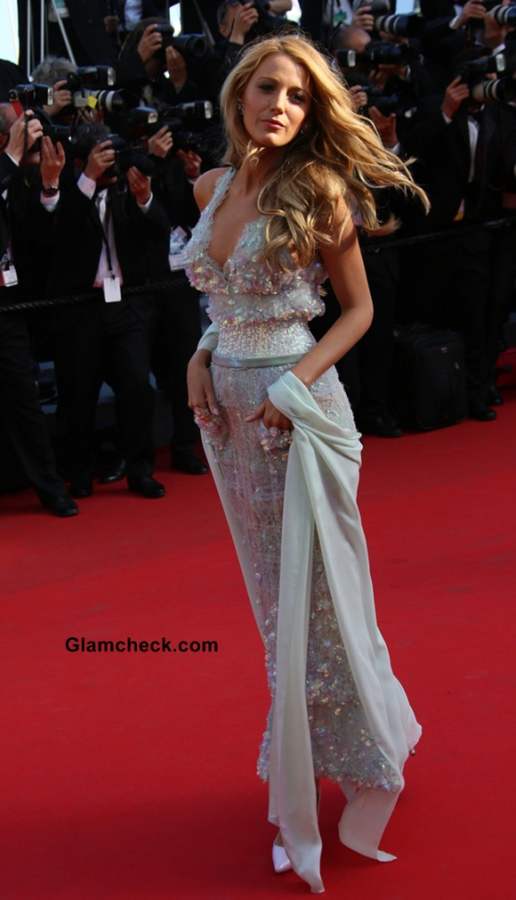 Blake Lively at Cannes 2014
Finally, we spotted current America's sweetheart Blake Lively attending the premiere of "Mr.Turner" on May 15, 2014. She was all a-glitter and a-shimmer in a silver sequinned gown. As glamorous as the gown was, we have to say that what really made it work were her wind-blown curly locks and smoky eyes.
Image: Shutterstock