With the summers in full bloom, florals seem to be the best way to relax! At the "CRO A PORTER" show on April 11, 2014 in Zagreb, Croatia we saw splendid shoes made by designer Ivan Ledenko.  There were lots of details and colour. These shoes stole the limelight and the seductive heels took it a step further.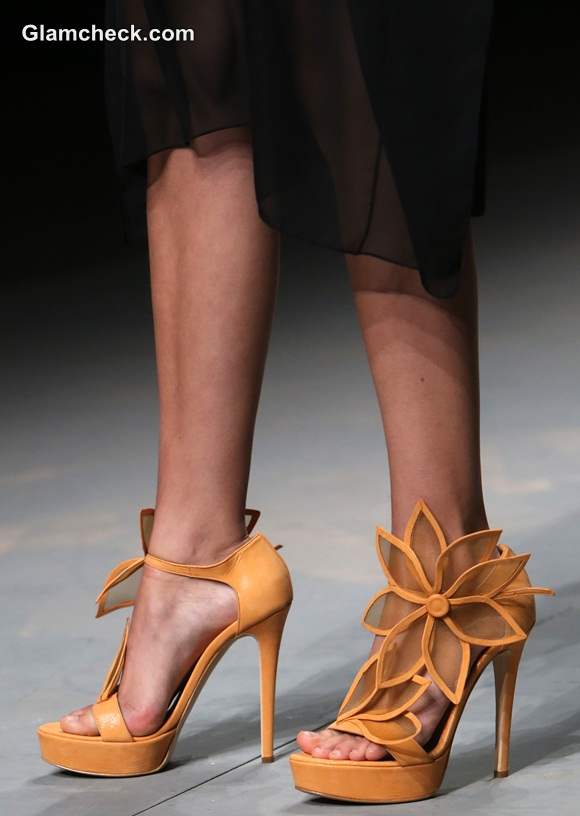 Flower Power Footwear – DIY
This whimsical pair of shoe when teamed up with anything can brighten the entire outfit. The over sized flower cut outs are an interesting way to convert an ordinary pair of sandals into a very interesting one. This concept can be applied on just about any pair of footwear be it pumps, sling-backs, ballerinas, stilettos or even flip-flops! You can try and experiment with the flower sizes and the number of flowers to be used to get a different look every time. To look understated opt for a minimal look keeping the flower size small, you will look cute and delicate. To grab some eyeballs opt for a bigger size and strategically place it in the front and on the sides. This addition can get you brownie points on any outfit! You can dress up or dress down accordingly.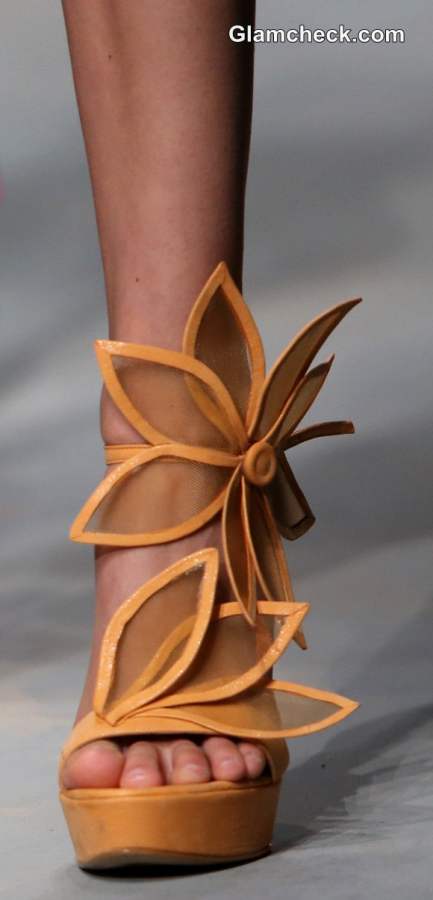 Ledenko Heels – Flower Power Footwear DIY
Play with the flower motif and its petals. You can come up with unusual patterns which will create a very distinctive look. The ready-made flowers which are available in the market can be used or you can create your own by using stiff fabrics such as net, organza, lace, etc. What you need?
A pair of footwear which you are ready to recycle (sling back/ pumps/ sandals/ peep-toe/ stilettos/ etc)
Ready- made flowers
Or
Stiff fabrics like net/ organza/ silk/ leatherite and thin metal wires to create the flowers
Thread and needle
Adhesive
What to do?
Take the footwear you are ready to recycle and carefully place the flowers on the shoe. You can opt for using it on the upper or maybe just on the sling.
You can make flower petals with the fabric and metal wire and neatly place them with each other to create a full flower using needle and adhesive.
Exercise caution while moulding the petal shape from the metal wire. You can opt for the long pointy petals or the rounded edges one, choice is yours.
You can also just use the petals to create an abstract pattern.
Paste the flowers or the petals on the shoe neatly and you are ready to go!
The footwear can go with Indian or western outfits, depends on how you team it up. Opt for a neutral tone for maximum utility. The bright colours would definitely look good but will have restrictive usage.  Go for colours like beige or gray, yellow or turquoise, wine or fuchsia, all will look great. Try and experimenting with two or more colours to funk up the look, but don't overdo it.
Image: Shutterstock