The "Sahara Desert" theme inspired show of Nicholas K during Mercedes-Benz Fashion Week at The pavilion at Lincoln Center on September 4, 2014 in NYC was truly mesmerising. The chic thick liner stole the show for us! We have seen a lot of cat eye make-up but this was fascinating. The upside down cat eye make-up was a refreshing change and the barely there make-up accentuated the natural beauty.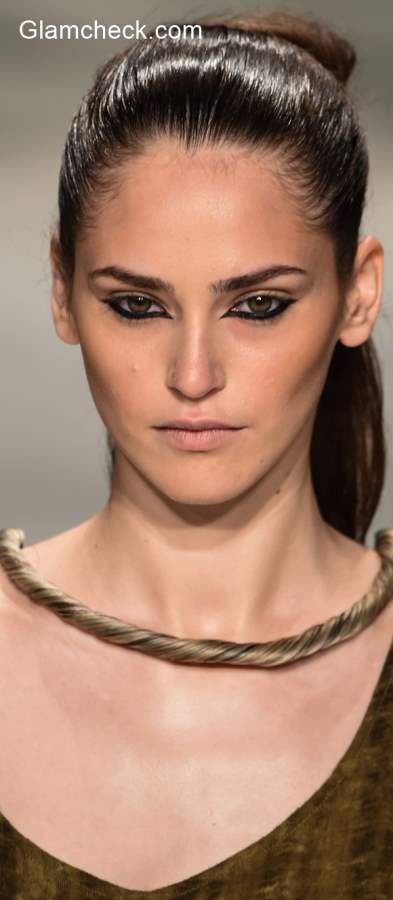 Beauty Trend 2015 – Reversed Cat Eye Makeup
The stunning look was created for the MBFW Spring 2015. The focus was mostly on the inner corner of the eye with the make-up. The bare-faced matt look with sharp gel eyeliner on the inner corner recreated a typical cat eye but it was just reversed! There was a little of make-up on the eye-lid and everything else was below the lash line with some added volume mascara. The remaining look was very subtle and matte.
The urban wanderer look was well balance and had a strong connect. The simplicity of the eye make-up was unique yet very impactful. The lips were of a natural colour leaving the focus only on the eyes.
This look can be created for any evening get-togethers or for clubbing. It is definite that you will attract some eyeballs. It is a simple and effortless look which can easily be recreated anytime!

How to get this dramatic eye-liner look: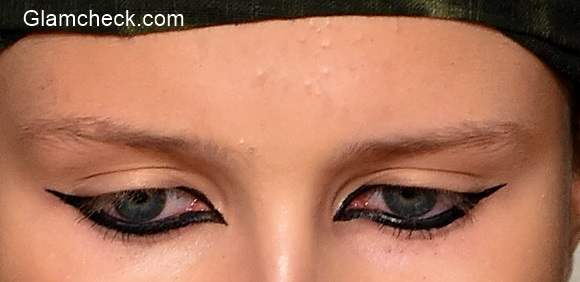 Eye Makeup 2015 – Reversed Cat Eye
You will need:
A true match foundation
Contouring make-up (optional)
A face powder
Gel eye liner
Volume mascara
Nude color lip colour
Get the look:
Apply a uniform layer of foundation and powder. You can contour your cheeks as well to have a more chiselled look.
Very carefully line the upper and lower lash lines with the eye liner.
Line the upper and lower lash lines with a gel eye liner carefully giving it a reversed cat eye shape. Try to create a downward point at the inner corner and extend it into a wing at the outer corner for the perfect look.Make it as neat and sharp as possible.
Finish the eye lashes with mascara to give volume at the bottom and inner corner of the top lashes.
Complete the look by using a nude colour lipstick and you are ready to roar!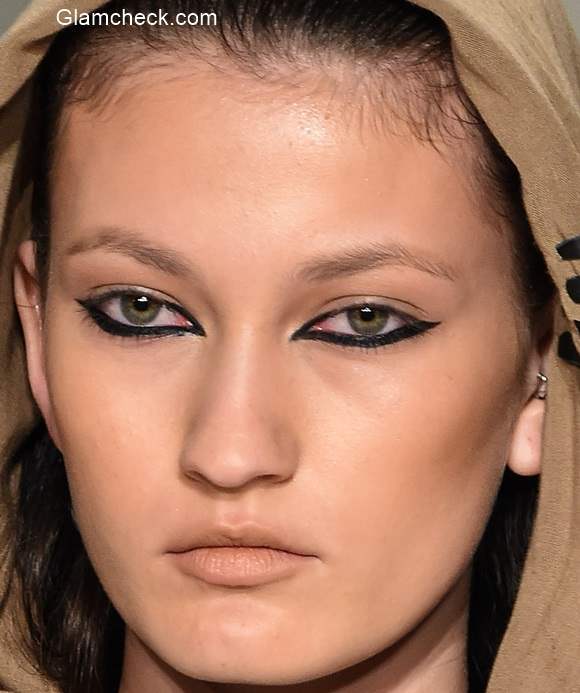 Eye Makeup 2015 – Cat Eye
This is a super easy and a non fuss look which you can wear anytime. The finishing plays a very crucial role in this make-up, make sure that your lines are clean and sharp. It can be worn with Indian or western outfits to give a contemporary twist. All you need to do is just look gorgeous and keep it stylish!
Image: Shutterstock