It's the season of festivities and for women, the time to 'glam-up'. But how does one add the holiday glitz and sparkle while stepping out for office? It's quite a predicament between appearing reserved and putting in a bit of cheer. Fret no more. Aigner's runway show for the Milan Fashion Week Autumn/Winter 2015 held on February 27th 2015, shows us exactly how to get it right.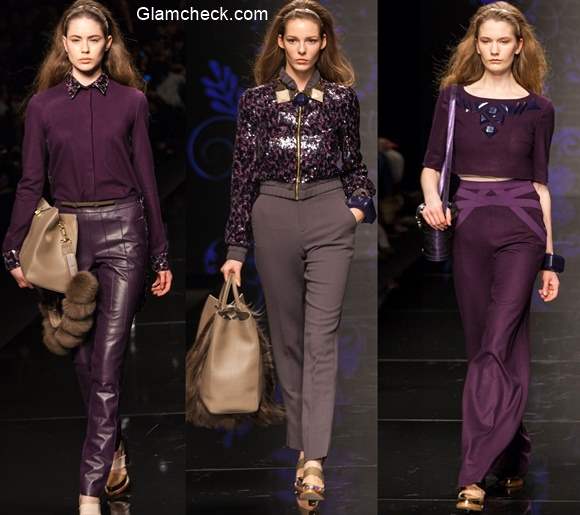 Formal Festive Wear -Aigner Autumn-Winter 2015
Style-Color:
Christian Beck's A/W'15 designs for Aigner provided a mix of tradition and modernity, ladylike elegance and edgy chic. For the silhouettes and cuts, the designer drew a lot of inspiration from the glorious 70s era. The color tones are shadow purple and dark beige.
Look#1: Sequinned Jacket + Cropped formal pants

Formal Festive Wear – Purple Sequined jacket
A simple well-tailored pair of corporate trousers in a neutral purple-beige shade is given a punch of glitterati with a sequinned cropped jacket.
With a classy yet striking jacket as such, there is no need for further accessorizing. Just wear your gold toned heels for a subtle complement.
Look#2: Embellished crop top + Palazzo pants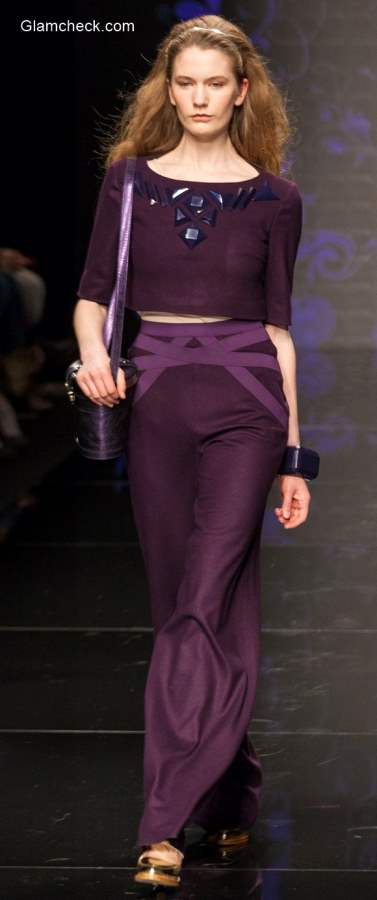 Purple Crop Top Formal Festive Wear
Shadow purple is a shade that brings purple's rich luxurious look but with a restrained and sombre feel. It is one of the trendiest colors for fall 2015-16 and suitable even for the more reserved office looks.
Stylish and relaxed palazzo pants get a slightly edgy makeover with the bandaged detailing around the waist.
For the top, try a structured cropped top with geometric embellished around the neckline. It will provide a lovely contrast to the flowy silhouette of the trousers.
Look#3: Chiffon Blouse + Leather pants

Purple Chiffon Blouse Formal Festive Wear
Soft, semi-sheer chiffon shirts flatter one's curves and lend a sultry but classy appeal. For the festive season, hints of sequinned detailing on the collar and cuffs provide a touch of glitz without going OTT.
Pair this romantic blouse with rocker chic leather pants, the clash of elegance and edgy make for one stunning combination!
But instead of the usual tight leather pants which is can be too out-of-place for office wear, opt for a more loose and straight cut trousers.
Wasn't Aigner's office holiday just clever and glamorous? It is the minor attention to styling like adding a bit of sequins or gold that makes a whole lot of difference.
Stay gorgeous, have fun ladies!
Image: Shutterstock