Bollywood actress Dia Mirza painted a pretty picture as she attended the Safe Light event organised by fashion photographer Jatin Kampani and Chivas in Mumbai, India on March 23, 2014. 
Get Dia Mirza's Side Braid and Natural Makeup Look
Dia wore a lovely blue and white floral print dress with a black necklace and black slingbacks. But what was really notable about her look was her hair and makeup.
The former beauty queen wore her locks in the supremely-popular side braid that looked really cute on her. Meanwhile, her makeup was all pink and glowy, but still very natural. Her eyes were what drew you in with the brown liner and mascara.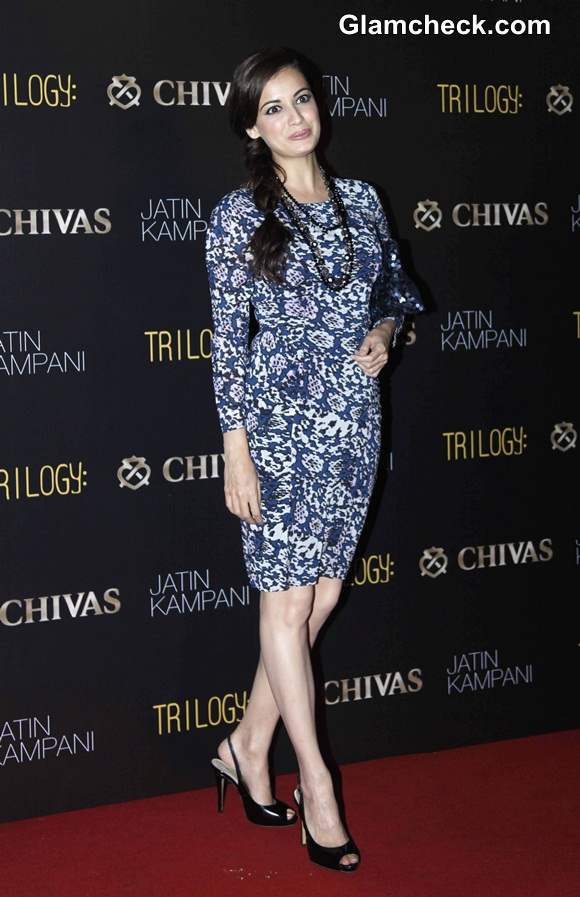 Dia Mirza 2014
She looked sweet, simple yet very stylish and with it. Dia's look is a pretty fundamental one when it comes to modern chic. The hairstyle is contemporary and versatile, suited for everything from casual day looks to your classiest evening wear. And the natural makeup-dark eyes combo is one that every fashionista should know how to create because, like the hairdo, it goes with everything.
It's totally worth putting in some effort to learn Dia's hair and makeup style. You'll soon find that it becomes one of your go-to looks.
How to Make A Side Braid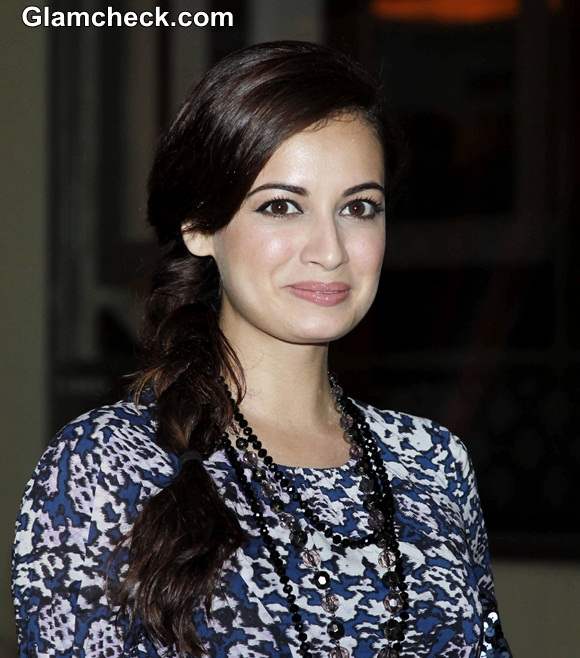 Dia Mirza Side Braid hairstyle 2014
The side braid is so simple to make it barely justifies a tutorial. But we'll do an easy step-by-step one anyway for the side braid newbies out there.
Comb your hair till it is smooth and shiny.
Sweep all your hair over the preferred shoulder.
Simply begin plaiting near the ear lobes. Before you begin braiding, ensure that your bangs (if you have them) are separated from the portion of hair that will be forming the braid.
Tie off your braid with an elastic.
How to Get Dia's Natural Makeup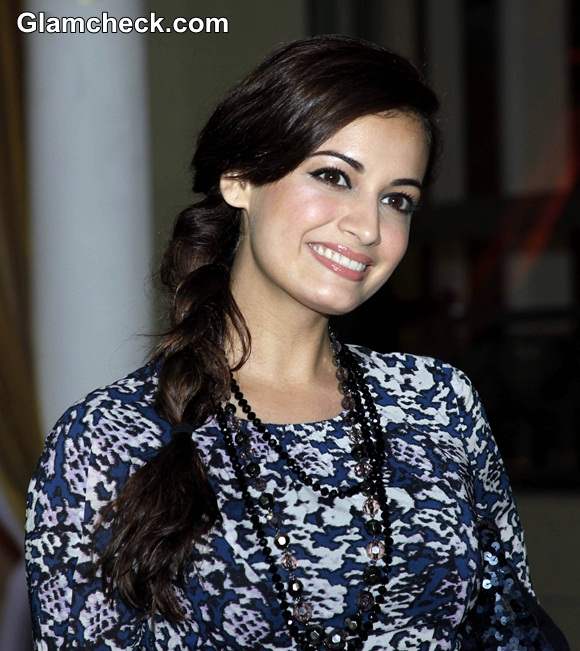 Dia Mirza Side Braid and Natural Makeup Look
After cleansing and toning your face and neck, use a concealer to cover up spots and even even out your skin tone.
Follow up with your favourite foundation.
Apply brown liner on your upper lash line and your lower lash line.
Next, apply mascara. Do so more generously on the upper lashes than the lower.
For Dia's glowy pink look, use rouge. But if you want a tanned look, use bronzer. Either way, gently brush it on your T-zone and just your cheek bones.
Finish off with a transparent lip gloss.
Solaris Images