Glamcheck brings to all its readers 8 beauty looks for the auspicious day of Karva chauth. You have to look as pretty as the moon on the big day and we are at your service to bestow you with our beauty looks.
Glamazon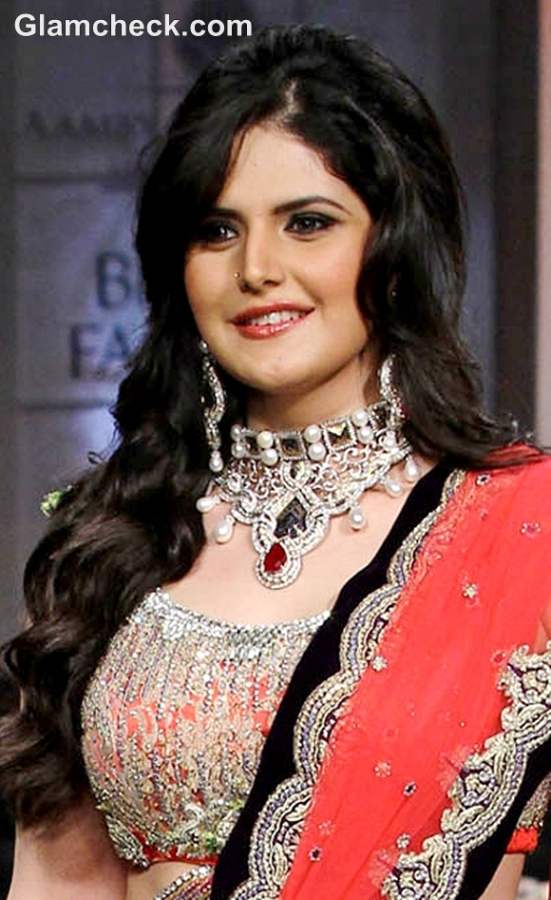 Karva Chauth Beauty looks  Hairstyle & Makeup
Glamorize your outfit with long lustrous hair and dazzling jewellery. The voluptuous lady sure looks prepared to battle it out with Venus herself. Zarine Khan shows you just how to look like a glamazon.
Tips to Look like a Glamazon
An ornate lehenga in soothing colours like coral and rose-pink with heavy silver work needs a make-up that will not overpower the ensemble in any way and yet, make the woman look gorgeous
Choose diamond, white gold and platinum jewellery for a lehenga which has silver undertones or is embellished with silver work
Pearl jewellery works just as fine for this look
Clutch your hair at the back and leave the front locks loose and open. Now, put the open strands on your shoulder for this Zarine Khan look
Try a nose-ring for some extra charm
Kohl eyes look amazing with traditional outfits.
Wear a peach eye-shadow and blush
A glossy pout will add more lustre to your look
Royalty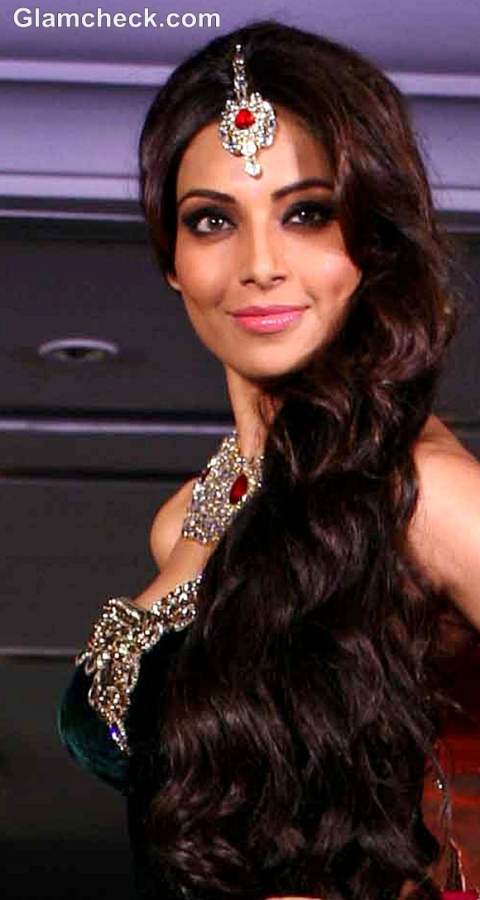 Karva Chauth beauty looks  hairstyle-makeup-2012
Bipasha Basu exudes a royal charm in her look. You sure must be gaping at her lovely jewelled maang-tika and pretty eyes. This Bong beauty has a lot of style! We decode her look just for you.
Tips to Look like Royalty
Choose rich fabrics like velvet and brocade for your ensemble.
Colours like emerald, sapphire, wine, and magenta should be preferred
A stone-encrusted maang-tika and necklace in gold or silver with a large stone at the centre of the neckpiece going with the colour of your outfit will look best
Use metallic eye-shadow to enhance your look
Those eyes need a black liner to beautify them. Wear it winged or define them like Bipasha
Wear three coats of mascara to add volume to your lashes
Apply shine serum to your hair, keep them open and side-swept
Apply a peach blush to the apple to your cheeks and bronzes your brow-bone, jaw-line and cheek bones for shimmer
A lipstick in crimson or peach will work well with the shimmer of your face. Do not forget to apply some clear gloss on it
Artsy Eyes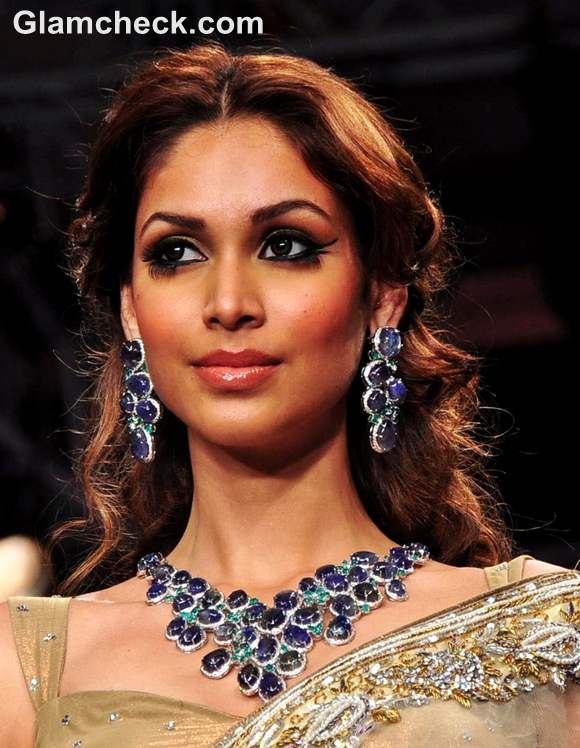 Karva Chauth Beauty look  Hairstyle Makeup-2012
Beautiful eyes and lustrous hair are the two ornaments of an Indian woman that never fail her beauty. This Karva Chauth, enhance your eyes for some excitement and fun.
Tips to have those Artsy Eyes
You can have those beautiful artsy eyes in just a few simple steps
False eye-lashes are a great way to thicken your lashes
Paste them to your existing lashes and define them with thick black liner
You will instantly feel the difference in your face
Now, mascara your lashes with at least two coats. Oh! You will have to put a nazar-tika now. You look so stunning!
Gloss your lips or wear a matte lipstick. Both ways, you are in for a treat
A light pink blush will complete your look
Scarlet Queen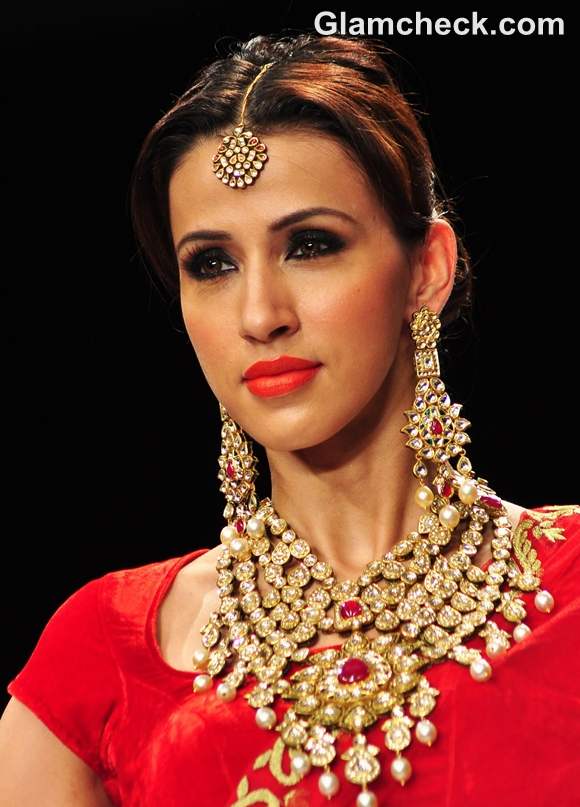 Karva Chauth hairstyle-makeup 2012
This vibrant colour makes you turn into a diva in no time. A red and gold sari will look super with this look.
Tips to Look like the Scarlet Queen
A red sari with gold brocade border paired with gold jewellery will elevate your look
Part your hair and make a neat bun
Smoky eyes will add oodles of oomph on the night of Karva chauth
Apply a light peach blush and add scarlet lips to add some allure and appeal to your face
 A gold maang-tika and choker with gold danglers will complete your look
Define your eye-brows with a highlighter and you are set to grab attention
Mid-night Beauty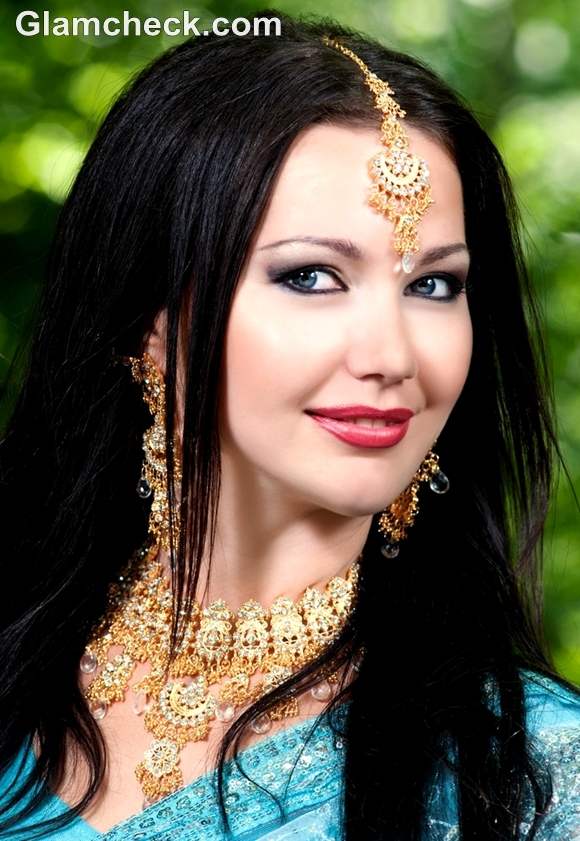 karva chauth 2012 hairstyle makeup looks
The midnight shade of eye-shadow is perfect for your expressive eyes. Make it the focus of your look with these simple steps.
Tips to Look like the Mid-night Beauty
Apply a light blue shade of eye-shadow on the eye-lid
Now, brush on a blue-violet eye-shadow on the lower lid and then, apply a deep violet or charcoal shade to the sides of your lid
Kohl rim your eyes and apply mascara
Line your lips with a light crimson lip-liner and top it with the same shade of lipstick. Add clear gloss on top of it
A little pink blush on the cheeks will soften the look
Part your silky hair and keep it open
Wear a violet or midnight blue ensemble to go with the look
Gajra Look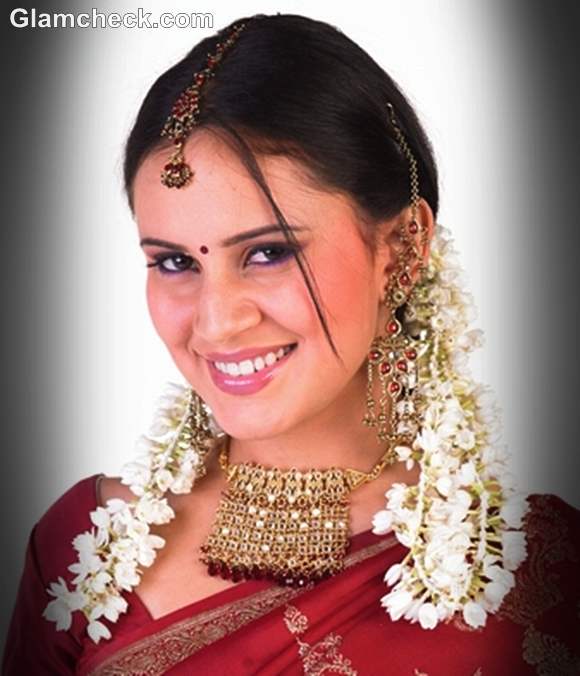 karva chauth gajra hairstyle 2012
Gajra is a way of adorning your hair with fresh flowers. This hair accessory will never go wrong with traditional ensembles. Our very own Kareena Kapoor was sported in a gajra during her Sangeet ceremony. What more proof do you need of its starry quotient!
Tips to Look Starry in a Gajra
Make a bun on your hair and wear a sweet smelling gajra on your hair
You can adorn the gajra in your bun and keep it off your shoulders
Take out a lock from the forehead and let it fall on your face
Kohl-rim your eyes and apply a thin liner
Wear a purple liner on the lower eye-lid. It will instantly uplift your look
Sport a small and neat bindi on the forehead
A glossy pink pout and pink cheeks will look lovely on your gorgeous skin
Traditional jewellery will look apt for this look
Braided Look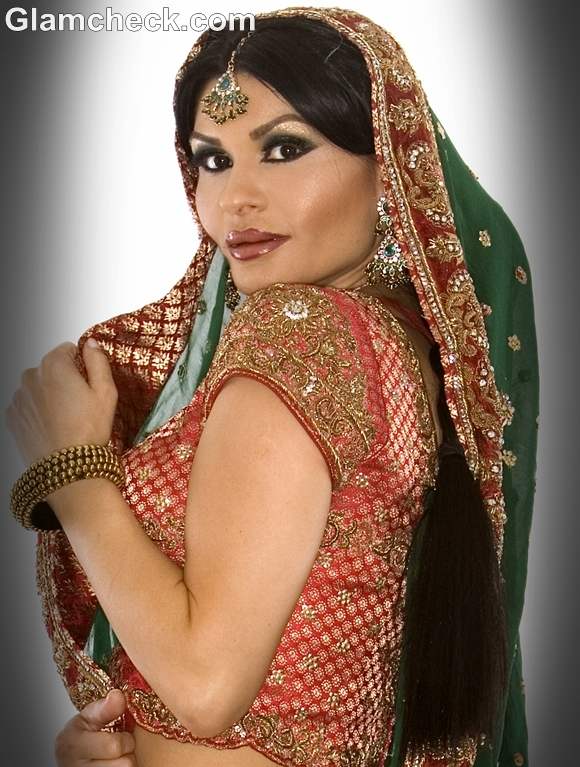 karva chauth braid hairstyle 2012
Braided hair is all the rage this season with stars sporting it from the red carpet to traditional events. Make way for French braids with your lehenga this Karva Chauth.
Tips to Have the Braided Look
Braid your hair neatly into French plaits and side sweep it to one side of your shoulder
Bold eyes and bronzed cheeks will take you through the Karva Chauth night
Metallic golden eye-shadow should be paired with crimson lips
You will not regret wearing a heavily embellished lehenga or sari with this look
The hair will be high on the style metre and the sheen of your face will add drama to your look
Fresh as Dew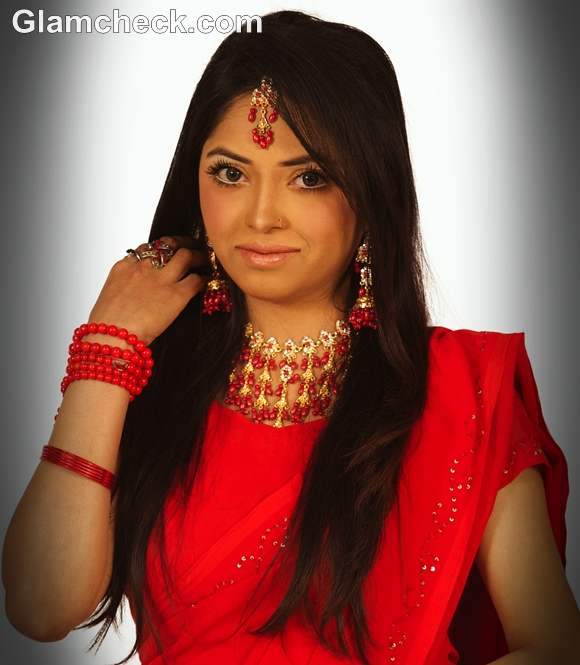 Karva Chauth beauty-hairstyle makeup traditional 
This look demands a smooth and supple skin. Get a fresh face with this dewy make-up. Sport this look with a vibrant colour like red.
Tips to Look Fresh as Dew
Cleanse, tone and moisturise your face before applying a concealer
Take note that the shade of the concealer matches your skin tone
After concealing the spots apply a foundation smoothly on your skin
Now, wear a peach blush on your cheeks
If you have smaller eyes then, line your inner lid with a white liner
This will make your eyes look wider
A black kohl or liner should be applied on your eyes to accentuate them
Apply a rose-pink lipstick on your pout and add a clear gloss
This look will give you a dewy skin and make you look as lovely as ever.
You have all the necessary tips for the evening. Prepare yourself for the night to blow his mind away! Do not forget to remind him of the Karva Chauth gift. After all you are bearing all this pain and loads of make-up only for him, right!
May this Karva Chauth make your life happier and full of love!
Indian Photo Agency, IANS, Shutterstock