Bollywood actor Sonakshi Sinha headed to the Star Plus studios in Mumbai, India on October 12, 2013 to shoot for a Diwali TV special.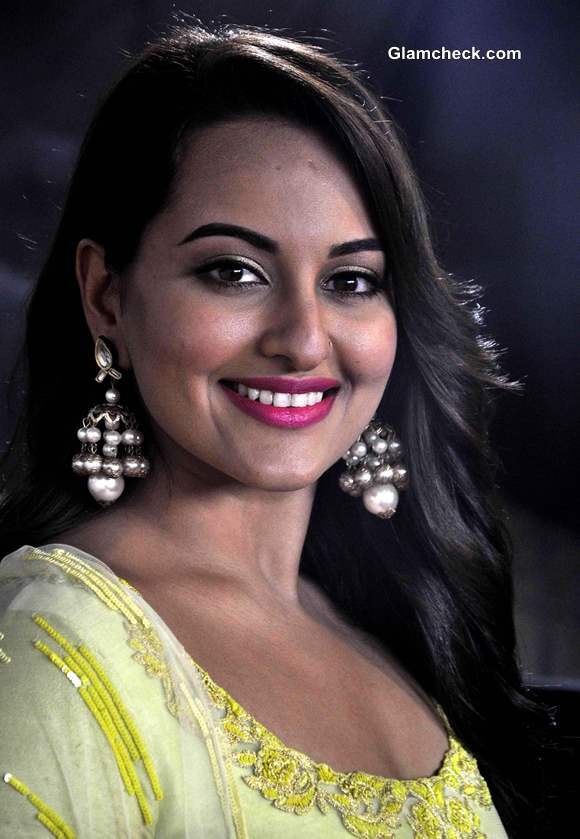 Sonakshi Sinha 2013 at Star Plus Diwali Celebrations
Her Clothes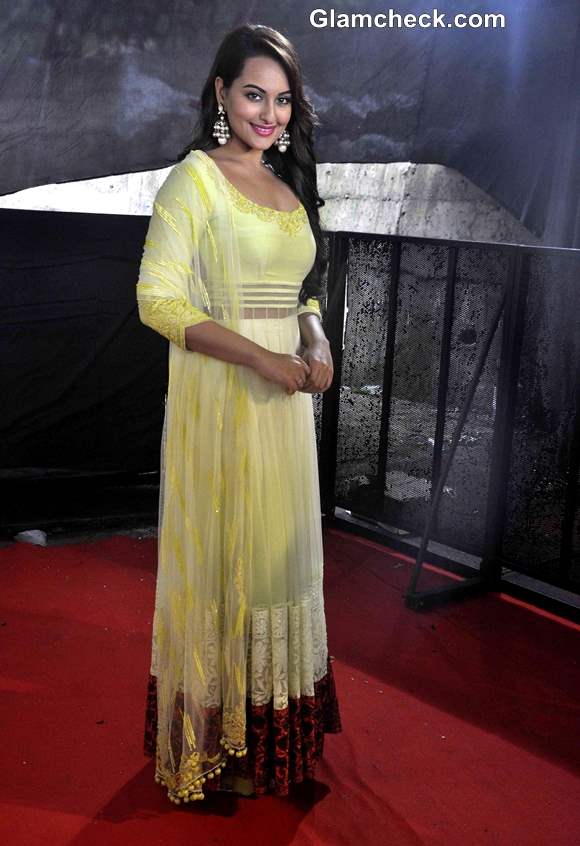 Sonakshi Sinha Sweet in Yellow Lehenga Choli at Star Plus Diwali Celebrations
The Dabangg star wore a yellow lehenga choli that mimicked an anarkali outfit. The choli had a long sheer overlay which extended over the lehenga, ending in a red embroidered border.
Embroidery in a darker shade of yellow embellished the scooped out neckline, the cuffs and the border of the sheer dupatta.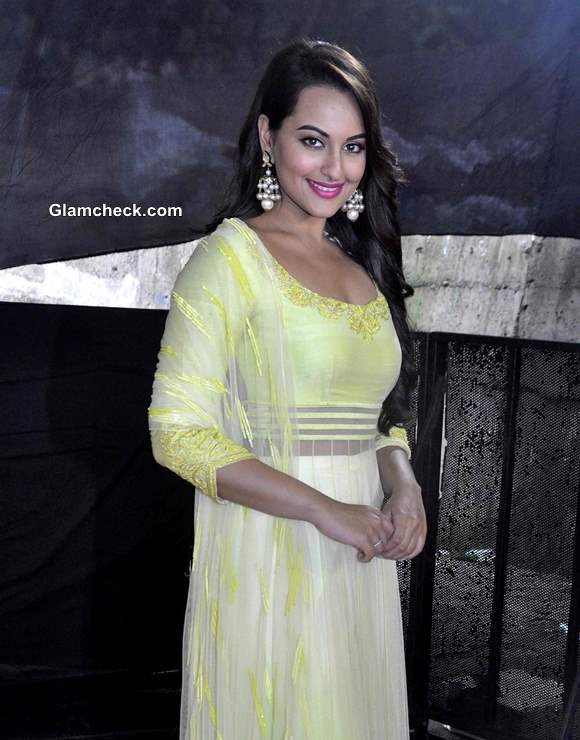 Sonakshi Sinha's look at Star Plus Diwali Celebrations
The 26-year-old looked quite pretty and subtly festive. The color is a good one against her skin tone and the silhouette of this outfit is slimming. Plus, this kind of traditional attire really looks best on her because she has the traditional facial features to go with it. Not to mention her womanly curves which, you have to admit, is what makes traditional Indian wear look so great.
How She Accessorized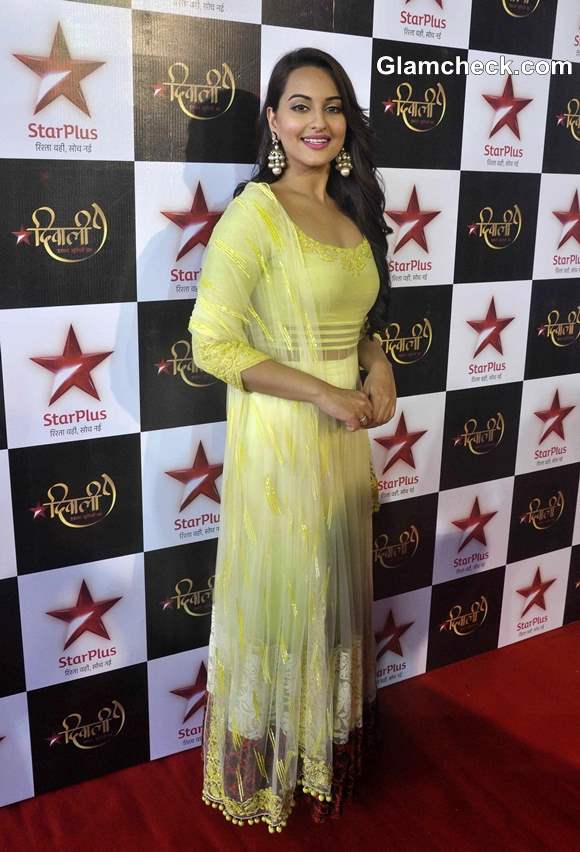 Sonakshi Sinha in Yellow at Star Plus Diwali Celebrations
You couldn't help but be taken by her gorgeous pale yellow pearl danglers. They matched the subtle hue of the outfit and also radiated an elegance that suited her. A slim silver ring and a pair of silver heels were her only other accessories. It's a good thing she made do without the necklace as the bare neckline was quite becoming on her.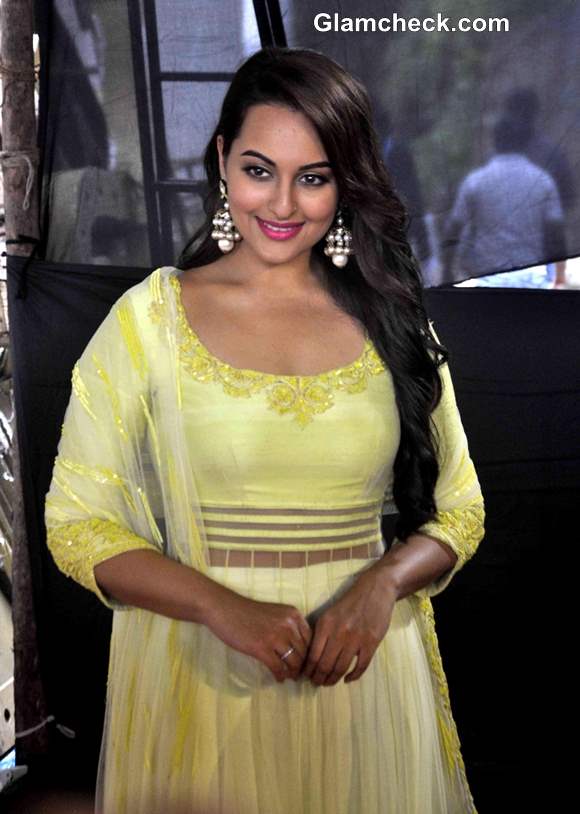 Sonakshi Sinha 2013 at Diwali Celebrations
Hair and Makeup
She completed her look with a deep fuchsia lippie, defining eye makeup and long, loose curls styled beautifully from a side parting.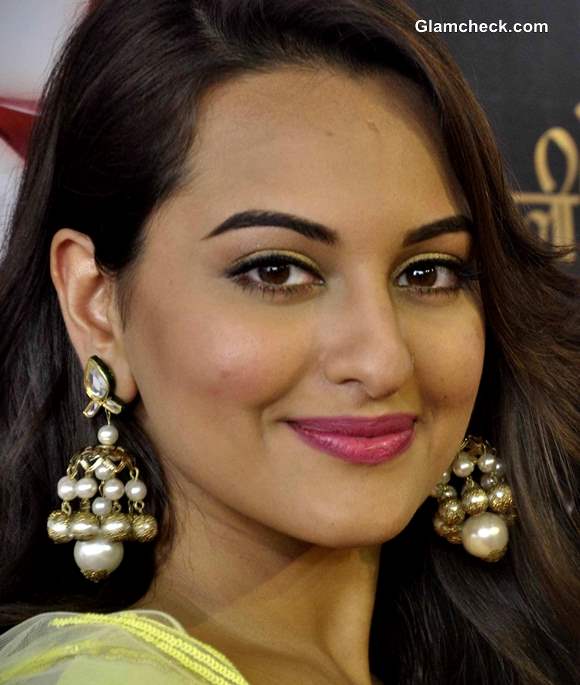 Sonakshi SinhaTraditional look at Star Plus Diwali Celebrations
A traditionally festive outfit would be more over-the-top than Sonakshi's choice of attire. However, the kind of subtlety and grace that this ensemble radiates more than makes up for any perceived lack of glitter, glamour or shine.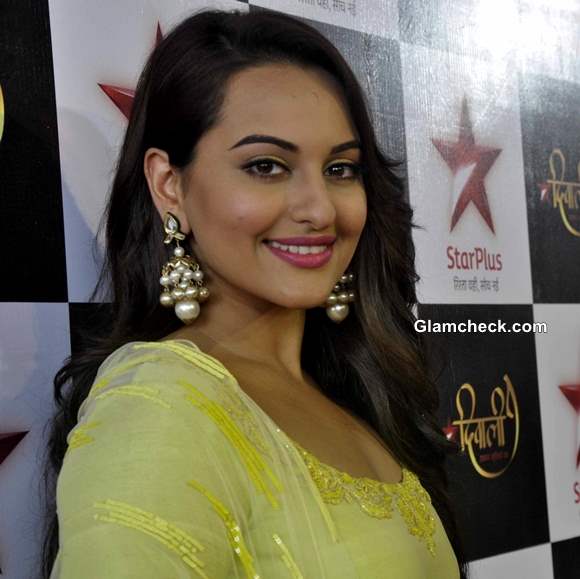 Sonakshi Sinha Diwali Celebrations 2013
Solaris Images