The bride-to-be has so much going on for her that it becomes very difficult to focus on her beauty. The skin and hair are the most essential part of your look on your wedding day. So, it is important for you to take care of your skin and hair, at least a month before your big day. We at Glamcheck have some very effective tips up our sleeves for your D Day.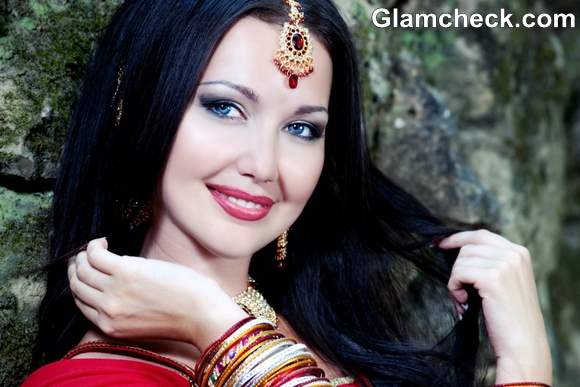 Indian Bridal Beauty Tips For Glowing Skin and Hair
Beauty Essentials: Skin
Cleanse, tone and moisturise your face religiously every day and night
Stick to your beauty products and do not go for new ones just before your wedding; any skin reaction can be disastrous
Apply a scrub on your face twice a week before tonning and moisturising
Apply a sun-screen before stepping out of the sun; an SPF of 25 to 30 is essential
Apply a night cream before going to bed, it will restore the moisture in your skin making it supple and soft
Beauty Essentials: Hair
A hot oil massage once a week can do wonders for your hair
Using a good shampoo and conditioner is a necessity
Cure your hair from dandruff; visit a good doctor if the problem persists
Go for a hair spa once or twice a month
Tip: Add lots of green in your diet and also Vitamins C, D and E. Have lots of water as it detoxifies your system and keeps you healthy.
Fix-it-up
Natural remedies like ubtans are not working for you and you need that much needed glow on your face for your wedding then read below:
Glycolic Acid Peels: This treatment takes about two months and removes dead skin by exfoliation adding a glow to your face
Microdermabrasion: This skin polishing treatment exfoliates dead skin and works in deeper layers. It helps you get rid of acne scars, open pores and black heads
Laser Hair Removal: Say goodbye to painful waxing and opt for laser hair removal. It permanently removes your hair from your body and face. Be careful to do it in a trusted clinic to avoid any problems
Tip: Some salons provide special bridal packages for your skin and hair treatments. Avail them for a beautiful you.
The Natural Way
It is always better to try Grandma's beauty tips for long lasting and glowing skin and hair. Special ubtans made from herbs and other natural ingredients work best for your skin.
Complexion enhancer: Mix one teaspoon of gram flour and a pinch of turmeric powder. Make a paste using a few drops of lime juice and honey. Apply it on your face and wash off when it is dry
Acne-prone skin: Make a smooth paste with mint leaves and a little cold milk and apply on your face daily before going to bed
Dry skin: To get a soft, moisturised, glowing skin, make a paste of milk and almonds which have been soaked in water. Add a little honey or fresh cream, if you suffer from a totally dry skin. Apply this paste on your face, neck and hands and wash off when dry. The results will be there for you to see
Natural Moisturiser: For your hands and body, apply a paste made from flour, honey, and milk. Apply on your body and wash it off after 15 minutes. You can also apply olive oil mixed with coconut oil on your skin
Healthy Hair: Apply a mask made of mayonnaise or yogurt on your hair. Shampoo it well as it tends to smell. Yogurt is a very good conditioner for your hair. Amla, Reetha and shikakai are another set of natural ingredients that will work magic on your hair.  Soak these three ingredients in water, overnight. Then, boil them in the morning and press out their juices along with the water that it was boiled in. Now, cool it and use a sieve to get the clean juice out. You can use it as a shampoo on your hair
Tip: A bottle of beer after you shampoo and conditioner can make your hair bouncy and soft. Buy a bottle of Budweiser beer and rinse your hair with it after conditioning. You have to see it to believe it!
Some Handy Tips For Your Lips, Eyes, Elbows, Under-arms, Feet and skin
Lips: Your lips need special care. Keep it soft and pink by applying fresh cream on your pout. Keep it on for 10 to 15 minutes and wash it off. Apply a lip balm after it for well moisturised look.
Eyes: Cucumber slices are a good option for your eyes. You can also make a paste of cucumber juice and potato juice and keep it in the freezer. Then, put the liquid in a potli and keep it on your eye-lids till you can. This works amazing for puffy eyes too.
Elbows and Under-arms: Treat the blackness of your elbows and under-arms by taking a slice of lime and scrubbing the areas with sugar. The combination of lime and sugar lightens the darkness of your skin. Rub the lime with sugar on the areas constantly till the sugar melts. Wash off and moisturise the area as it tends to dry. Do it regularly for 15 days and see the results
Skin: Rub a piece of papaya on your face and neck and leave on till it dries. Wash off immediately and see the results
Vanishing Pores: Apply tomato juice on your pores and wash it off when it dries. This helps tighten pores on your skin
Feet: Apply glycerine and lime juice on your feet after a good home pedicure. This keeps your feet soft and clean
Special Body Ubtan for a Bride:
With this ubtan which is especially tailor made for a bride, you will surely glow on your D Day.
Ingredients: 4tea spoons of chickpea flour. 2 tablespoons of almond oil, ¼ tablespoon of rose oil, 1 table spoon of fenugreek powder, 1 table spoon of wheat germ oil and 1 table spoon of turmeric
Mix these and apply the pack on your body daily. Massage it slowly on your skin and then, take a nice shower.
You will be ready for your big day flashing that pretty smile and gorgeous skin. We wish you good luck and a happy married life ahead!
Shutterstock