Sonakshi Sinha, since her debut two years back has already come a long way, both in terms of her films and her fashion sense. With many hits in her kitty she definitely has shot to stardom and her recent fashionable appearances promise a stylish future ahead.
With her being blessed with a beautiful pair of eyes, it only makes sense to highlight them. On a recent appearance on the catwalk for Falguni and Shane Peacock at the Blender's Pride Fashion Tour 2012, she donned an all black look – and it sure worked for the dusky beauty. Wtch out her complete look here.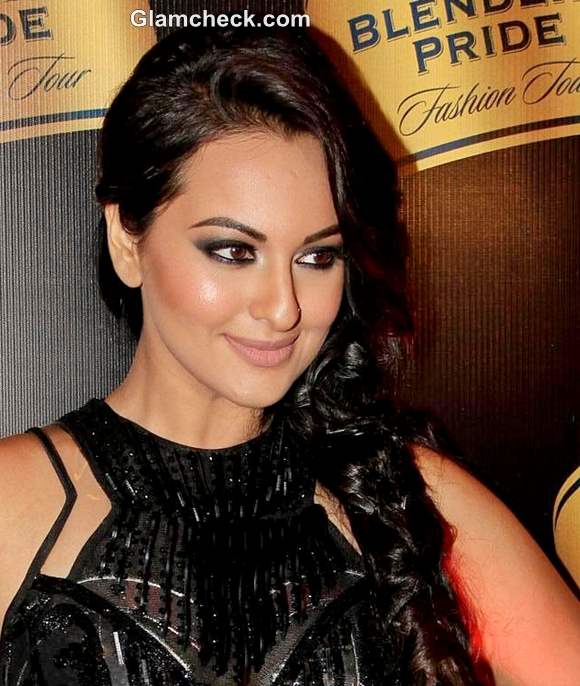 DIY Makeup Sonakshi Sinha Smokey Eyes Nude Lips
With an embellished gown, her skin glowed, her cheeks flushed and with those stunning smokey eyes and natural lips – she really did prove to be a great showstopper. Her hair were tied in a messy side braid.
DIY Makeup: Sonakshi Sinha's Smokey Eyes & Nude Lips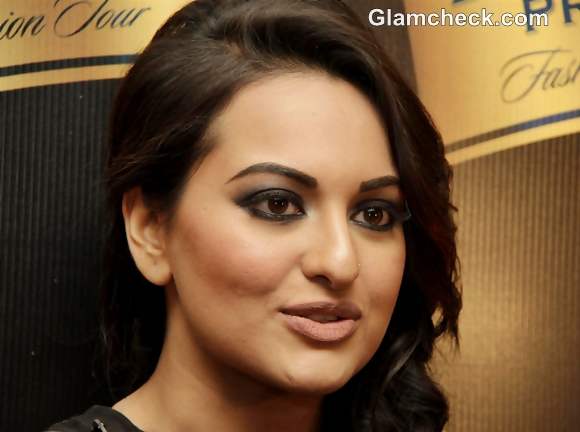 Sonakshi Sinha Smokey Eyes Nude Lips Makeup
At Glamcheck we talk about how to create this look yourself. The smokey makeup is an essential for the evening and doing it right can add great drama to your look and catapult even an ordinary dress.
The base
For any good look and make-up, as we always point out – the perfect base is essential.
Use a cream based foundation on your face and neck for an even skin tone. If necessary apply concealer to rectify blemishes.
Apply the right blusher to your cheekbones. If you are fair use a true pink or baby pink. If dusky like Sonakshi, peach and warmer shades of pink will be right. If even darker, go for a plumy hue.
The Lips
Moisturize your lips well with a balm.
Choose a matt lip color, in the right natural hue for your skin tone. As a general rule for choosing the natural lip color, observe what the true color of your lips is and only go a few hues lighter in your lipstick.
The Eyes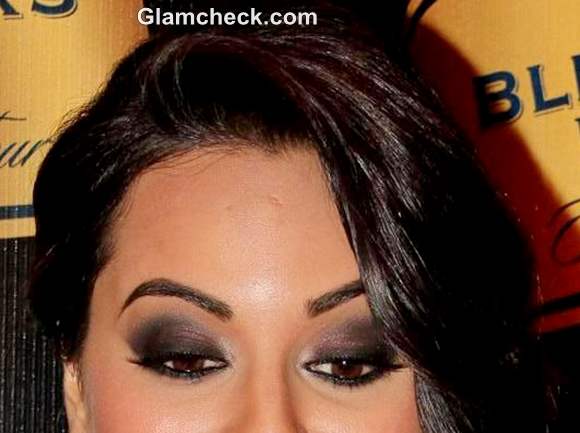 Smokey Eyes Makeup Sonakshi Sinha
Nicely arched and tweaked eyebrows are a must for this look, as all the attention is going to be on the eyes.
Apply a primer first if you are using an eye shadow powder. It will help it to stay.
Start with your upper lashline and apply black eyeliner. Use the same eye liner at the lower lashline too, instead of kohl as it is darker and richer.
Highlight your brow bone with a color close to your skin tone first. This would demarcate the area.
Start at inner lid with a plumy black and use the color sparingly, the skin should slightly be visible underneath.
As you progress towards the middle, mix a little black and make it darkest towards the outer corner. Define the outer corner with an angled stroke.
Blend with your fingers or the brush for more precise results.
Highlight the inner corners of the eyes with a hint of sparkly silver.
Finish with a few coats of mascara on your lashes.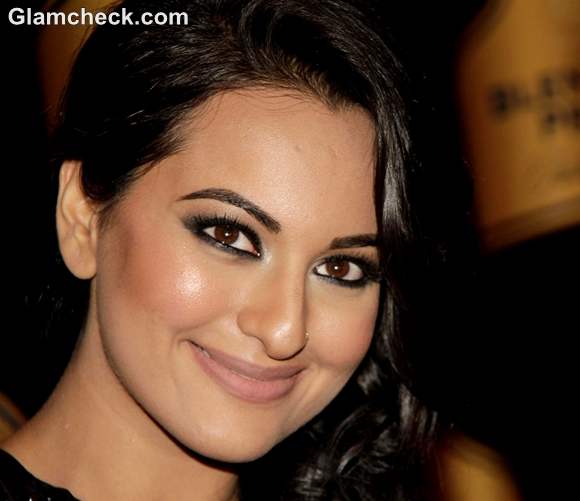 Makeup Sonakshi Sinha Smokey Eyes Nude Lips
Glamcheck Tip: Smoky eyes also look gorgeous in jewel tones. You can try a violet or deep metallic green too with the appropriate attire.
 IANS