Diwali is celebrated in India with Diyas, sweets and gifts. New dresses are bought   and there is a lot of excitement in the air. Creating traditional looks may seem a good option for many but, you can try out the contemporary looks as well.
Here are a few Diwali looks that we have set apart for you.
Elegantly Traditional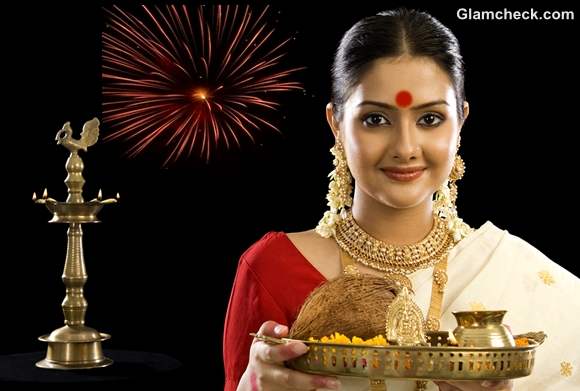 Traditional ethnic sari for Diwali
The traditional sari look is a norm in many households for married women. Gold ornaments, gajra and the large bindi form an essential part of the wardrobe. The morning puja of Ma Lakshmi and Ganesh is a great way to start your day. Try this look for the morning puja.
Tips to Look Elegantly Traditional:
Wear a beautiful brocade sari preferably red and gold
Place a red bindi  on your forehead
Wear gold ornaments like a nice choker or a strand of gold necklace and also gold earrings
Make a neat bun and adorn a sweet smelling gajra to your hair
Worship the Goddess to shower her blessings on your family
Watch the VIDEO – 3 Glamorous Hairstyles for Diwali
Red Green Drape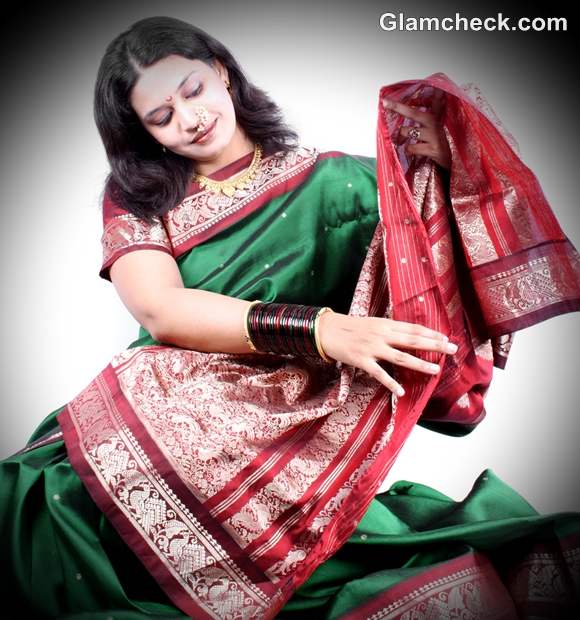 Diwali dress up Red Green sari
The sari comes in a wide range of fabrics, from brocades to silks. A green and red sari looks very traditional; every Indian married woman has this colour of sari in her wardrobe. Wear this look at your house-party.
Tips to Get the Red Green Drape Look:
Wear a traditional red and green sari with a brocade pallu
Choose a gold or platinum set to go with it
Colourful bangles in red, white and gold/platinum will glamorize your look
A nose-ring in gold can be worn for beautifying your face
A bindi in Maratha style with a half-moon and stone-studded bindi will look attractive
Youthful Sari Look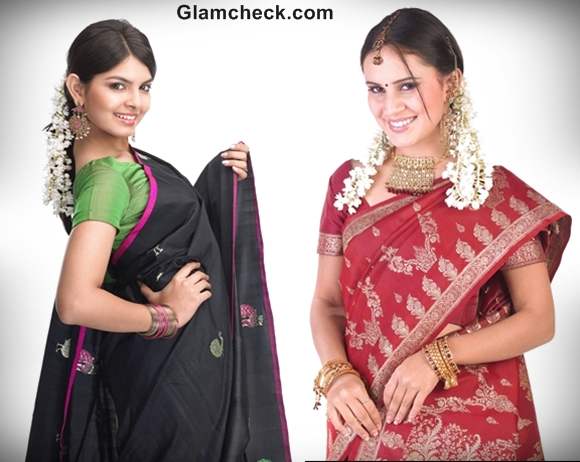 How to dress up on Diwali
The young Indian girls are taking pride in their traditional ensemble and wearing it on the days of festivals with panache. The festival days and nights witnesses the young girls coming out in amazing sari styles.
Tips to Get the Youthful Sari look:
Go get a beautiful sari from your mother's wardrobe
Now, drape it on your body and look beautiful
Adorn your hair with a gajra or roses
Wear statement bracelets and hoops for this look
Modern Twist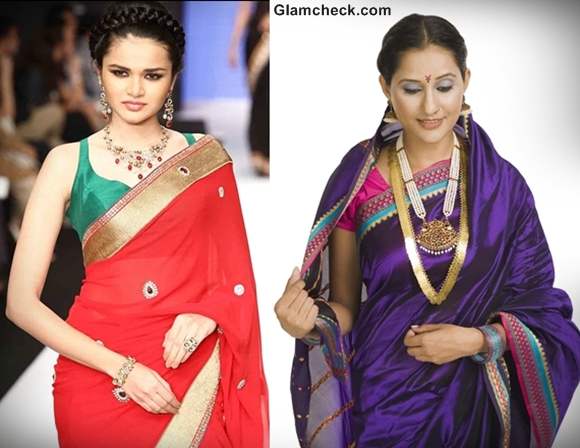 Diwali fashion 2012
A sari can be draped over the shoulders and make you look like a million bucks by choosing the right fabrics and colors. Wear this look at the puja celebrations and offer your prayers to the Goddess of Wealth.
Tips to Get the Modern Twist Look:
Bright colours look fabulous in festivals. Diwali should be celebrated wearing eye-catching colours
Tangerine, fuchsia, red, violet and so on must be tried on this Diwali. A sari in any of these colours will make you glow
Choose a choli with a sexy cut. Don't feel shy to wear a scooped back choli or a sweet-heart neckline with a hint of cleavage
Wear a gorgeous gold bracelet and a lovely choker and jhumkas in gold and precious stones
You will feel so ready to garner compliments throughout the evening
Do not forget to wear braided hair. Look at the picture above (left) and take cues from it.
Laced With Lace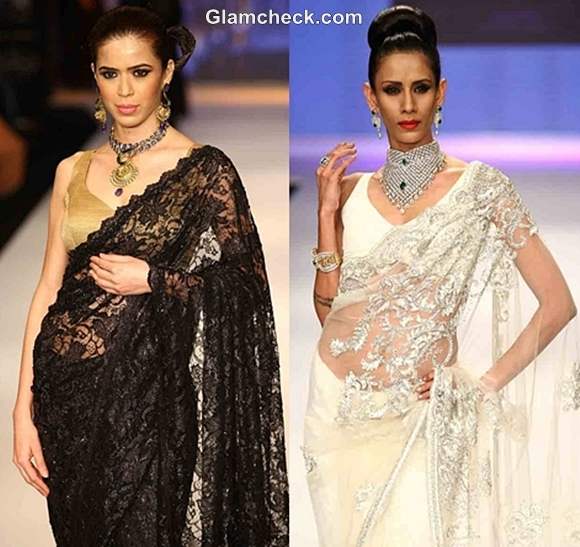 Diwali Dressing Tips – Lace sari
Have you thought about wearing a lace sari? Indian designers have shown us this divine path to walk on this Diwali. Buy a sheer sari with embroidery or a pure lacy sari. A cocktail party is a great way to sport this look.
Tips to Get Laced With Lace:
Sheer saris in monochromes are a good investment this season
Choose a backless choli to go with it
Wear it with diamonds and pearls. You won't go wrong with them ever
Tie a nice bun and sport heavy jewellery with this look
A cocktail ring and bracelet will complete your look
A red pout and you are done
9-yards of Simplicity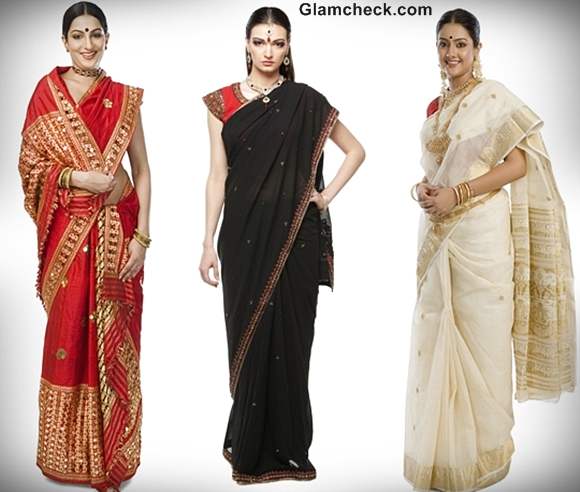 Diwali traditional dressing tips sari
The sari is a go-to ensemble in Indian tradition wear. A white-red sari, a red-gold sari or a green-red sari, we prefer all combinations with it. Gold is an intricate part of the attire so, wear this look with lots of gold this Diwali.
Tips to wear the 9-yards of Simplicity:
Wear a sari in red and gold or white and gold. A red blouse complements a whit and god sari well
Wear a nice red bindi with this look
A bunch of gold bangles will look fabulous with the sari
A loose bun or blow-dried hair should be worn with this look
Keep your gold close to your heart because it is the one metal that will see you through all the festivals
The Brights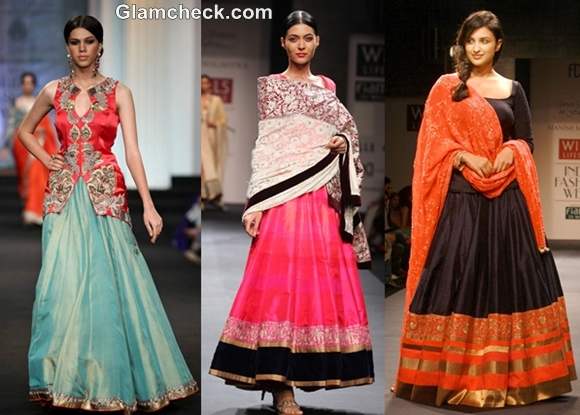 Diwali Fashion Lehengas
The bright coloured lehengas are an addition to your Diwali look. If you are in a mood to go dressy then pick one of these to satiate your desire. Sport this look to the Diwali function and get noticed.
Tips to Get The Brights Look:
The bright coloured lehengas can be worn with a brocade border in velvet
Choose a fuchsia or tangerine lehenga and wear it with a side-braid like Parineeti in the picture above (extreme right)
Take an embroidered dupatta with it
Wear minimal make-up and add gold or silver jewelley according to the colours of the ensemble
Evergreen Anarkali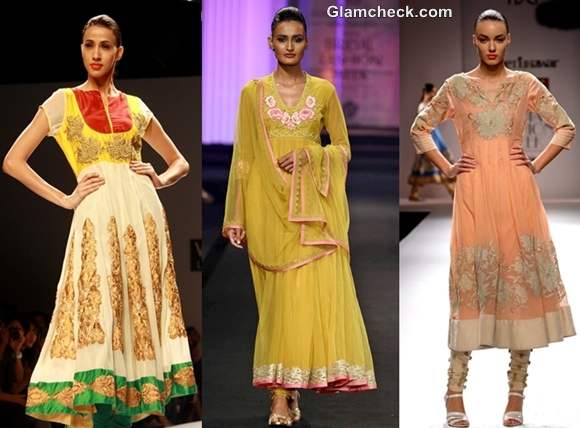 Diwali Fashion Anarkali
An Anarkali is an evergreen ensemble it seems as designers and masses are not getting tired of it. This evergreen attire can be worn at any time of the day or night. Just bring out the colours.
Tips to Get the Evergreen Anarkali Look:
Pick an Anarkali with a gold brocade border. You know where I am heading to, right!
Choose bright colours or wear monochrome
Piece this  Anarkali with stilettos and top-knots
Embroidered stole is a good way to carry this look forward. You can also wear one without it
An-empire line will accentuate your bust and stream line your torso. Wear a pin-striped one to slim down your waist and add length to your frame
Brilliant Hues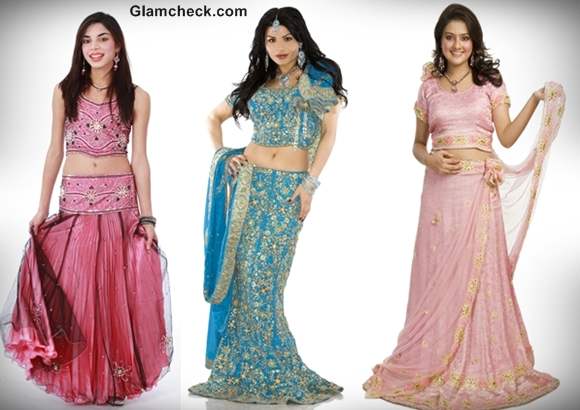 Diwali Fashion 2012 Lehengas
A flowy flared lehenga will look lovely on you since, you are not much habituated to wearing the traditional ensembles much. We have a few tips for you to wear ethnic in style without spending much time between your coaching classes to dress up. Sport this look on the night of festivities.
Tips to wear the Brilliant Hues:
A mid-riff baring choli and a low cut lehenga does seem to up your style quotient this Diwali
A sequin embroidered one will look splendid on you
You can also opt for the thread embroidery or the mirror-embroidered lehenga
A sheer dupatta with an embroidered border draped on your shoulders will add elegance
Wear your hair loose and get a good blow-dry
Wear bangles to enhance your look. You can also accessorize with a light neckpiece and dangles
Don't forget to read a separate article on Hairstyles and Makeup for Diwali.
We at Glamcheck have all the solutions to your Diwali dressing woes. Try on these classy tips and rock the night in style! We wish all our readers a very happy Diwali! May the lights of joy and health always shine in your life.
Shutterstock, Indian Photo Agency, IANS