Let's face it, most of us are not hairstylists and any updo that requires more than one product or equipment could be intimidating for a lot of us. But some hairstyles come in handy and in the long run rescue you from a lot of fashion situations by being versatile and forever chic.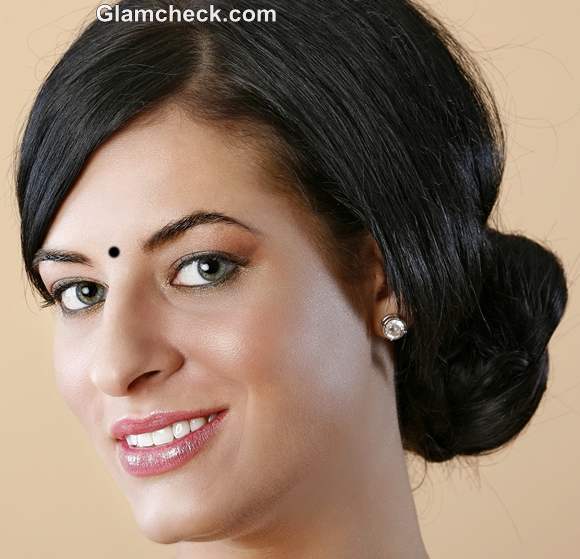 Indian hairstyle how to braided side bun
Introducing one such hairstyle – the braided side bun. For each lady, this one could be a great hairstyle to master as it can be done in less than 10 minutes, while giving an impression of more hard work It's versatile, read below the teaming up options you have !
Pair up with
If wearing a traditional outfit for the evening, this updo can work great. Wear a saree, and adorn yourself with a bindi and stud earrings too.
For a red carpet like appearance, in an evening gown or a classy elegant dress – this hairstyle can get you brownie points.
For a day at work, when dressed in a le smoking or a power suit, give your look a polished feminine touch with the side bun.
You will need
Bobby Pins
Transparent rubber band / Black
Straightening iron if hair are curly
Deep Shine hair gel
Hairstyle How To : Braided Side Bun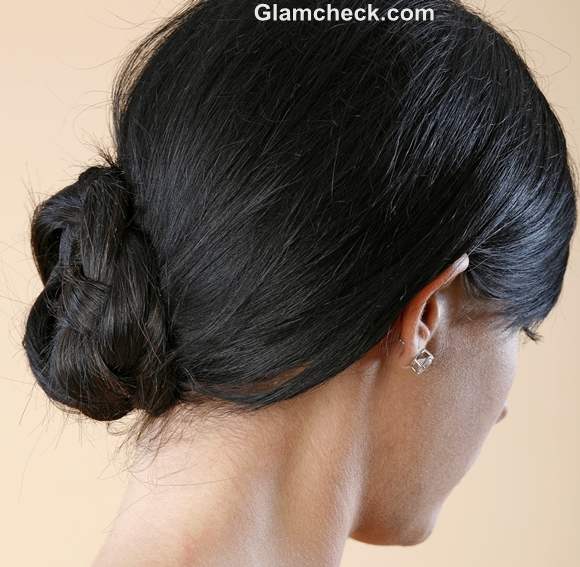 Braided side bun Indian hairstyle how to
With a straightening iron, straighten your tresses first in case the hair is curly otherwise proceed to the next step.
Comb your hair well to remove any tangles and side part them, like the picture and pull your hair to one side.
Take a small amount of deep shine gel in your palms and run through your tresses.
To avoid using a volumizing spray, you can simply lift up section of your hair and tease them. Apply the same to the ends of your hair and tease them irregularly to give volume.
Divide the hair into three equal sections and braid them normally. Be sure to braid tightly and when you reach the end secure with a rubber band or thin hair tie.
Now hold your braid at the bottom and pull each section outward, in order to fan your braid and make it fuller.
Take the braid and wrap it in a circle on the side near the nape of your neck.
The trick is to hide the end of the braid inside the bun and you can use both bobby pins and hair pins for the same.
Mastering this simple hairstyle can open up various opportunities for dressing up in different settings and clothing and this one can definitely  turn your bad hair day into a great hair day.
Shutterstock