A fashion show was hosted at Jayamahal Palace in Bengaluru where models sashayed the ramp in beautiful creations of apparel and jewellery. The collection was traditional bridal as well as contemporary and displayed customized jewellery on pristine white dresses. The show was a national competition of apparel and jewellery with many designers participating in it. After Bangalore Fashion Week Astitva delighted the fashion lovers yet again!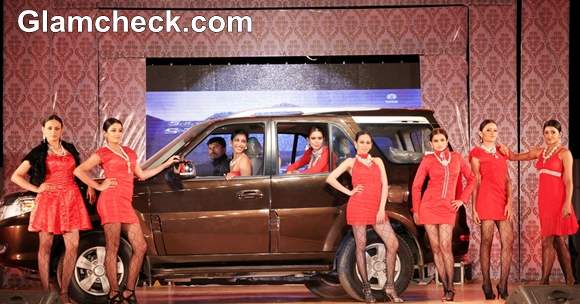 Astitva 2013 Bangalore
The Chief Guest for the show was Raju Gowda, Minister of Small Scale Industries. The show was themed, 'Indian Heritage' and displayed Indian inspired collections. The finale exhibited a number of young design talents who were raring to take on the fashion world.
Jewellery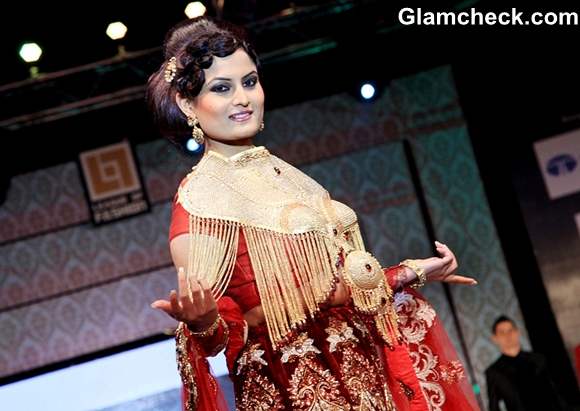 Astitva 2013 League Of Fashion Show Bangalore
Exquisite pieces of jewellery crafted in diamonds and emeralds held our breath for a long time. Necklaces were worn as tiaras and we gaped at some very beautiful pieces of jewellery at the finale.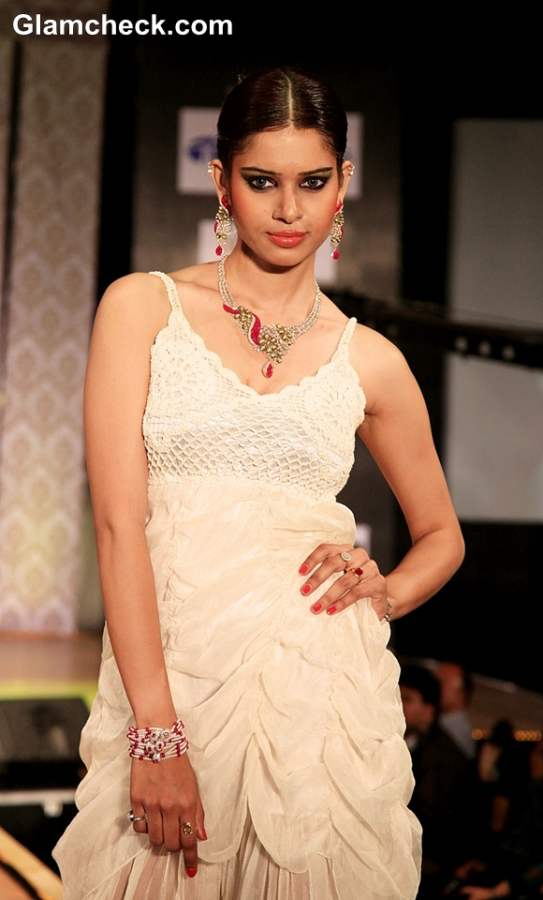 Astitva 2013 League Of Fashion Show At Jayamahal Palace In Bengaluru
Another exquisite piece of craftsmanship with red stones in a spiral designs was displayed on the ramp.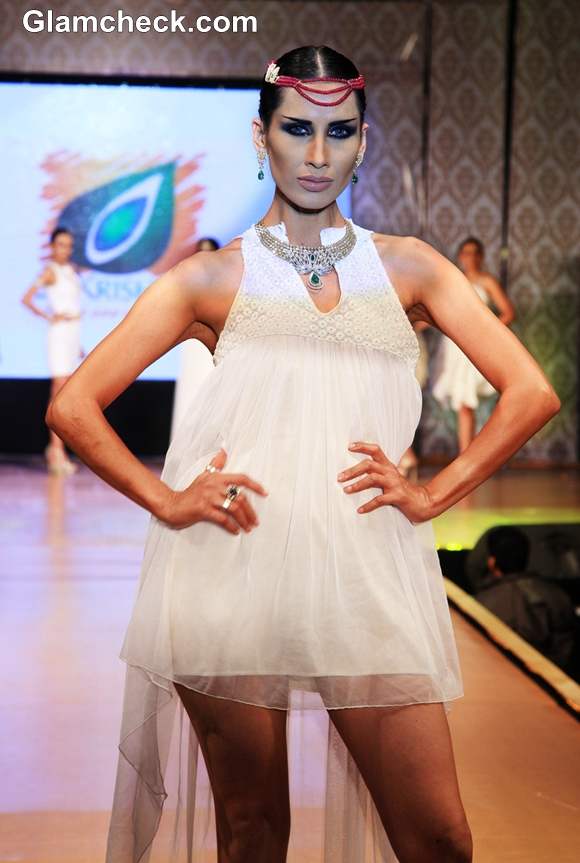 Astitva 2013 League Of Fashion Show Bengaluru
Models sported a sleek mid-parted hair and wore white dresses to flaunt the Indian jewellery designs. The neckpieces and danglers can be worn on traditional as well as contemporary attires as well.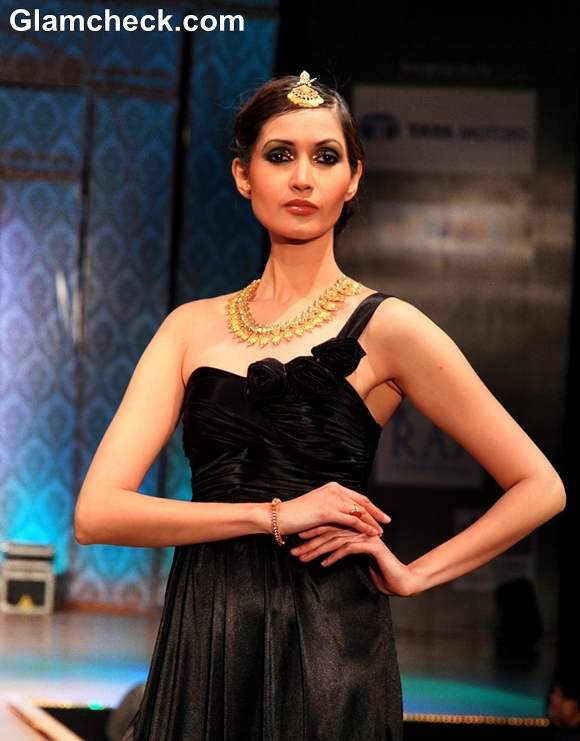 Astitva 2013 show Bangalore
Another round of models in red dresses displayed a set of jewellery on the ramp stylishly entering in an SUV.
Ethnic Attire
Bangalore saw some brilliant creations in traditional attires at the fashion extravaganza. We saw a model wearing a bright cobalt blue choli with traditional jewellery adding elegance to the ensemble. Velvet floral appliquéd skirt with printed layers and ornate borders along with embroidered dupattas caught our attention.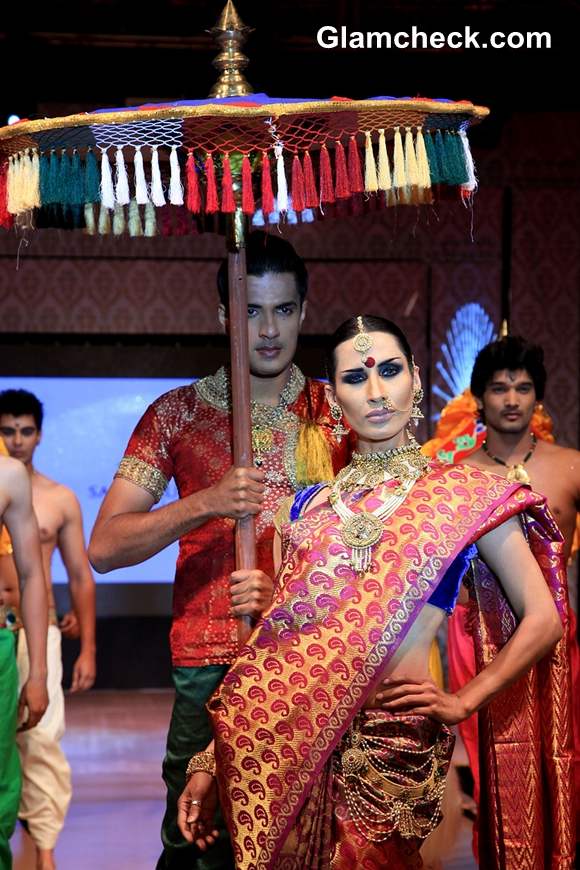 Astitva 2013 League Of Fashion Show in Bangalore
A Benarasi brocade sari with paisley motifs in red and gold with a blue velvet choli was lovely and very traditional. A big red bindi adorned the forehead of the models.
The model wore traditional long neckpieces with several strands of pearls and maang tikas and earrings with the brocade sari.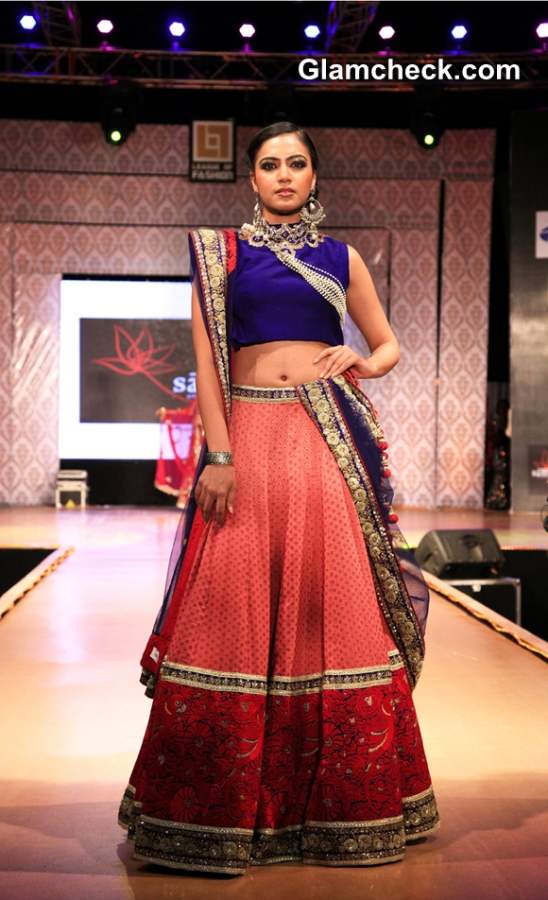 Astitva 2013 League Fashion Show Bangalore
A red velvet jacket with chain strings on the panel and arms gave an army feel to the traditional attire. The jacket was paired voluminous white tulle skirt bordered with gold panels. A lavish head gear was part of the styling of the ensemble.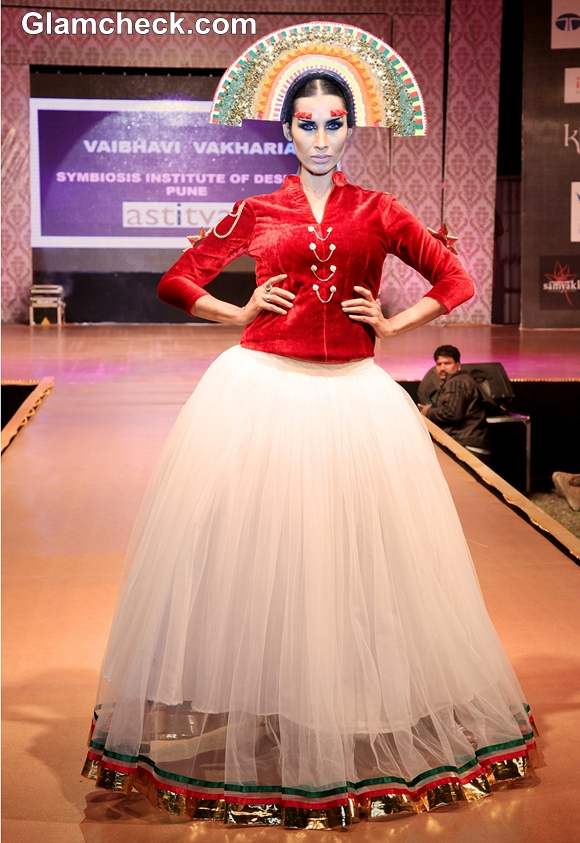 Astitva 2013 Fashion Show Bangalore
Design students from all over India participated in the competition. Winners were selected and announced at the finale. NIFT Mumbai participant Mohit Pratap Singh was declared the winner along with Indian Institute of Jewellery, Mumbai participant, Siddhi Gala.
IANS