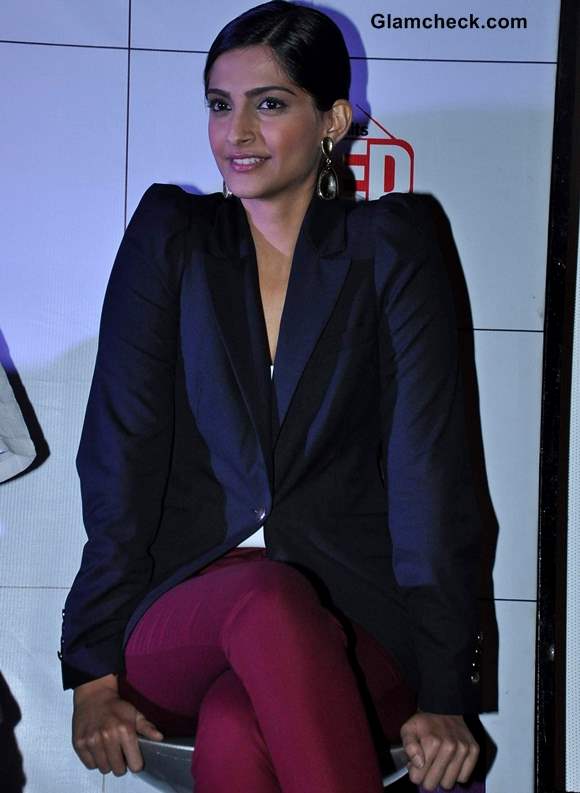 Bollywood actress Sonam Kapoor has always been a style icon that we look forward to featuring. As she promoted her film "Raanjhanaa" in Mumbai on 23 June, the leggy beauty showed off an ensemble similar to one she has sported before, and which we loved as much this time around as we did the first time.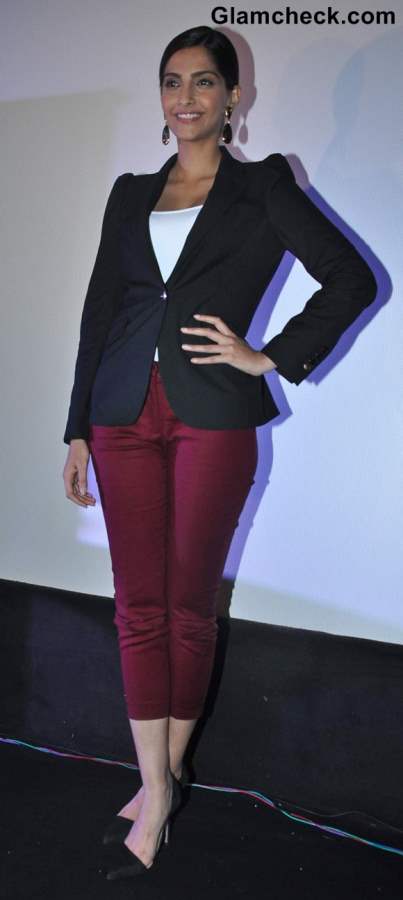 Sonam Kapoor Style Wearing Blazer with Cropped Pants
She wore a natty navy blazer with cropped maroon pants and a white top. The nautical color combo on her top half looked spiffy with the richer tones of the bottoms. Overall, the ensemble had a high-class, neat and stately feel to it. Black heels and dark danglers accessorized her outfit while a simple ponytail and defined eyes styled her look.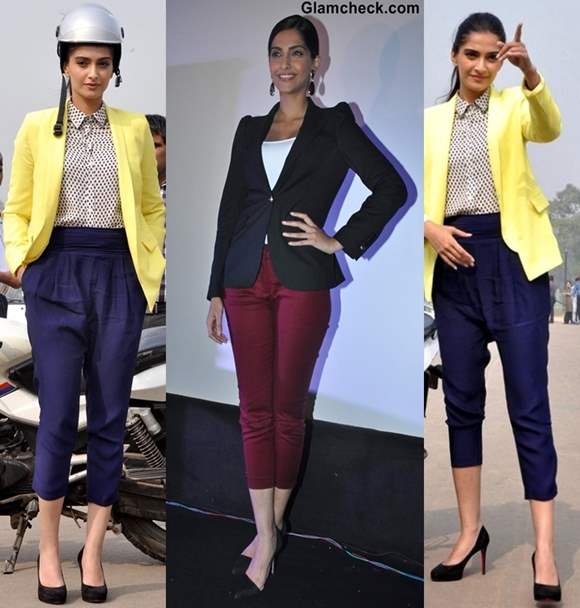 Sonam Kapoor Style Inspiration – Wearing Blazer with Cropped Pants
She's quite fond of her blazers and knows just how to put a look together using either a wardrobe staple like this navy number or a trendier piece like the sunny yellow blazer she sported some months ago at a road safety event. You may recall that she wore the yellow one with blue harem pants and a polka dot shirt.
The common factor in both looks – apart from the classy blazer, of course – is the cropped pants. In fact, she has used a similar base for both ensembles and we're going to break it down so that you can sport the look too.
Get the Look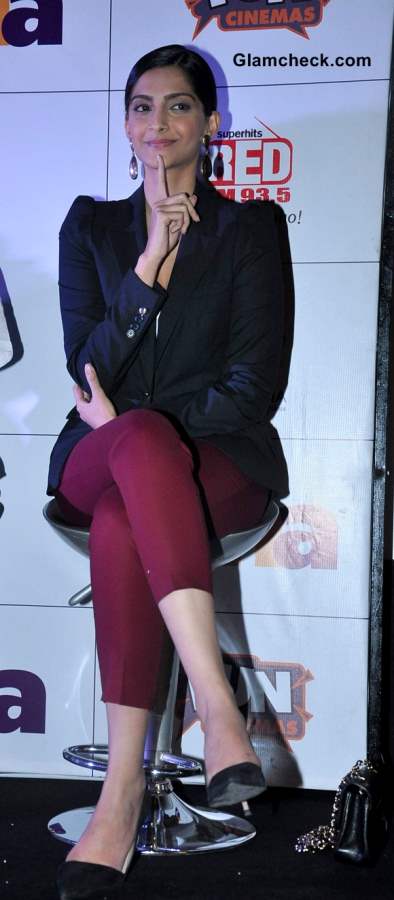 Sonam Kapoor Wearing Blazer Cropped Pants
This ensemble needs three basic wardrobe items for a perfect finish.
A pair of cropped pants – any style will do as long as it fits you well and suits your body type

A well-cut blazer – this can be either navy (a far more interesting alternative to black) or one of the many colored blazers that have been in fashion for some months now. You can get a blazer with a floral print, also quite trendy, but a solid color will allow you to use it with more ensembles while the printed one may limit your choices.

Black heels. Wardrobe staples, these. Invest in a classy pair of black pumps and you'll never regret it.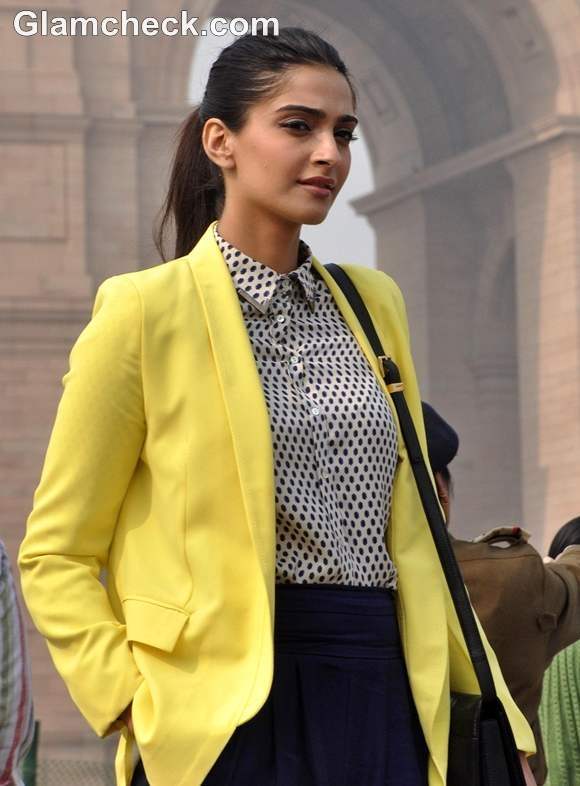 Sonam Kapoor Style 2013 Wearing Blazer with Cropped Pants
These three pieces are a great addition to any wardrobe. More importantly, they'll help you put together Sonam's classy blazer with cropped pants look.
Picking the right top to wear with such an ensemble can be tricky. Stick to classic white if you are style-challenged, but don't be afraid to experiment with prints and colors if you think you have what it takes to make a statement.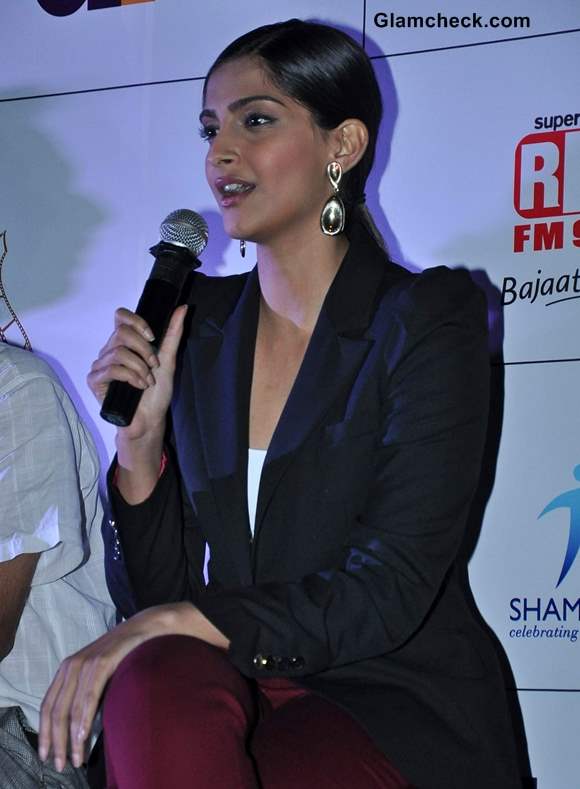 Sonam Kapoor 2013 Wearing Blazer with Cropped Pants
As for the styling of the look, you'll notice that Sonam stuck to a neat hairdo and minimal makeup for both. Excellent because the ensemble itself has clean lines and maintaining that status quo with the hair and makeup just makes for a well put-together look. So straighten your hair or just comb it back as slickly as possible and tie it up with a simple rubber band. Put away your statement makeup and resort to your basic concealer, gloss, blush and eye liner to complete the look. 
IANS, Indian Photo Agency