Bollywood actress Kareena Kapoor celebrated Ganesh Chaturthi in Mumbai with director Madhur Bhandarkar. The brilliant actress is awaiting the release of Heroine, where she portrays the character of Mahi Arora who, according to the actor was "bipolar and schizophrenic". It was a challenging role during which she declined signing other projects.
Her Look
Timeless Elegance
Designer She Wore
Manish Malhotra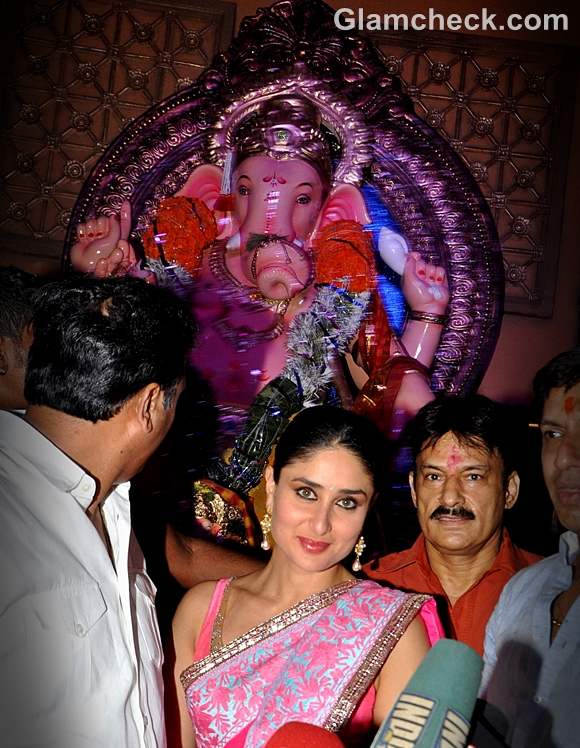 Kareena Kapoor on Ganesh Chaturthi 2012
Kareena Kapoor looked fetching in a gorgeous fuchsia Manish Malhotra sari. The blue panel with pink floral embroidery and gold border uplifted her look.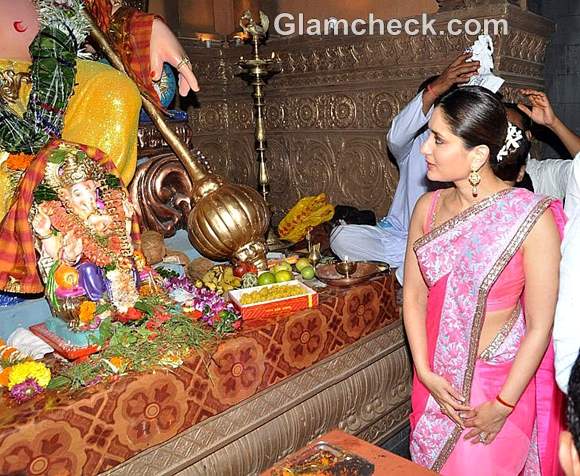 Kareena Kapoor celebrates Ganesh Chaturthi 2012
The gorgeous sari draped her svelte frame and charmed the worshippers. The drop-pearl danglers brushed over her taut face.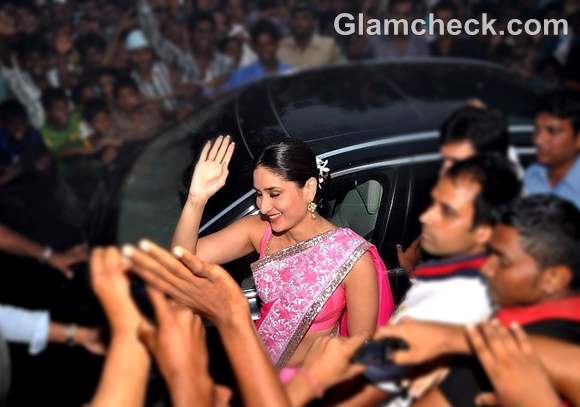 Bollywood celeb Kareena Kapoor celebrates Ganesh Chaturthi 2012
Hair & Makeup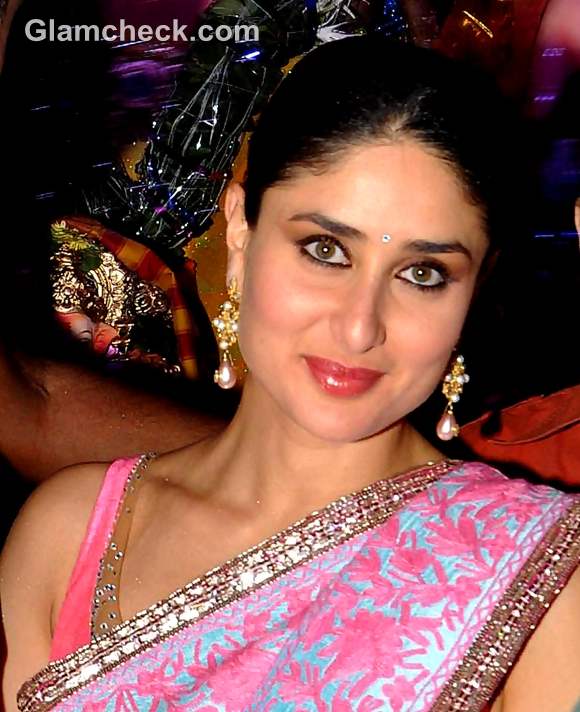 Bollywood actress Kareena Kapoor Celebrates Ganesh Chaturthi 2012
The hair was beautifully done in a bun and adorned with a white gajra. The face was kept fresh with a light blush on and dusty rose lips.We didn't miss the tiny stone bindi on her beautiful forehead. Artistically defined kohl-rimmed eyes kept the focus on her face as she gracefully bowed her head in front of God.
We had given you the 'Gajra Tip' on our article, 'Traditional Beauty Looks for Ganesh Chaturthi'.
Get Her Look
This look is apt for any occasion or festival as long as you get it right.
Wear a pretty sari in festive colours with a dollop of embroidery to match
Pair it with pearl danglers in gold just like our glamorous damsel, Kareena Kapoor
Keep a clean face with natural make-up; wear a light foundation, kohl and pink lipstick and you are good to go
Donot forget the bindi, its essential.
IANS