The finale of the Lakme Fashion Week Winter Festive 2013 at the Grand Hyatt in Mumbai, India on August 27th was better than all the other days put together. Which was why many celebs attended day 5 in all their glitz and glamour, reflecting the trends and styles that have marked the week past.
Shraddha Kapoor was front row and center in Sabyasachi at the Sabyasachi show. Her floral print blush sari makes her look young, happy, carefree yet elegant. Loving the light traditional look.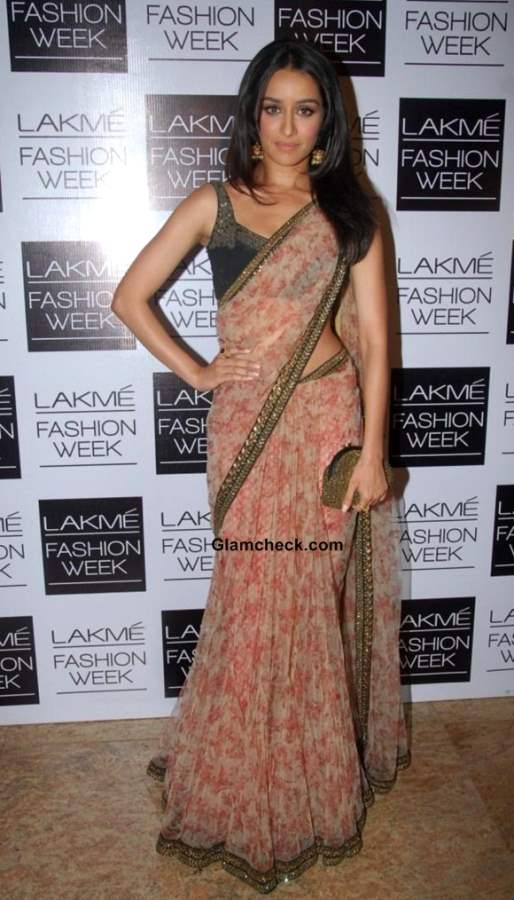 Shraddha Kapoor in Sabyasachi sari at LFW Winter-Festive 2013
Nargis Fakhri, also a Sabyasachi fan, donned the designer's digs for his show. She went with a sharp, smart, androgynous, ethnic look in a long black jacket with a raised collar, full sleeves and gold buttons running down the front.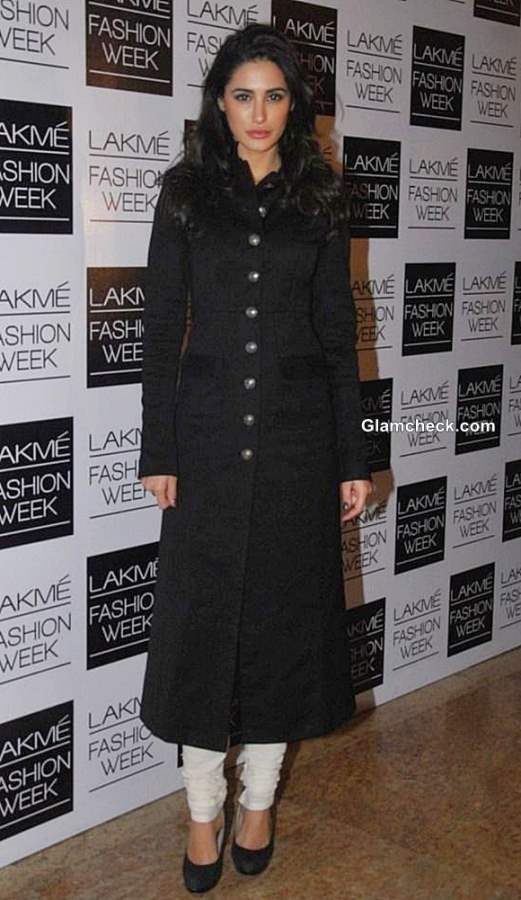 Nargis Fakhri at LFW Winter-Festive 2013
The chic top was paired with a white churidar while black pumps rounded off the ensemble.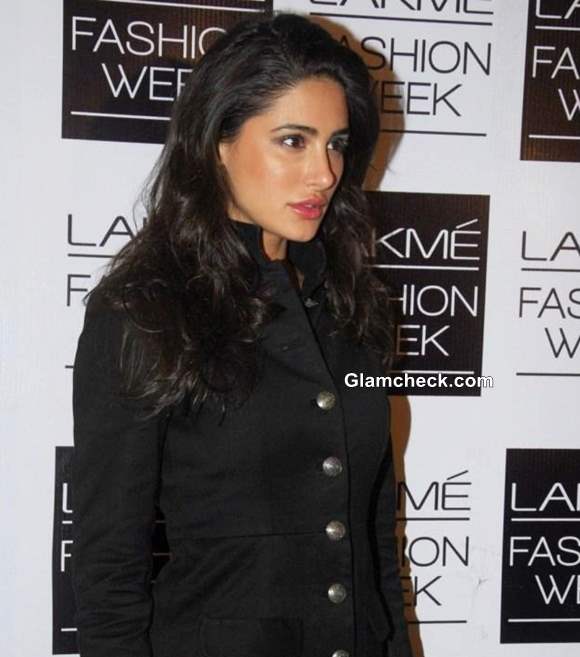 Nargis Fakhri in Sabyasachi at LFW Winter-Festive 2013
The long black piece was actually presented on the runway at the very show that Nargis was watching. How 'with it' is she!
Next was Kalki Koechlin, also in Sabyasachi, but just the top half of her. Her ensemble consisted of a pink floral print shirt and a short, embellished floral print jacket, both by Sabyasachi.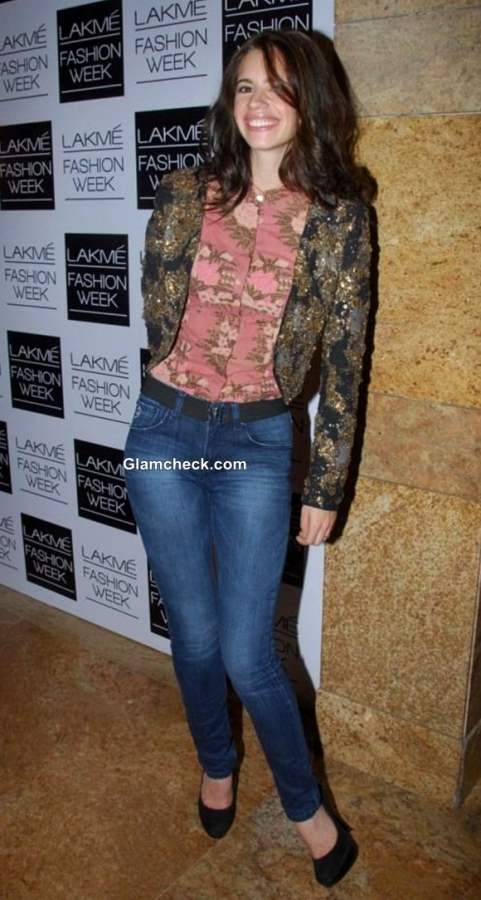 Kalki at LFW Winter-Festive 2013
She chose jeans as her bottoms and completed the look with black pumps. It's a quasi rocker chick look that we don't think anyone else could have pulled off.
Madhoo sported one of the more colorful avatars at LFW in a deep pink sari with gold undertones and a sequinned sleeveless gold blouse. S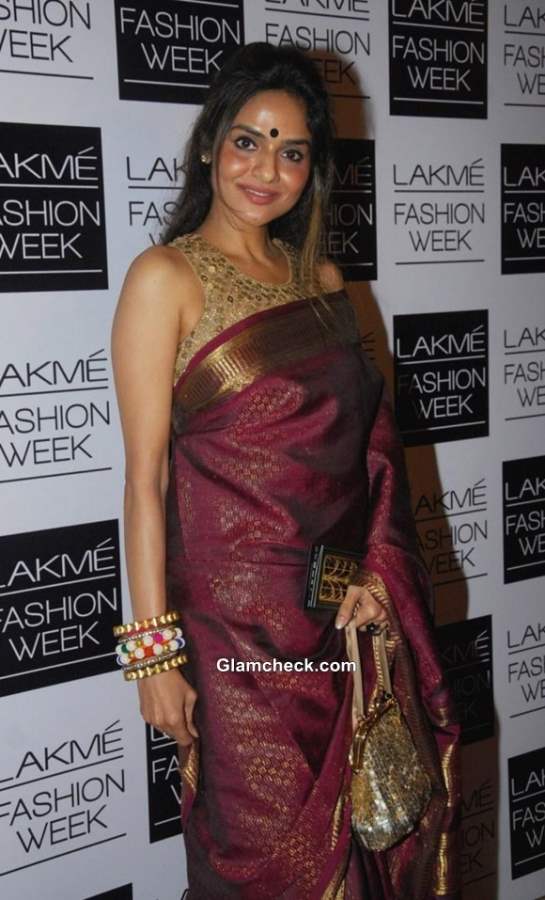 Madhoo at LFW Winter-Festive 2013
he didn't shy away from accessorizing the look going with both a gold clutch and a gold purse, a colorful statement bracelet, a black ring and tiny stud earrings. Her large bindi was our favourite addition to her ensemble.
Sameera Reddy looked slick and stylish in a peach print long top with slim-fit brown pants, the ensemble a recent one by Nishka Lulla.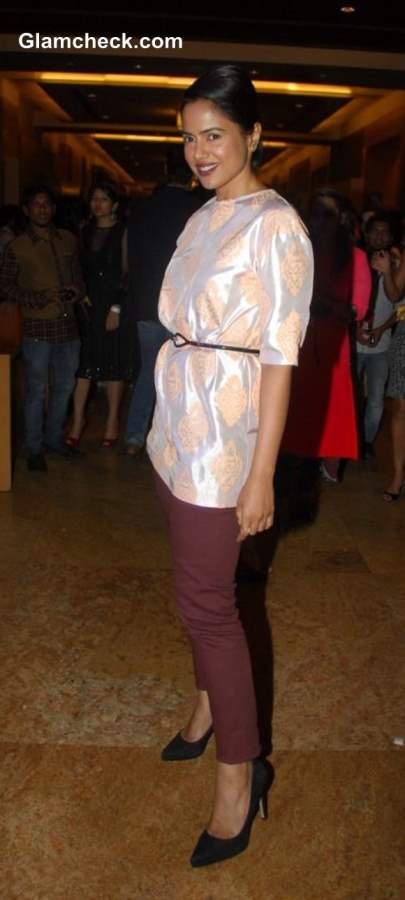 Sameera Reddy at LFW Winter-Festive 2013
A slim belt with a metallic clasp was wrapped around her waist, streaming the loose-fitting top. Her pointy black pumps are the perfect additions to this ensemble, although we do wish she'd thought twice about that ethnic gold bracelet. A neat updo and pearl stud earrings completed the look. 
Image: IANS