The festival season is ripe for film promotions in Bollywood. Actress Juhi Chawla took advantage of the pervading bonhomie at a dandiya party held by singer Falguni Pathak in Goregaon, Mumbai to promote her upcoming movie "Main Krishna Hoon".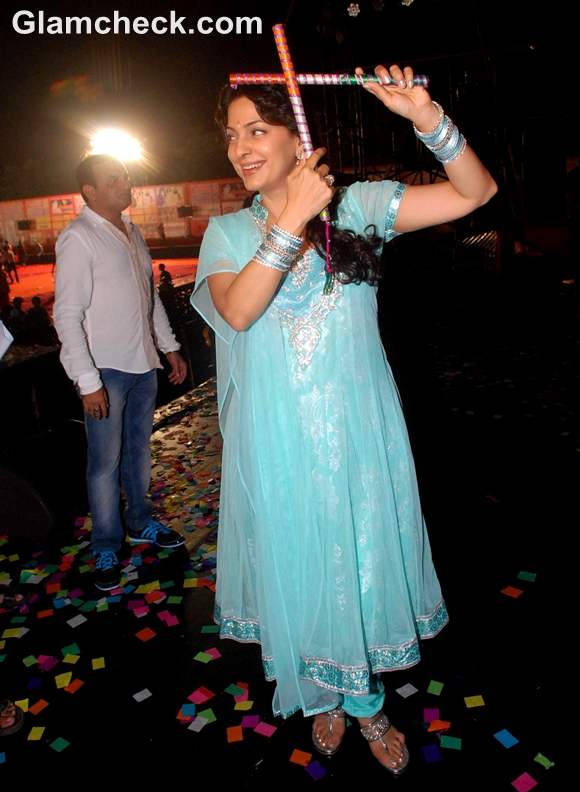 Juhi Chawla Promotes "Main Krishna Hoon" at Falguni Pathak Dandiya party
Main Krishna Hoon is a 3D animation film with Juhi playing the role of the protagonist's loving mother. It also stars Rajneesh Duggal and Misti Mukherjee. No release date has been scheduled yet but we'll keep you updated.
Juhi Chawla "Main Krishna Hoon" promotion at  Falguni Pathak Dandiya party
Juhi's outfit for the promo event was really pretty! She wore a blue salwar kameeez with blue and silver embroidery, accessorizing with blue and white bangles, jhumka earrings and silver chappals. Don't miss her gorgeous silver nail polish and deep blue eyeliner which tie the whole look together.
The darling of Bollywood showed off her sporting spirit as she picked up the dandiya sticks and danced to a few tunes.
IANS