Bollywood actresses Rani Mukherjee, Sushmita Sen, Bipasha Basu, Mousumi Chatterjee and Koel Mullick were felicitated by West Bengal Chief Minister Mamata Banerjee during the closing ceremony of the 19th Kolkata International Film Festival in Kolkata, India on November 17, 2013. Actors Biswajit, Ranjit Mullick, Payal Sarkar, Locket Chatterjee, June Maliah and Subhashree Ganguly,  director Goutam Ghosh, and singer Dwijen Mukhopadhyay were also at the event.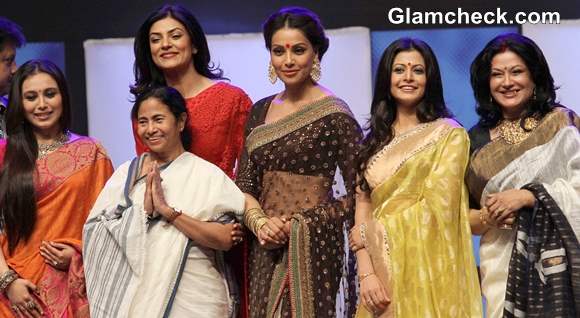 Bengali Beauties Felicitated at Kolkata International Film Festival 2013
The five Bengali ladies were handed traditional shawls and awards to acknowledge their part in putting West Bengal on the map. They were collectively called the pancha kanya or the five daughters of the State.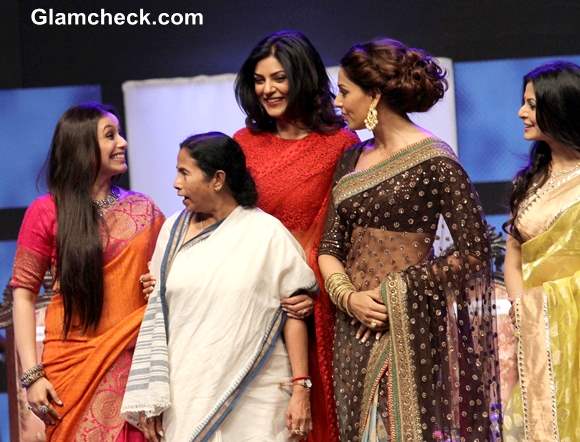 Bollywood Bengali Beauties Felicitated at Kolkata International Film Festival 2013
All the lovely ladies wore saris to the event, and what an enchanting picture they all made.
Former Miss Universe Sushmita looked exquisite in a red lace sari which was paired with a full-sleeve red blouse. She towered above everyone there, so even though there was no glam-sham or glitter in her ensemble, she effortlessly stole the show. She also conveyed her honour at receiving the accolade, saying that she was blessed to be a part of West Bengal and of India.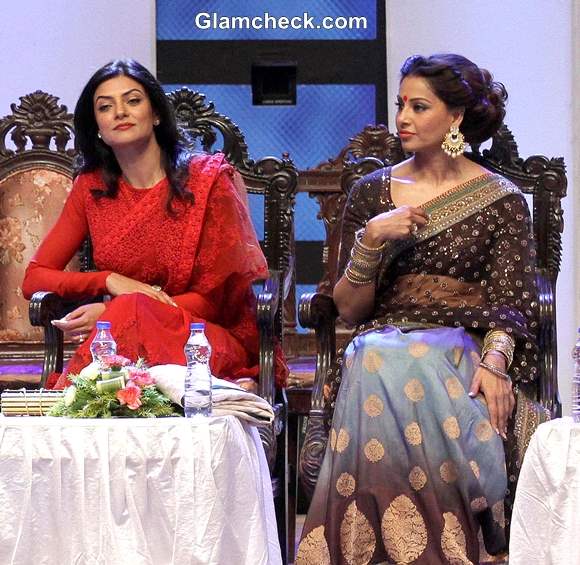 Sushmita Sen in Red Sari at Kolkata International Film Festival 2013
Bipasha went with a brown sari that was embellished with copper sequinned flowers and had a gold and green embellished border. She rounded off her look with a traditional bun, a large red bindi and gold and pearl chaand baalis.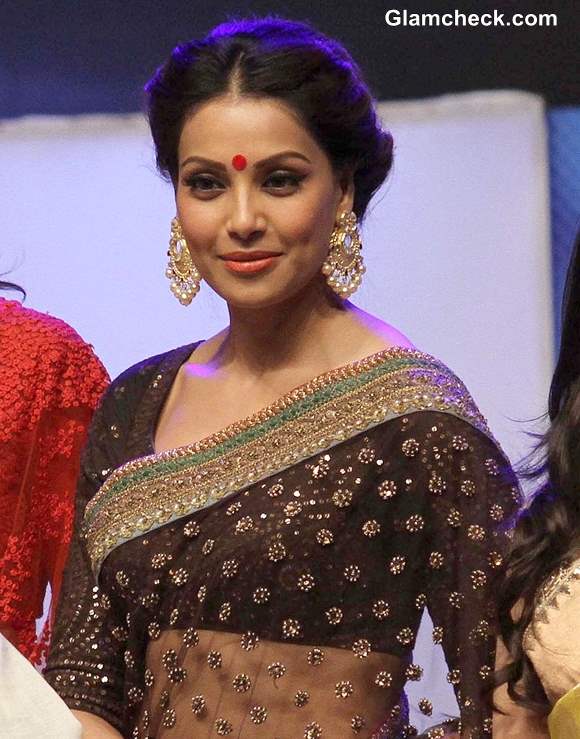 Bipasha Basu at Kolkata International Film Festival 2013
Rani rocked a color block sari – the nine yards itself was orange with a thick pink border, the latter embellished with a gold pattern. The blouse, meanwhile, was a brighter shade of fuchsia with similar gold patterns on the elbow-length sleeves. Her parents were too felicitated alongside her at the do. Rani was also appreciative of Mamata's efforts to better the state, saying that since the latter became the chief minister, things have only improved.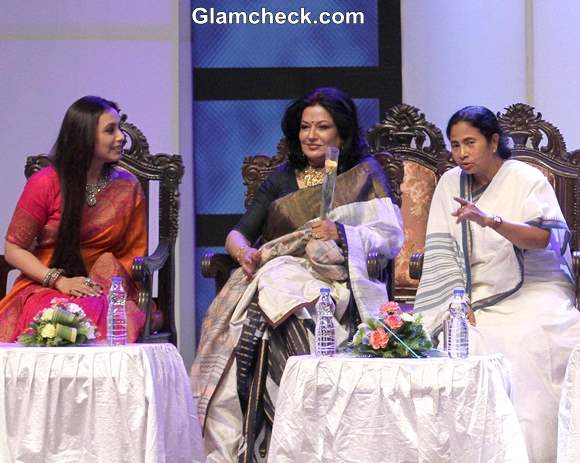 Rani Mukherjee at Kolkata International Film Festival 2013
Mousumi went with a monochrome sari bordered in gold, wearing a traditional statement necklace and statement ring to accessorize. She expressed that the felicitation ceremony was the perfect end to the eight-day long festival.
Mousumi Chaterjee and Koel at Kolkata International Film Festival 2013
And finally, young Koel was the picture of youthful elegance in a yellow sari.
The evening ended on a high note with Mamata thanking everyone for coming and revealing that the film festival next year would have a competitive element too. 
Solaris Images