Bollywood actress Sonakshi Sinha must have walked right out of a high-end photo shoot and on to the red carpet as she arrived for the announcement of the star performer line-up for the 13th IIFA Awards in Mumbai on May 14th. The beauty looked vivacious in her fierce makeup.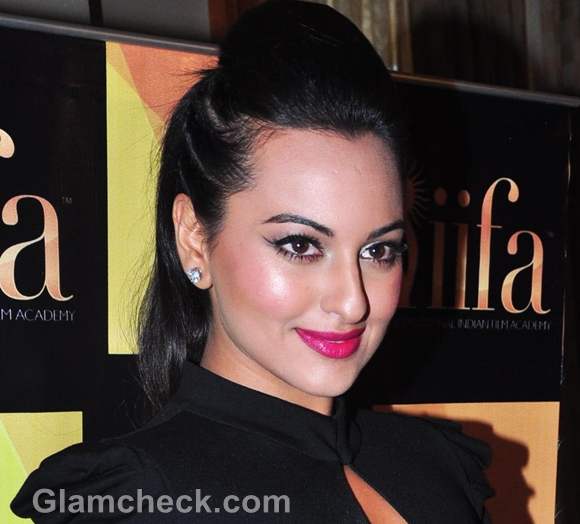 Sonakshi Sinha wore an eye-catching fuchsia lipstick and a luminous matching blush played with the light on her forehead and lips. Once you got past her winged eyeliner and mascarraed lashes, you were drawn in by her delicate silver eye shadow. Although each aspect of her makeup stood out on its own, they all blended in perfectly without overwhelming each other. Here's how you can re-create her look.
Begin with cleansing, toning and moisturising your face. For the last step, see if you can find a foundation that comes with an inbuilt moisturiser and SPF. If not, then applying foundation will be your next step. Wait for about five minutes after application so that the foundation has an opportunity to blend properly into your skin. You can do your eye makeup while you wait.
Use silver or silvery white eye-shadow and dab gently on the upper eyelid. Use your fingers or an eye shadow brush to blend it into the skin. An eye shadow brush will give you more definition.
Apply the eye shadow right below your lower lid too, but in a very thin line. Since we're going for a winged eye makeup here, apply the eye shadow to the outer corner of your peepers too. This is what will act as a base when you go on to impart that longish look with your liner.
Your eye liner comes next. Apply on both the lower lid and above the lash line on the upper lid. Then take the pencil/eyeliner brush and go close to the outer corner, using a quick, confident swipe to create the winged eye look.
It's time for the blush. Use a blush brush to lightly dust your forehead, cheeks, chin, nose, ears, neck and chest with a blush that matches your lipstick. You may not find the exact fuchsia shade so try something as close to that shade as possible.
Apply your bright fuchsia lipstick to give your glam look the finishing touch. 
Image: Indian Photo Agency