We spotted a bunch of celebs during the Aamby Valley India Bridal Fashion Week (IBFW) 2013, in Mumbai, India that took place on December 4th 2013 and bring to you the best and worst dressed.
Starting with an old Bollywood starlet, Bhagyashree, we think she looked refreshingly young in a simple white shirt and a body hugging black high waist skirt. She increased the sexiness quotient with a side slit and teaming her outfit with black peep-toes.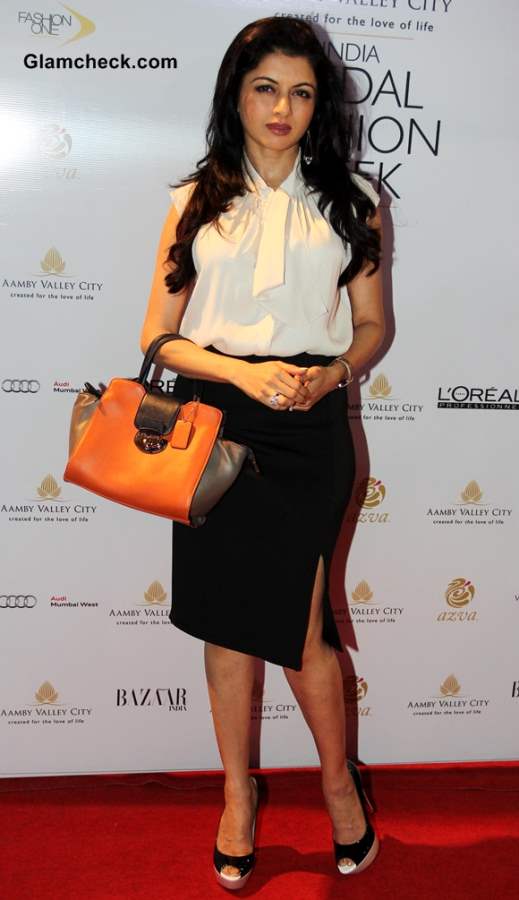 Bhagyashree at India Bridal Fashion Week 2013 Day 6
We did not think her choice of bag was very smart though, orange and brown, almost looked forced on her! Her other accessories included long earrings and a watch. She wore her long black hair down, all natural and put on a dark pink lipstick to amplify the effect.
Talking about Evelyn Sharma, she was all pretty in pink! She wore a flowy long gown in chiffon and floral pink lace. We loved the fact that it left us guessing as to what her dress was all about.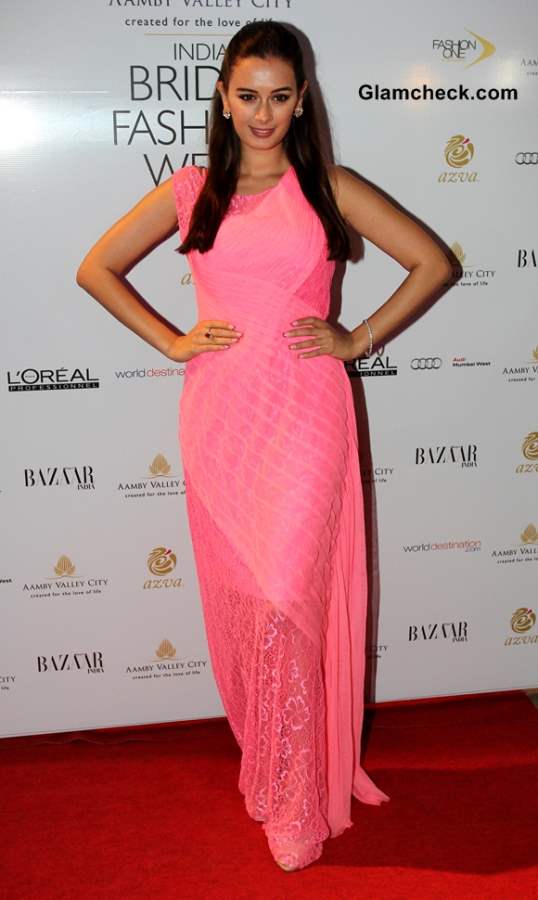 Evelyn Sharma at India Bridal Fashion Week 2013 Day 6
We always love such challenges; they are like a breath of fresh air. She kept her accessories toned down and simple, with a diamond thin bangle, a deep pink ring and huge diamond stud earrings. She kept her hair straight and clasped it back halfway and kept her makeup on the down low too. Definitely one of our favourite looks!
Filmmaker, Krishika Lulla, wore a lightweight lilac hued one shoulder gown on the carpet. She accessorized with a thick Louis Vuitton silver belt, with it's logo at the front and a silver clutch.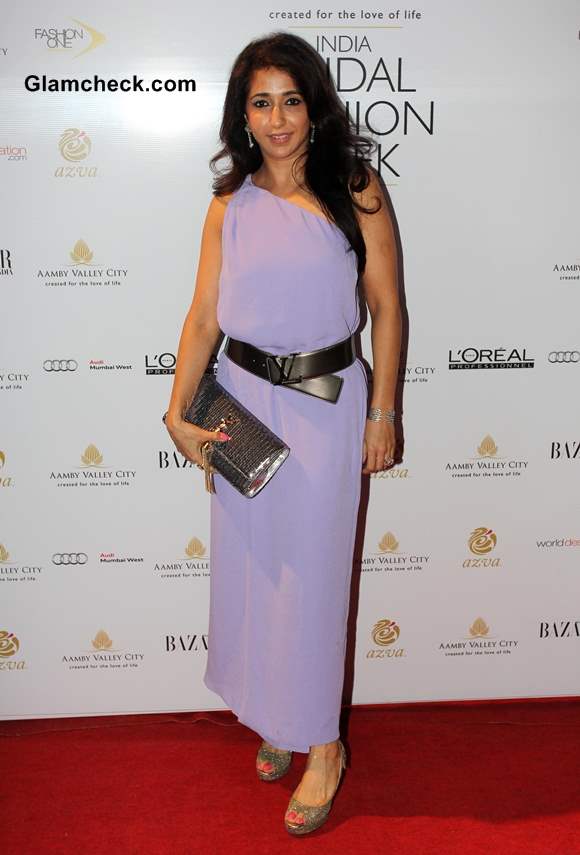 filmmaker Krishika Lulla at India Bridal Fashion Week 2013 Day 6
She teamed her ankle length dress with dull silver wedges. We think, she would have looked way better without the belt, it clearly did not work for her.
Geeta Basra chose red and black for her attire. She put on a sleeveless asymmetrical hem top on a high waist fitted skirt, all in red. She accessorized with black peep-toes and a black graphic neckpiece. Then, to switch back to the former shade, she painted her nails red and her lips were deep red, in addition to her auburn tinged hair.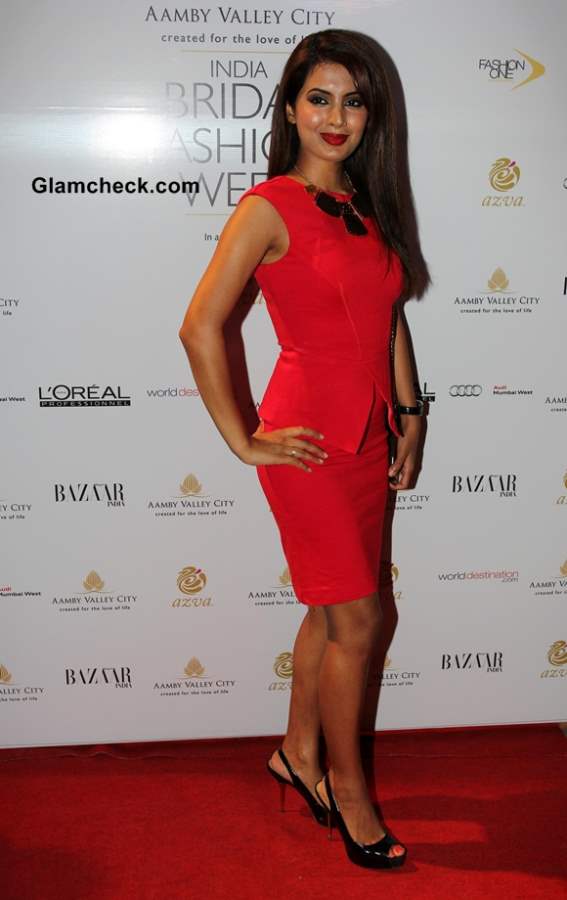 Geeta Basra at India Bridal Fashion Week 2013 Day 6
A black watch and extended eyeliner finished off her look. Our only suggestion to her would be to cool it on the blush and stop playing match-match with everything since it is simply not fashionable to do so. A nude pair of pumps or a violet neckpiece would have looked much better.
Model Sushma Reddy was spotted with her sister and Bollywood actor, Sameera Reddy in similar summer shades but very different getups. Sushma wore an aquamarine sari wit floral appliqué on a white blouse. The sari's pallu draped at the front was sheer and so were the sleeves of her blouse, leaving the borders. Shew ore her curly tresses the way they are and added a pair of round earrings.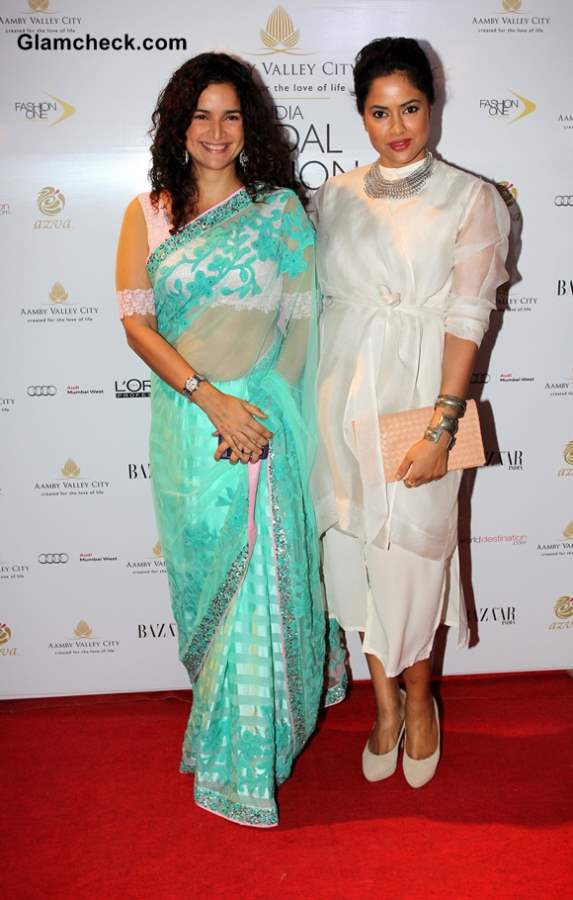 Model Sushma Reddy with her sister and Bollywood actor Sameera Reddy
Sameera on the other hand wore a white midi-length slitted dress with a knotted sheer layer on top of it and accessorized with stark white pumps and a skin colour notebook bag. She also threw on a beautiful neckpiece and nicely tied her hair up, We think, she should have worn a little more structured as the languid form of the silhouette made her look bigger than she actually is. On a whole, both of them looked good!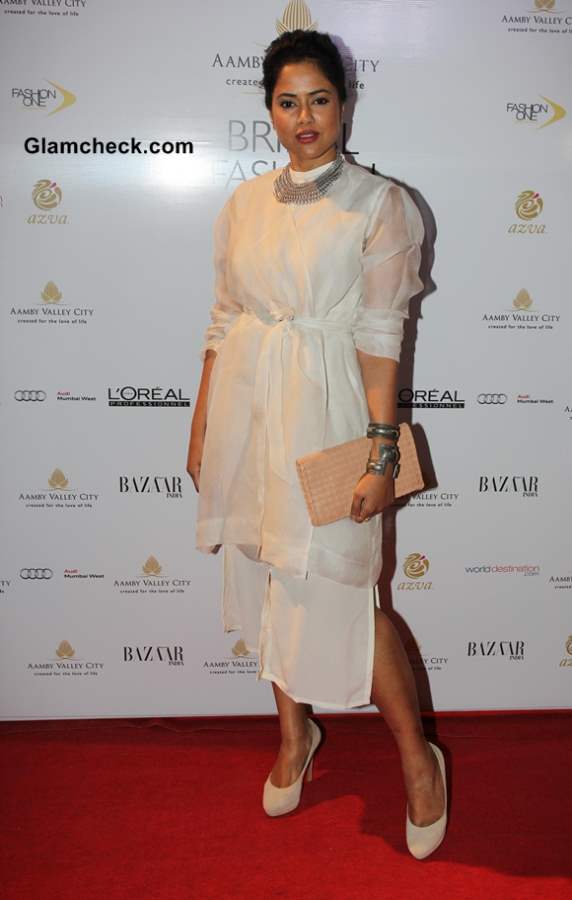 Sameera Reddy at India Bridal Fashion Week 2013 Day 6
Designer, Neeta Lulla showed up in all black, wearing a black T-shirt over black pants and a black cat on top, what is amusing is that even her hair is stark black. She carried a fuchsia sling bag which gave a liitle color and lent a casual feel to her outfit. She completed her look with peep-toe black heels and maroon lipstick.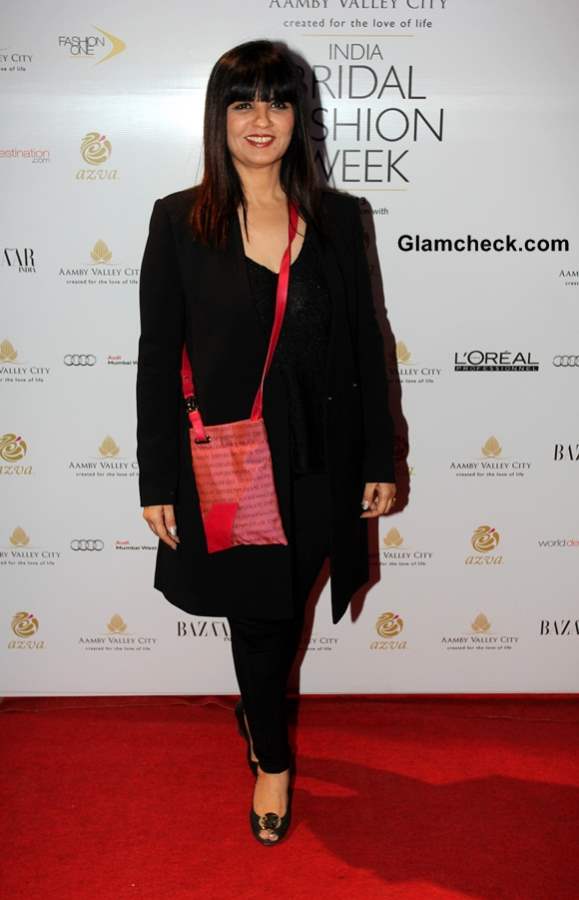 Neeta Lulla at India Bridal Fashion Week 2013 Day 6
Nishka Lulla was all about colour and Indian, she sported a red and green lehenga choli. Her choli was cropped from the front and longer at the back with gold motifs on it and her skirt was plain red and had a dull gold border.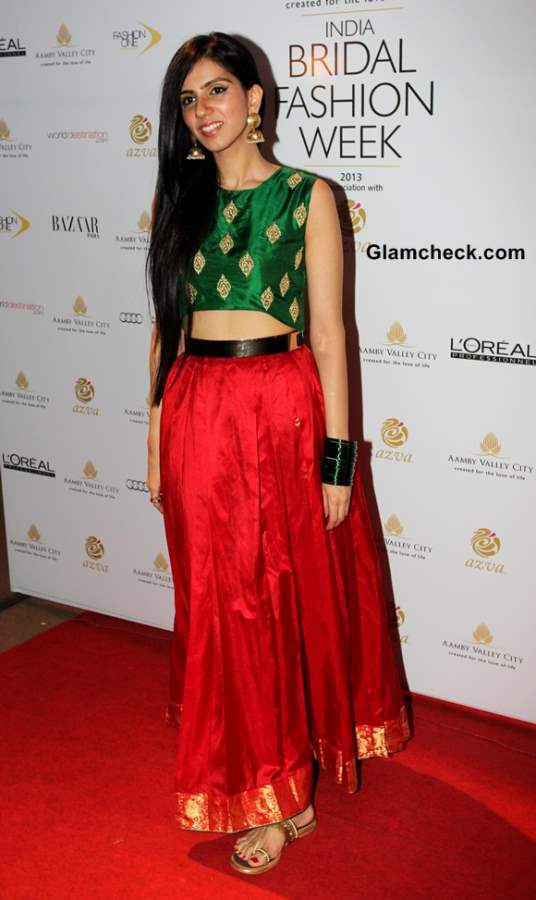 Nishka Lulla at India Bridal Fashion Week 2013 Day 6
She accessorized with green bangles, big gold jhumka earrings, a sleak gold waist belt and kohlapuri chappals. She wore her long hair down on one side and put on winged eyeliner. We think her look was too shabby for the red carpet, but to each his own!
Prachi Desai definitely chose the right shade if nothing else, ruby red! She slipped into a long gown with a floral embroidered layer on top and sheer panels running horizontally at the bottom. She carried a white nd god gorgeous clutch and wore big red stud earrings.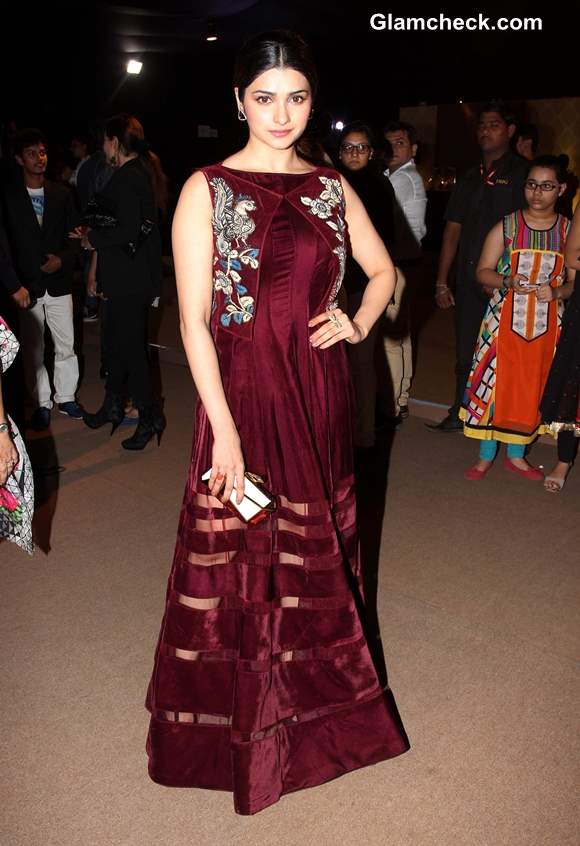 Prachi Desai at India Bridal Fashion Week 2013 Day 6
She chose to tie up her hair (a ponytail maybe would have looked better,) and put on minimal makeup. We loved the concept of the dress but too bad it didn't fit her well from the top.
Preeti Jhangiani was another favourite of the night. She wore a simple spaghetti strapped coral green gown which was cinched at the waist with a gold rope belt and she accessorized with a beige bag and golden heels.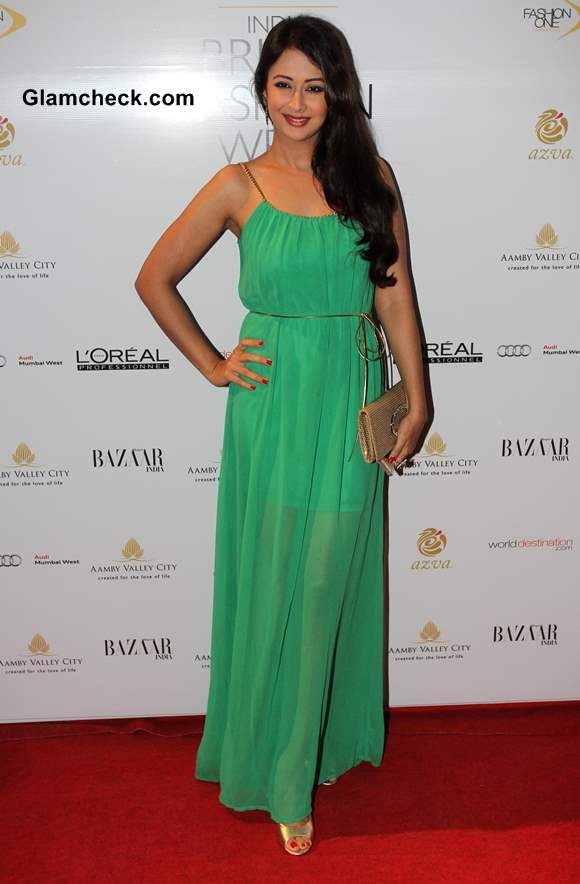 Preeti Jhangiani at India Bridal Fashion Week 2013 Day 6
Even though the trend of wearing short opaque dresses with a sheer longer layer on top is getting old, it looked good on her. She wore her long wavy tresses on one side and put on dark shiny red lipstick. The loved the way she did not over accessorize or spoil the beach summer look with any garish heavy makeup.
Riya Sen did not dress to impress, she looked borderline scary to put it in a polite way. She wore a one shoulder black dress with cut outs above the waist and she teamed it with beige wedges.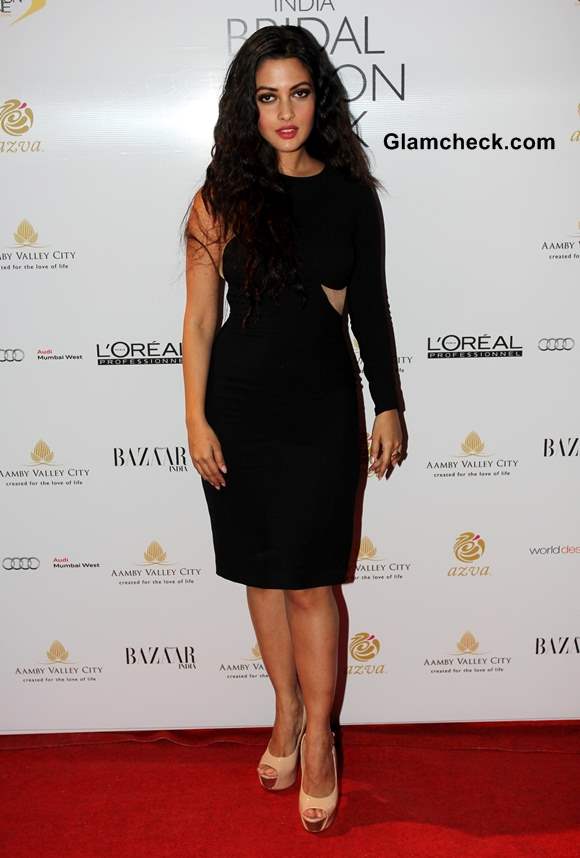 Riya Sen at India Bridal Fashion Week 2013 Day 6
Her wavy long hair looked nice left open and her face looked near perfection too, highlighting her huge bong eyes with black liner and kohl and painting her lips in scarlet et al. Cutout dresses are meant to make a person look hotter, sadly in this case, they did the opposite.
Last but not the least are Rohit Bal and Abhishek Bachchan. Rohit Bal went for a black velvet blazer shining on a white shirt and jodhpuri pants, while Abhishek opted for an all black shwerwani with maroon embroidery detailing on his Nehru collar and buttons.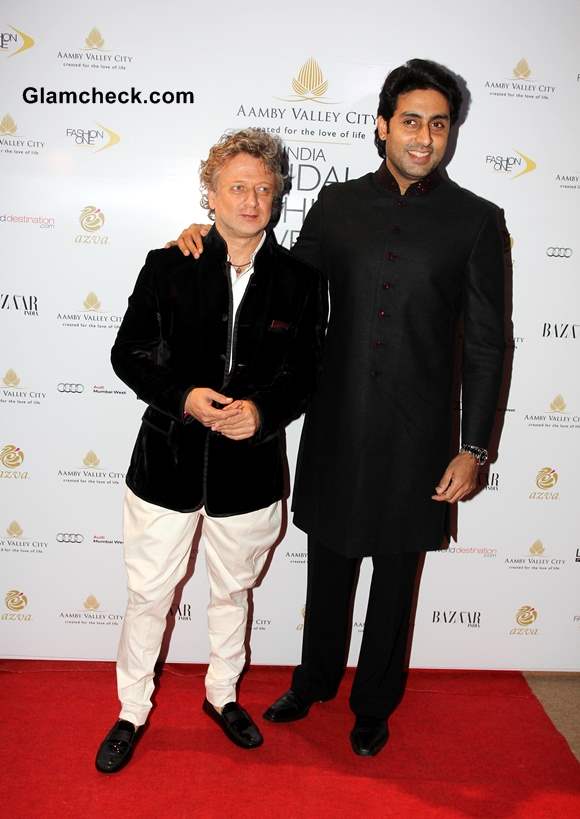 Rohit Bal with Bollywood actor Abhishek Bachchan
Both men were sans any type of accessories and finished off their men in black look with formal shoes. 
Solaris Images