Katrina Amy Alexandria Alexis Infield, better known as Katie Price or Jordan previously, was spotted at BBC Radio 1 to promote her new book 'The Comeback Girl', in London on July 20, 2011.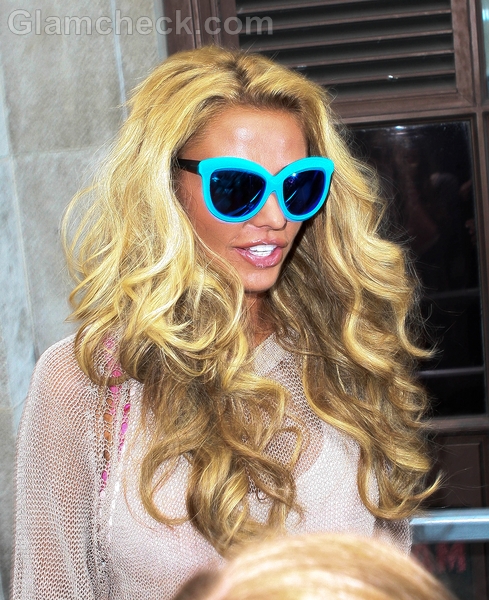 Famous for her topless stint with the British tabloid – The Sun, Katie was never known for her subtlety. She has always had a very flamboyant style. Katie turned up at the event dresses in neutral shades – a tan knit blouse teamed with a pair of 'khakhi' shorts. Though, she added a little 'Katie' trademark to her ensemble by sporting a bright neon blue pair of cat eye glasses.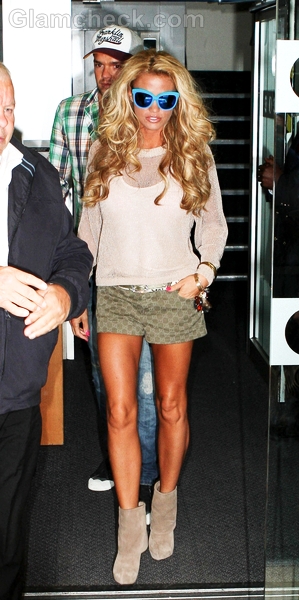 The retro eyewear also made a stylish comeback with the 'comeback girl'. She did not opt for the traditional classic 50's retro pair. Instead, she chose a bigger, more extravagant 80's version of the classic.
Since they first came into fashion with Audrey Hepburn the cat eye glasses have undergone incredible transformation. A number of variants, of the glasses, are out in the market today. The cat-eye glasses suit most face-types, and are wearable without bringing out the structural flaws. Having said that, here, the size and colour of the eyewear might be oppressing the look or taking away from it.
Katie's blonde tresses are left untied in soft curls. The curls and the free falling hair soften the look and add a playful casualness to her look. The hair, complement her choice of clothing.
Cat-eye glasses are actually becoming quite favoured since their return to high fashion. A lot of celebs are trying out this look. Some are mastering it, some are still trying.
Image: P R Photos