You may hate the warm days and the sultry nights of summers, but, sundresses are the best way to beat the heat in this weather. Just pick your favorite sundress from your wardrobe and you are ready to step out in the scorching sun. These sundresses dresses are very chic and cool and set you free in the summer.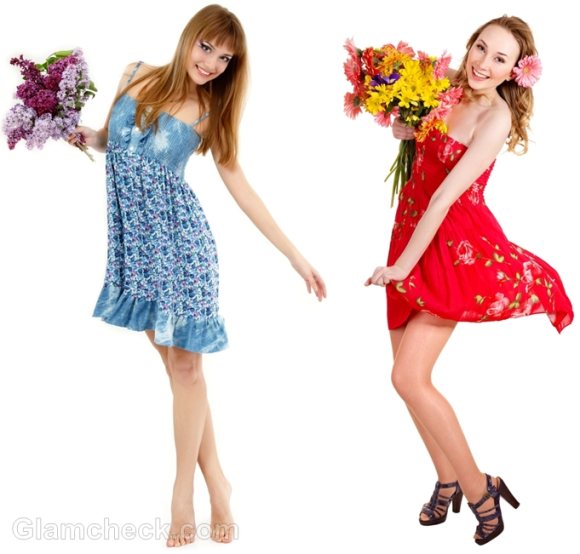 These cute little sundresses come in an array of styles. Ranging from spaghetti, balloons, halters and the very sexy tubes, these dresses are sexy yet cool and apt for the summers. It is the perfect piece of clothing for women who want to wear a single dress for different occasions.
These are the perfect dresses for people who like to carry their day wear into the night. With a little dazzle and be-jeweled accessories you are ready to rock the party.
How to wear a sundress for your body shape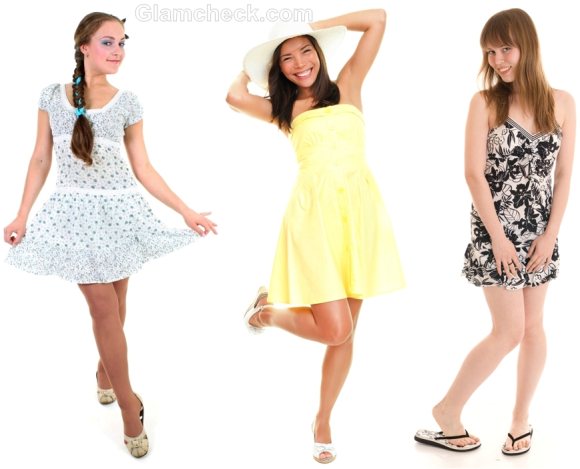 The first thing you need to keep in mind before wearing something is where you are going? It is a day out shopping, going to the beach, hanging out with friends or just a barbeque in someone's backyard?  With that in mind you can decide how to dress and what to accessorize your attire with.
You must choose the right type of sundress to flatter your body shape. For the women who have a toned torso can carry off the strapless dresses with panache. Wear sundress that has a tight grip on the bust in the form of smocking or an elastic band around the bust. There is nothing better than being able to add volumes to your dress to accentuate some areas!
If you are petite wear sundress that will accentuate your figure and make it look fuller. Choose a sundress that has ruffles or similar detailing on the neckline, if you have a small bust. Do not opt for a very high hem-line; instead pick a dress that is mid-thigh or a little longer with vertical lines to give the illusion of height. A tank dress that is fitted, with a v-neck will make you look even smaller.
For women who are tall and slender and may have boyish frame can wear almost anything and carry it off with ease. They can wear large prints, daring necks, strapless sundresses, though, you should stay away from halters as they do not bring out the best in your figures.
For the women with a large bosom wear sundress with straps and halter styles, they suit your frame and complement you and don't overwhelm your structure. Especially if you can find sundresses with built-in support is God-sent. Wear dresses that have a tiny waist to draw the attention to your slender figure.
The pear shaped women should opt for the strapless sundresses with smocking on the chest. The smocking draws attention from the problem areas and focuses on beautifying the body, without over-exposing you.
Choose a high waistline if you are not very tall. The empire waistline adds height. Go for mono-chromes without any print. A sundress with an attached empire-line will highlight the smallest part of your waist.
If you do not have washboard abs and have a tummy, you could go in for an empire waist line sundress too. Wear sundress that has a slight pouf (flow) below the waist line. That de-accentuates the problem areas and looks very elegant. Or you could choose a sundress with a belt at the tiniest part or the waist. That makes your waist look small.
With all these things in mind you can choose the perfect summer sundress for you and be the center of attention at any get together!
How to Accessorize your sundress
Sundresses are easy wear clothing. They are easy to wear and easy to accessorize. Keeping in mind where you need to go you accessorise your garment.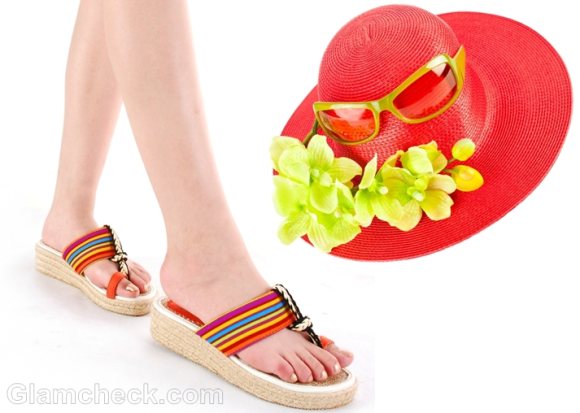 When you are wearing the sundresses during the day there are some accessories you cannot leave home without, namely
Sunglasses
Sunscreen
Lip-balm
These bare essentials should also be with you in case you move out of the house in the scorching heat.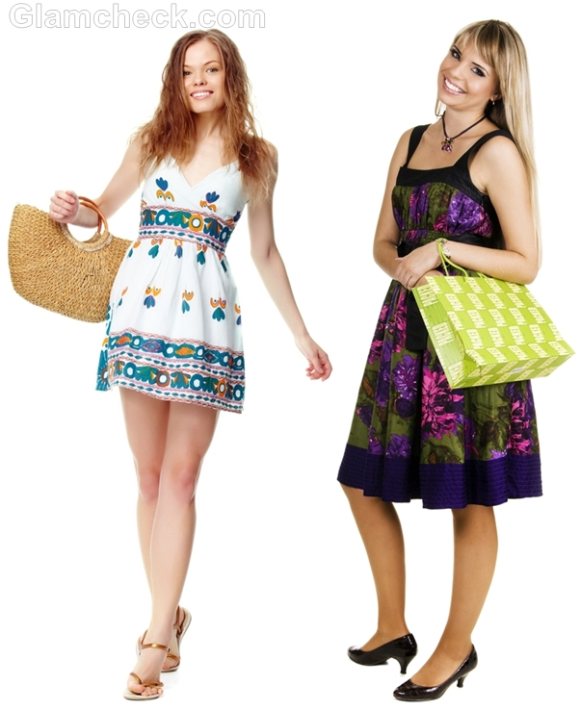 If you are going out to a beach or to a pool party, you need your sundress and a pair of bright flip-flops to go with them. Team this with some beaded jewellery in plastic or glass like, necklaces, plastic bangles and hoops. Carry a straw bag to go with the look. Everything in your accessories has to be washable as there are high chances of you getting wet. And you are ready to be a beach babe!
 If you are going out shopping with your friends or just hanging out with them for coffee you can choose a sundress that has a little tailored detailing in the form of ruffles or pleats to make it look dressy. For a day out you can wear a lot chunky jewellery. You can wear over-sized bangles on different colors, big earring and funky necklaces.  For the day out you might not want to wear high heels and do all the running around. Gladiators and strappy sandals look gorgeous with the sundresses. Over-sized bags can be carried with this look.
 
 If you are going out partying, you can experiment with the sundress. Wear sundress in bold colors and different styles, you can play with tailoring and embellishments and sequins on the sundress. Instead of flat sandals opt for strappy high heels. Wear big chunky jewellery and don't worry about going over the top. While out partying you needn't carry a bag a small clutch is perfect to complement the look.
Sunglasses, hats, clutch bags and strappy sandals are, mostly, the best team to go with the sundress. Though, you can always add a personal touch in the garment, which oozes of individuality.   These sundresses are mostly made in summer fabrics like cotton, linens and poplin, ergo, they are easy to maintain. The retro look of the hippie age is back. These figure flattering sundresses are in vogue.
Though, while wearing a sundress always keep in mind to wear a supporting brassiere to achieve the look and never pair a flip-flop with the dress if you decide to wear it for a formal occasion or if you wear it out clubbing.
With the sundress you can be cut a balance between looking sexy and cute; modest and revealing; these dresses can be vivacious and very elegant. Go pick up a sundress that is made just for you and look like a diva.
Image: Shutterstock