Every award ceremony has a red carpet moment, whether good or bad, it does get registered into the peoples mind very quickly. Some celebs are dressed to kill and some are dressed to be killed! But the red carpet is also one of the occasions where you would see the maximum trend setters which give a lead to follow on to our fashion lovers.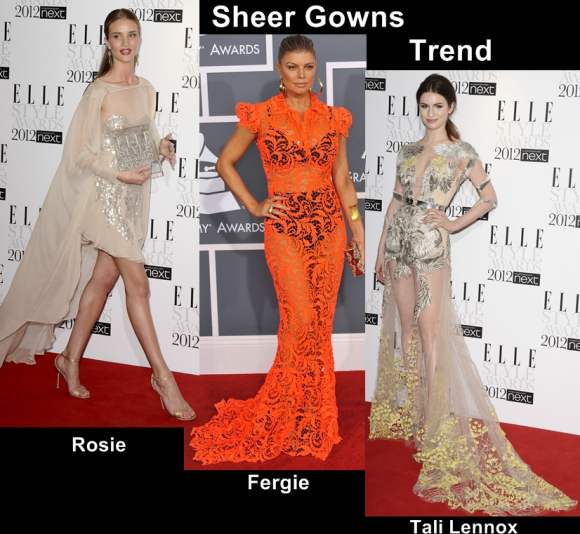 This season is definitely one of the major trend setters for sheer fabrics. It's classy, chic and portrays exclusiveness. With the celebrities walking down the red carpet in one of the most refined and sought after ensembles by leading designers it was evident that this style is not going out of fashion for a long time. Some of the most fashionable celebs were sporting this look on different events.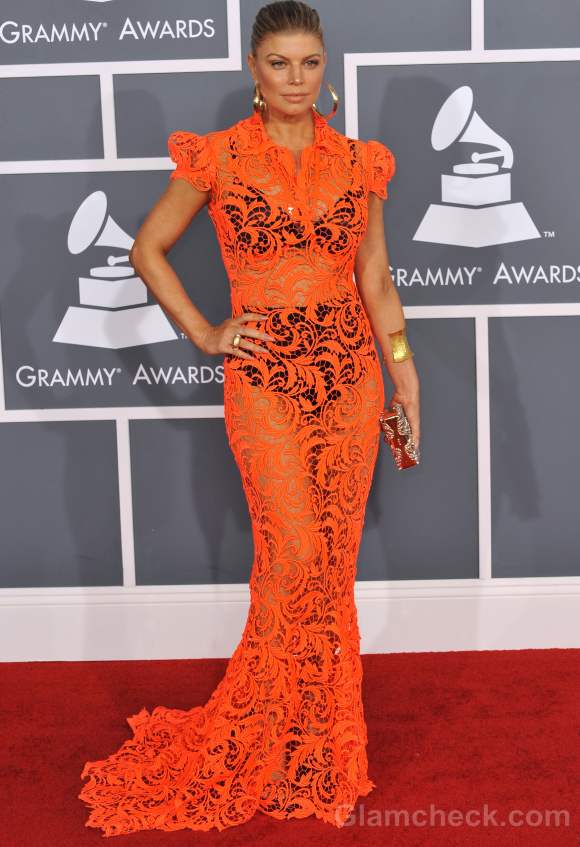 Firstly we saw The Duchess, Fergie (The Black Eyed Peas) who was spotted at the 54th Annual Grammy Awards at the Staples Centre Los Angeles. The singer wore an orange/neon sheer lacy puff sleeve gown from the SS 12 collection by Jean Paul Gautier.
We love her statement of style and prudence without the hint of black in it.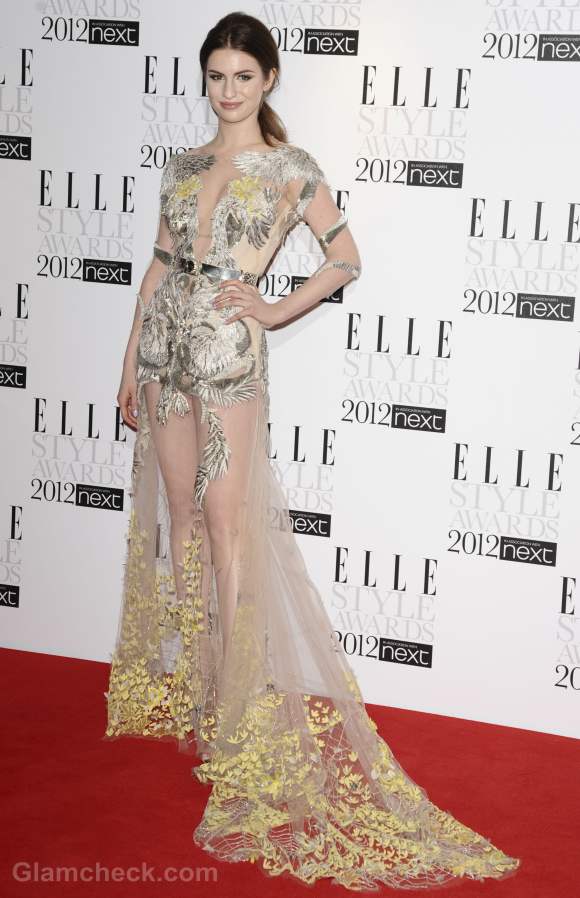 Following the same sheer trend we also spotted the very beautiful Tali Lennox at the Elle Style Awards 2012 held at the Savoy Hotel London. She chose to wear a sheer patch work detailed gown by Julien Macdonald and looked absolutely stunning.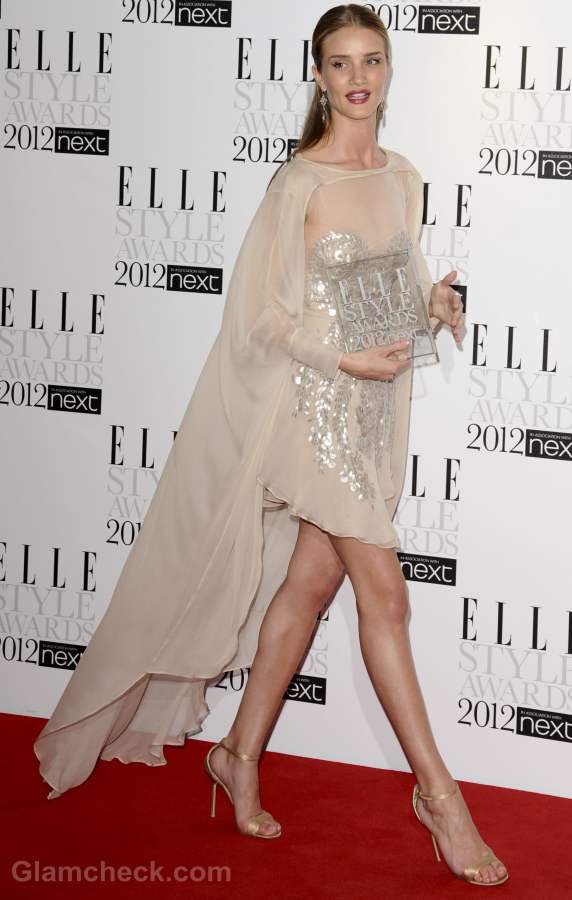 Also spotted at the same event was the Victoria's Secret model and actress Rosie Huntington-Whiteley. The Transformers: Dark of the Moon actress looked totally marvelous in sheer light beige Antonio Berardi dress. The dress was impeccable with silver surface ornamentation and a long cape to follow up behind. The color matched and blended her perfect skin tone.
Lace and see-through fabrics have always been one element which defines a woman's sensuality to perfection. The feel, look and the drape of the fabric is beautiful and adds that extra edge. May it be a graceful evening gown, a modish day dress or a casual blouse/top it works everywhere. Pair it up with correct accessories and shoes and you are good to go.
Wearing sheer gowns: Things you need to know
Fabrics which have a sheer nature should be carried off in a very subtle and wary manner. You need to know your body shape to be able to carry this delicate fabric. So if you are looking for that perfect evening gown then you have to be very careful in your selection.
Now girls who have a perfect size 8 figure and are tall can carry of the full length gowns because their height provides them that extra advantage. If you are short in height then also you can adjust by wearing comfortable heels and giving yourself the illusion of being tall.
Girls with a heavy built should look for accentuating their high waist with the help of a nice belt. Keep the amount of sheerness on the upper part of the body with subtle detailing and let the lower part fall freely with an opaque lining inside. You can also keep the neckline low to make it ultra sexy and yet look elegant. You also need to be very sure of colors you pick up because they can either bring out your skin tone or just underplay it. Fairer skin tones can go for both light and darker tones, the ones with a wheatish skin tone should stick to pastels.
The best part about lace and sheer fabrics are that they never let you look down trodden. They have a rich and regal look to themselves which further beautifies the garment.
While you are looking for the perfect gown, you also need to see the kind of accessories that should get along with it. You need to pick up accessories which will not get caught up with your gown and tear them or pull a thread. Try picking up stuff which has a smoother surface. Also look for that one statement piece that will completely define your look. May it be a neck-piece, bangle, earrings, don't try and throw everything but just stick to that one piece.
Carry clutches which are refined and which do not cross your subtleness of your gown but still is able to maintain it. The footwear you choose should be comfortable enough that allows you to walk around comfortable and not get entangled in your dress and fall off. Pick up heels that you can really walk in and which do not create trouble while you are commuting. Again it should be color coordinated or a contrast which looks good.
We hope that we have given you enough tips and showed you examples as to how you can look like these glam divas and carry the sheer gown look. Go ahead and show them that you aren't any lesser than these fancy women and do let us know how it turned out to be.
Image: Shutterstock