The denim combination is a style that always manages to look trendy, and can never go out of fashion. Matching a denim upper with a denim lower looks fashionable, and is an ensemble that can be sported anywhere, if accessorized correctly. So, whether it is a light blue or a dark blue or a stone washed denim combination you have in mind, just go ahead and wear it.
This versatile look could be sported for any casual occasion, be it a day around town or the university – in case of the latter, flat pumps would be more suited. In fact, even if all you want to do is laze around, whether in your backyard or at a friend's place while watching a movie and munching on popcorns, then opt for this look.
If you are worried about getting it wrong, don't be – we are here to help you rock the look .
Rock the Fashion: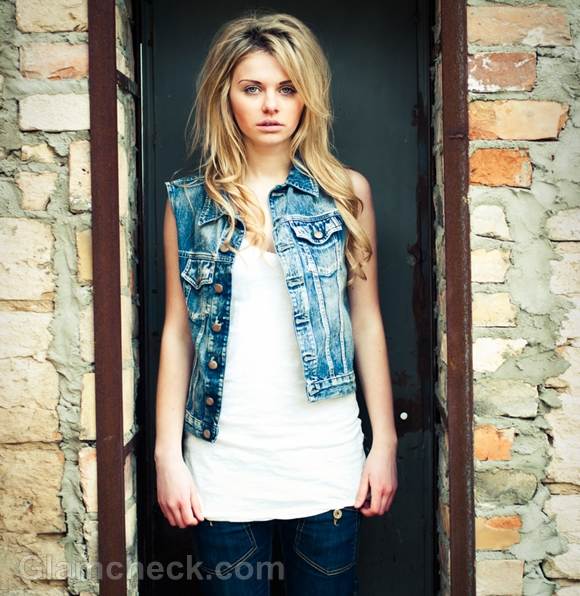 In this denim combination look, the focus is on blue denim pants that have been paired with a sleeveless blue denim jacket and white top.
Rock the Beauty:
The makeup looks barely there but on closer inspection one can see a smart and subtle application of it. The pinkish brown blusher has primarily been used to contour the face. Nude lipstick and light grey eye-shadow complete the makeup.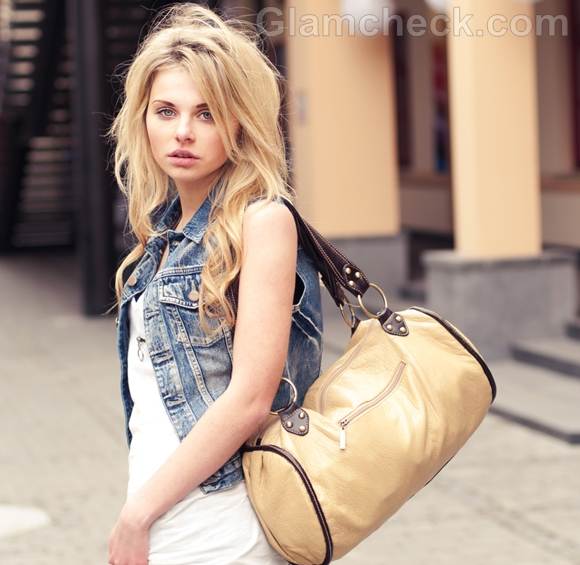 The hairstyle is a mix of "careful created messy" and curls. The top part of the hair, near the scalp has been voluminized. You can do this by backcombing your hair and teasing under the strands with a comb – in order to create the volume. Then, put your head down and shake your hair a bit to give it a messy look. Now, at random, curl 5-6 one inch thick sections of hair with the help of a curling iron. Take care, to curl only the lower part as seen in the picture here. 
Rock the Style:
Rock the look
An over-sized beige handbag with brown detailing and a pair of blue peep toe platform sling-backs complete the ensemble for the denim top and denim pants combination.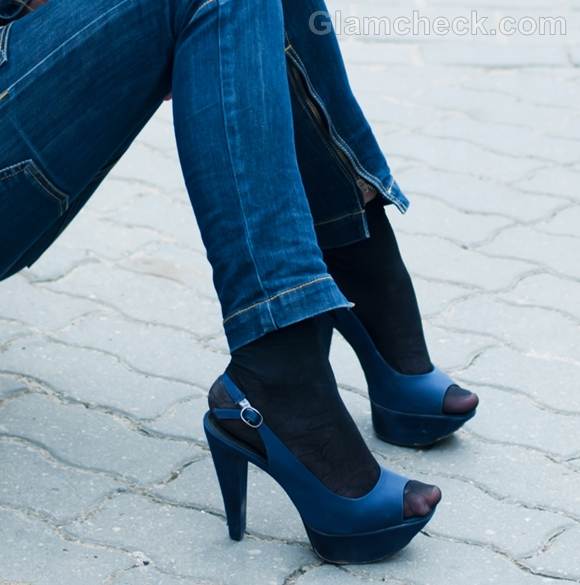 You can also change the total look of the same attire by playing with accessories. For example, in the denim jacket-denim pants combination that we see here, if you wear it with a pair of bright converse sneakers – then the look changes completely and a pop of color is also introduced into the attire. On the other hand, if you wear a pair of animal print stilettos and carry a matching animal print clutch, wear big golden hoops and tie your hair up in a high ponytail – then you are totally ready to party!
Glamcheck's Rocking Tip:
The denim on denim combo should not only be restricted to denim shorts and denim pants. You can substitute the lower with a pair of short denim skirts or denim capris.
You can opt for not only blue, light blue or stonewashed denim combos but also try out colored denims. These are really in trend right now, and you can do a colored denim jacket and colored denim lower pairing.  
So go ahead, and wear your denim combo with panache.
Image: Shutterstock.com