The 85th Annual Academy Awards was a cornucopia of great talent and enviable fashions coming together to celebrate the magic of the silver screen. Half the fun is watching the most beautiful women in the world walk down the red carpet in dresses as magical as anything we'd see on film. Indeed, many of the ladies this year seemed to be in the fairytale spirit judging from the number of ball gowns with trains and similar silhouettes that dominated the evening.
Let's lead with Amanda Seyfried's lavender gown with keyhole detailing.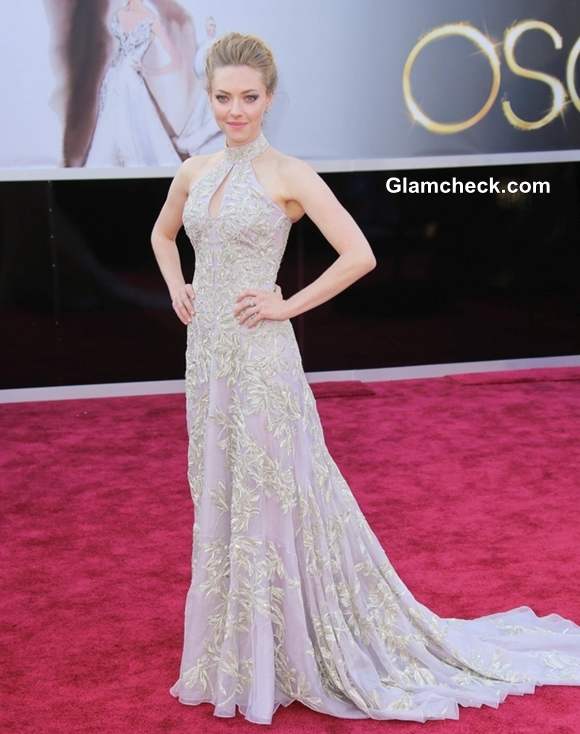 Amanda Seyfried gown at Oscars 2013
The structured number boasted exquisite embroidery in pale yellow and a fabulous train which lent grace to her lissom form. Her pale skin tone lit up by the colors, Amanda looked regal!
Amy Adams has played princess in many movies and her powder blue strapless gown could be borrowed from any of those wardrobes.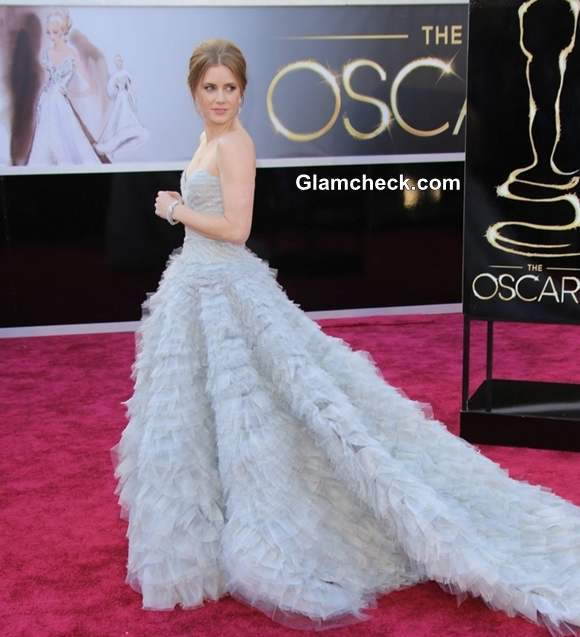 Amy Adams gown at Oscars 2013
The textured full skirt with a noticeable train gave her ensemble a swan-like feel, upping her elegance by leaps and bounds.
Louise Roe dazzled in a nude gown with a flared skirt and red embroidery flaming down from shoulder to thigh.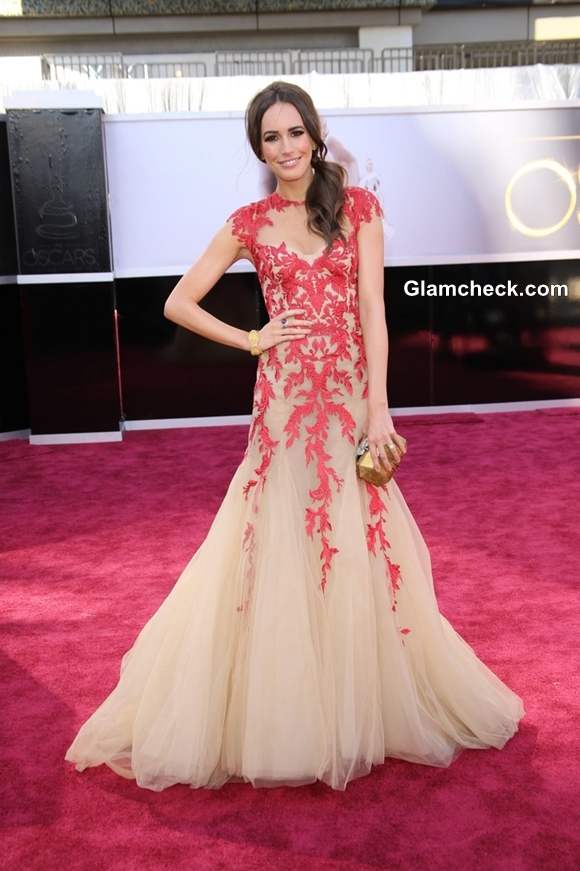 Louise Roe gown at Oscars 2013
Thus subtle nude plays up the bold red beautifully, each shade bringing out the best in the other. The outfit is delicate but yet an eye-catcher.
Charlize Theron preferred a structured and more contemporary look for her red carpet outfit.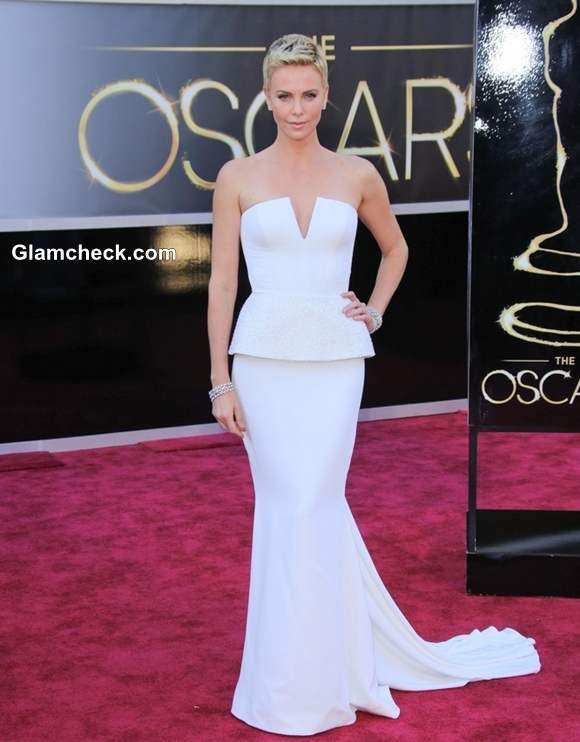 Charlize Theron gown at Oscars 2013
She sported a strapless off-white gown with a peplum bodice and fishtail-esque skirt, all rounded off with a delicate train.
Kelly Rowland is another diva who went with a more modern take on the princess gown.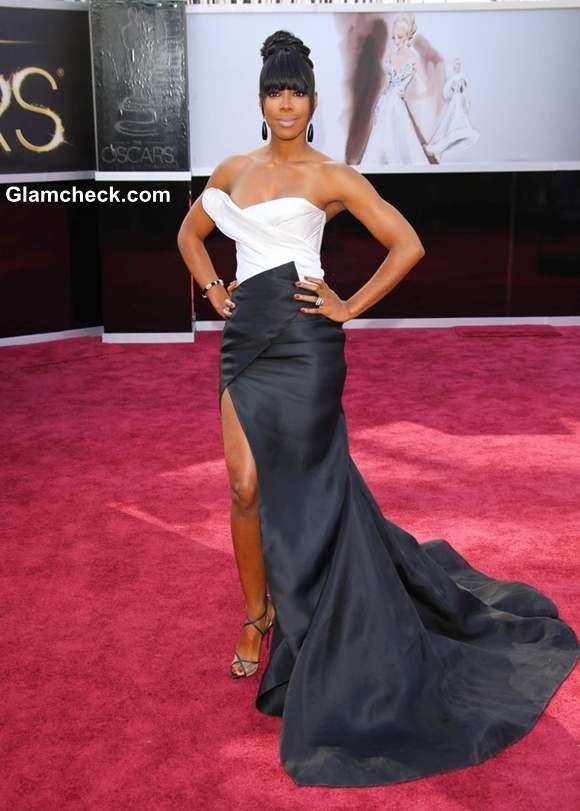 Kelly Rowland gown at Oscars 2013
Hers had a white strapless bodice giving way to a draped-style black skirt which boasted both a side train and a steep, thigh-high slit.
Current Amercian sweetheart Jennifer Lawrence looked ethereal in a pink-nude strapless princess gown.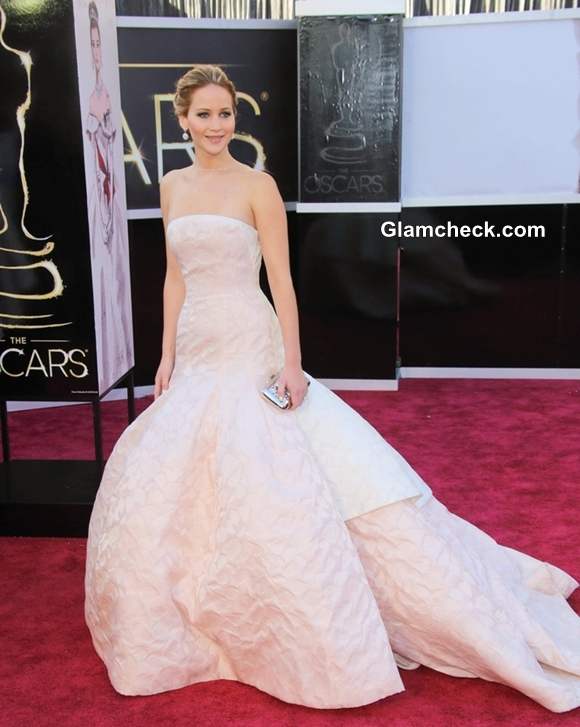 Jennifer Lawrence gown at Oscars 2013
The pale color does much to play up her natural beauty.
Oscars 2013 Red Carpet:
Competing with the Red Carpet: Oscars 2013 Bold Color Trend

Red carpet events tend to be saturated with blacks, whites and other neutral tones that no one can find fault […]
Sparkle and Shine: Oscars 2013 Glittery Gown Trend

You can't beat sequins, shimmer and metallic colors when it comes to stealing the limelight. And god knows with all […]
The Angel Wears Prada: Anne Hathaway Pretty in Pink at 2013 Oscars

Lovely Anne Hathaway chose the perfect dress as she attended the 85th Annual Academy Awards at the Hollywood and Highland […]
P R Photos