The value of clothes extends beyond mere need. Clothes are used as a tool to express, add character and speak of your taste and choices. Any life is defined by the multi facetted roles played by all. These roles are the core drive behind the various attires to suit the occasions. A person could be flirting with a wardrobe of dresses or whites when summer, dark and dangerous greys and blacks for the fall, spotless formals for work and the most elaborate details for a wedding. In this myriad of role changing there also exists a section of resort wear of which swimwear forms a major chunk.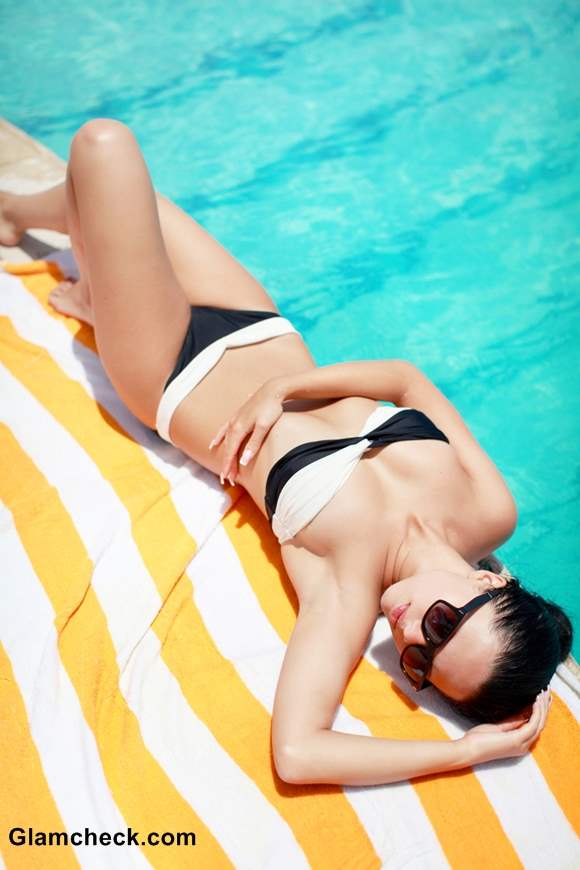 Swimsuit – How To Look Beautiful in a Swimsuit
Globalisation has made the world a smaller place to live resulting in a booming travel industry forming a major reason behind the development of fashion weeks solely dedicated to swim wear. The recent times have seen swimwear keeping up with the fast evolving fashion trends too. However, when it comes to this category of clothing none of the trends matter till one doesn't get the perfect pair of swimsuit that brings out the best in a body.
Here are the factors to help you look your best in a swimsuit:
Swimsuit for every Shape
The trending elements don't always go in sync with the fashion ethics of every person. A trend can work beautifully for some and could be jarring for the rest. Understanding what works for you is the key to getting your style quotient right. Nothing flaunts your body and shows it shape more than a swimsuit hence, the body shape is the first factor that decides the direction of the swim suit story for you:
Small on Top:
The idea is to create illusion. Fringes, Frills, Ruffles or different forms of embellishments help to add volume and create an illusion. Padding and underwire add the curves. It is important to keep the fit in mind. Drooping tops can spoil the look for anyone. In terms of prints, florals, prints and stripes give the illusion of curves which exactly what this body type looks for.
Big on Top:
Support is the key idea to get the perfect match for this body type. Bikinis with Halter top with work best by also enhancing the support.
Short Torso:
This body shape requires the illusion of length which will be created by swimsuit that has a high cut on the thigh or a one piece suit with a plunging neckline adds the length too. The idea is to draw attention on the top, to enhance the illusion of length which is achieved by wearing bottoms of simple silhouette and a play of prints on the top.
Long Body Shape:
Try tackling this easy tackle shape by breaking the length with horizontal stripes, bright colours and mostly in the form of two piece bikinis. Ruffles and frills add oomph.
Read More:
Swimsuit for different body shapes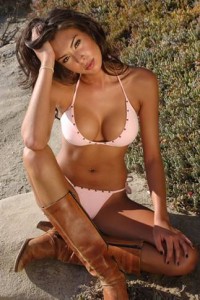 Bikinis / swimsuits  are a wardrobe staple. They are functional as well as glamorous. A real erotica, the beach essential promises you great …
Accessories to Match:
Jewellery:
Statement jewellery is one of the biggest trends recent fashion seasons have seen. It completely uplifts an outfit and gives it a total makeover. A swimsuit leaves a huge scope for accessorising. Anklets, bangles or bracelets or statement earrings or dramatic neck pieces form perfect additions. Get inspired by the natural elements of the beach like the shells for jewellery or wear the plastic forms of it. Jewellery pieces will add more colour and depth to your look. Steer away from metals if you want to safeguard your precious jewellery metals from oxidisation.
Beach Headgear:
Headgear in the form of delicate flowers or classic straw hat not only protect but also make a great fashion accessory pretty much like everything else one adorns. 
Sunglasses:
Sunglasses are an easy catch to glam up any swim suit look. Have fun with vibrant colours or match the colour story of the swim suit to keep it classic and subtle.
Edgy Flats:
Eclectic flats which are inspired by a vibrant play of colour or playful motifs form the perfect match to the swimsuit look. The only heel variation one can try are in the wedge form that give you some height and stick to the rule of comfort.
Bags:
You can carry your world in these. A lady needs her bag wherever she goes, and these make for a great fashion addition to a swimsuit. A great way to either add colour or tone the character of the swimsuit.
Read More:
Things to Pack for the Beach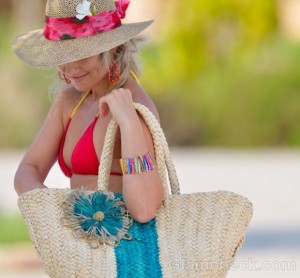 The picturesque locations always have a charming affect and the luxury of time to soak in the charm a perfect way to not only to de stress but …

Hair & Makeup:
A swimsuit look requires as much perfecting as an elaborating one.
As hairstyles have the power to drastically bring about a change in the way , are few ways to bring about the temporary changes for the perfect swimsuit look:
For a futuristic approach, usually involving a swimsuit with metal embellishments or rings or metallic texture, it is best to go for a sleek option with minimal aesthetics. Hair tightly tied in a bun and away from the face talk best of the style.
For a more bohemian or a floral vibe , loose waves or curls clasped by a floral clip or tied by a flirty scarf do the trick. However, don' forget to apply a leave in conditioner to keep the hair protected.
Braiding makes for a great option to keep the hair sorted. Add accents to decorate and complete the look.
Read More:
Beach Beauty Tips : How to Get Ready for the Beach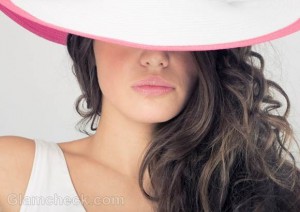 Summer means more time at the beach. Although we look forward to it, we're also intimidated by it for a variety of reasons. We have to slip..
Make up requires a crisp approach too.  Minimal application with a dramatic affect is the perfect way to perfect your face with the suit. Waterproof and smudge free eyes with a bold lipstick matches the ethos of most of the swimsuits. Keep the deal nude for a more natural approach for the look. If contact with water is not n question then one can apply body foundation to temporarily to conceal the flaws.
The swimsuit look is a perfect deal for a beach party, pool side party or a theme party. It is important to keep pace with the level of style for every role a person plays. A swimsuit is one great way to bring the sexy out f you and will see through most of these occasions.
Image: Shutterstock