Bollywood actress Karishma Kapoor who is also the brand ambassador of Kellogg's Chocos threw together a cool, colourful ensemble as she attended the launch of "Augmented Reality Game" in Mumbai, India on August 25.
Her look
Chilled out
What she is wearing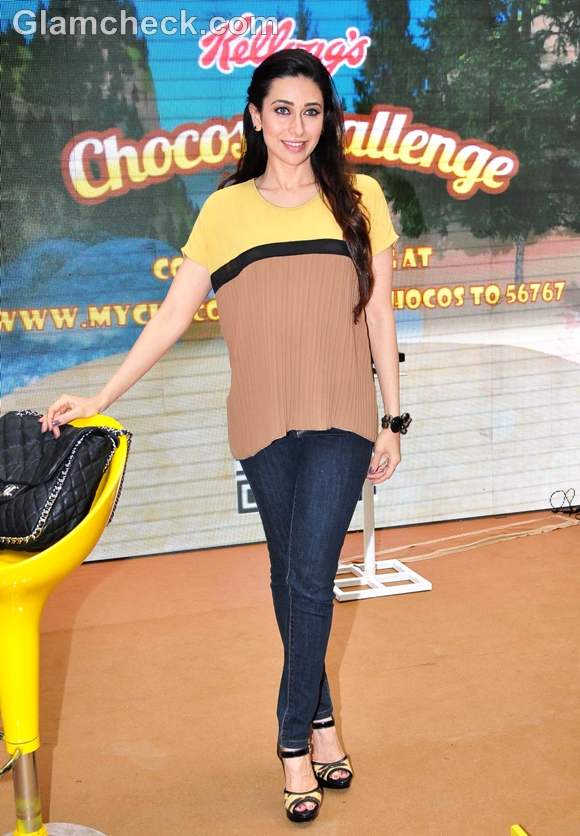 Karisma Kapoor
The petite beauty wore dark blue jeans, teaming them with a yellow, black and nude loose-fitting blouse. She accessorized the outfit with really cute peep-toe ankle straps with yellow and black stripes, a black handbag, black stud earrings and a black floral bracelet.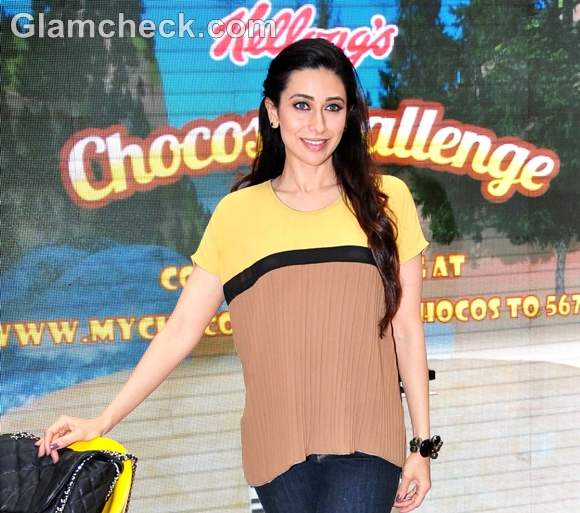 Her kohl-lined eyes, mascarraed lashes and soft pink lips were allowed to shine through as her long black tresses were tucked behind the ears, pinned back on one side.
Get the Look
A well-fitting pair of jeans is one of the main components of this ensemble. Team it with a comfortable, flowy blouse, but ensure that the loose fit does not compromise on style. Accessorize your look with uber-cute strappy heels and one or two girly pieces of junk jewellery. If you're not big on makeup, just dab on some lip balm or Vaseline and swipe on a bit of eye liner. Brush your hair till glossy and you're done.
How and where to sport the look
College students, if you want to look trendy while hitting the books, this look is for you. But really, this look is so simple and versatile that any woman from any age group can put it together – and look great in it – when she wants a casual ensemble. Sport this look when you're headed to the mall, the movies, a coffee shop, or over to the neighbour's for a session of gossip.
Image: Indian Photo Agency