The 'LittleB' of the Bachchan family, Aaradhya celebrated her first Diwali at Jalsa on November 13th. Celebs arrived in traditional designer ensembles to the event. We caught a glimpse of the celeb styles at the Bachchan Diwali bash. Read on:
Amitabh Bachchan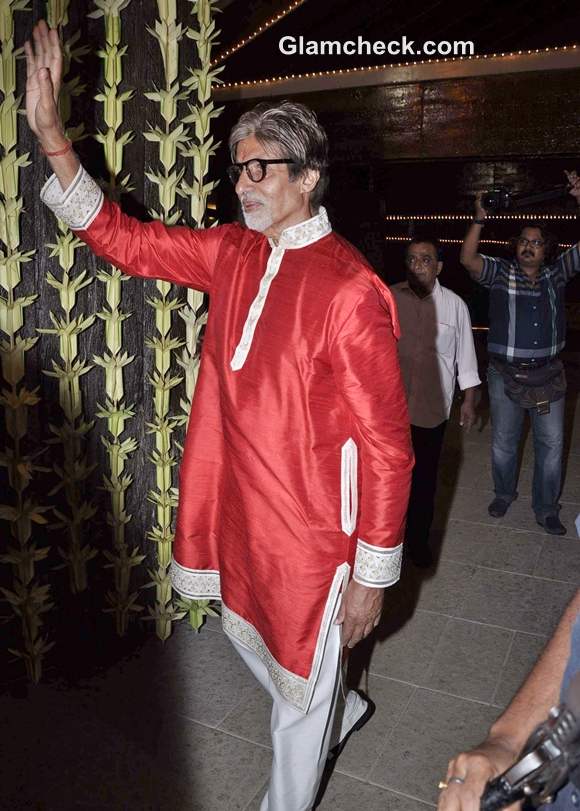 Bachchan ji greeted the media who stood outside his home waiting to capture all the celebrity action. Amitabh Bachchan wore a scarlet kurta with ivory borders at the collar, lapel, hem and sleeves. He looked vibrant in the colour. Spectacular!
Shah Rukh Khan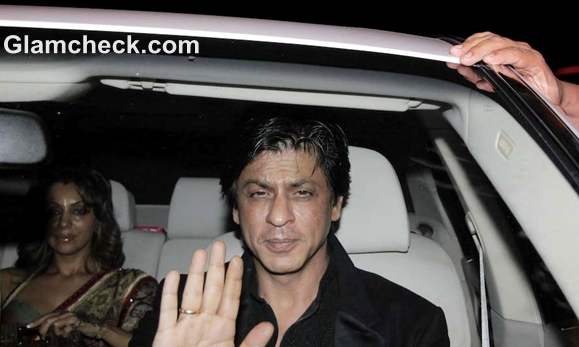 Sharukh Khan at Amitabh Bachchan Diwali Bash
The King of Bollywood Shah Rukh Khan attended the Diwali bash at Jalsa with wife Gauri Khan. We caught a sight of Gauri who was at the back-seat in a gorgeous sari.
Bipasha Basu in Sabyasachi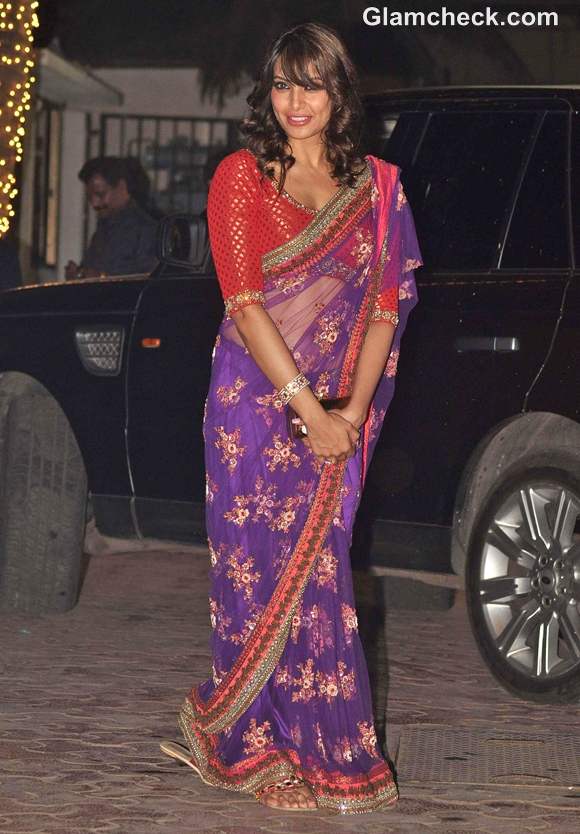 Bipasha Basu at Amitabh Bachchan Diwali Bash
Bipasha Basu was spotted wearing a Sabyasachi sari in violet paired with a scarlet blouse. The net sari was decked with floral embroideries and a scarlet border with floral motifs.
She accessorized her look with a jewelled bracelet, a huge ring and embroidered flats. Bangs adorned her head as the shutterbugs went crazy over her.
Kangana Ranaut in a Sabyasachi Sari
Kangana Ranaut at Amitabh Bachchan Diwali Bash
Kangana Ranaut wore a black Sabya sari with a tiny black bindi on her forehead. We wish we could show you more clear pictures of Kangana, but we apologise!
Prachi Desai in a White Anarkali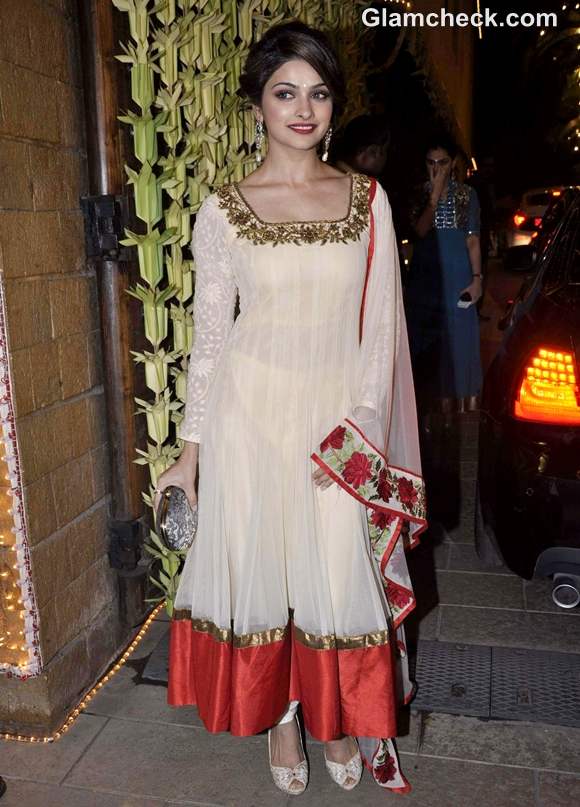 Prachi Desai at Amitabh Bachchan Diwali Bash
An off-white Anarkali with a giant scarlet border and gold appliqué on the square neckline was followed by a sheer dupatta in floral embroidered border. She paired her ensemble with embroidered peep-toes, a lace clutch, pearl danglers, a bindi and a pretty bun. And there was the deep red mouth which doesn't classify as maroon but, a slightly deeper shade of scarlet. I hope you got what we meant. She looked very elegant at the do.
Sarah Jane Dias in Shantanu-Nikhil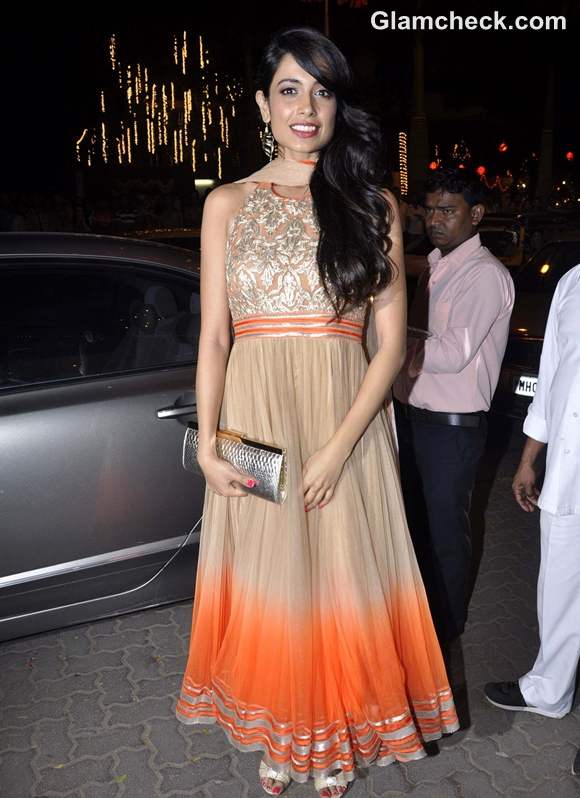 Sarah Jane Dias at Amitabh Bachchan Diwali Bash
Femina Miss India 2007, Sarah Jane Dias wore a Shantanu-Nikhil ombre Anarkali to the Diwali bash hosted by the Bachchan family. The empire-waist and the shade of orange really complemented her skin tone. Her side-wept hair, danglers and a silver clutch completed her look. Fuschia nails added vibrancy to the outfit. We also love her rich lip colour. This ensemble needed a colourful pout.
Asin in Citrus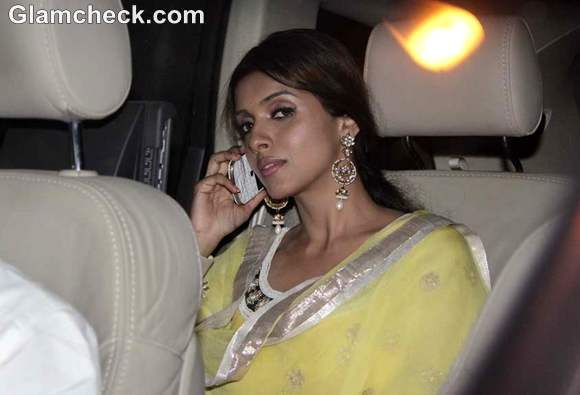 Asin at Amitabh Bachchan Diwali Bash
Asin wore a citrus Anarkali to the bash with a silver border. The diamond and pearl jhumkas looked dazzling on her. The lovely face was complemented with a pink pout and shimmery eyes.
Sonam Kapoor in Anamika Khanna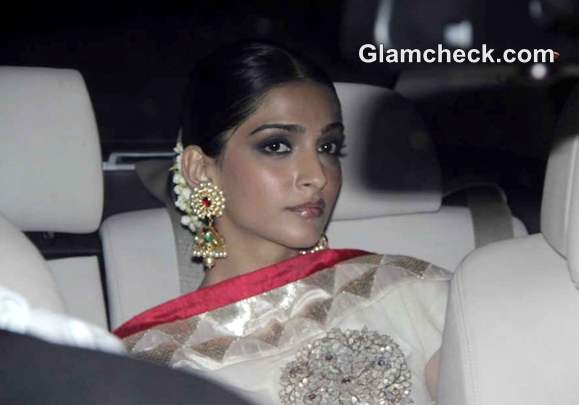 Sonam Kapoor at Amitabh Bachchan Diwali Bash
A beautiful ensemble by designer Anamika Khanna in white and magenta was the chosen outfit for style diva Sonam Kapoor. She accessorized her look with pearl jhumkas, gajra, and dewy make-up. She looked ravishing from what we saw.
IANS