While growing up in India, it's hard not to get excited when different festivals come up. There is one festival that I particularly loved and still do because married women all around me get dolled-up for it. I am of course talking about the festival of Karva Chauth.
The history of Karva Chauth goes back over the decades. Karva Chauth is considered to be one of the most sacred traditions for a Hindu married woman. She celebrates her relationship with her spouse on this day. Traditionally, the wives fast from sunrise to moonrise for the prosperity, well-being and longevity of their husbands. It's not uncommon for young women to keep a fast for their fiancés or their husbands to be.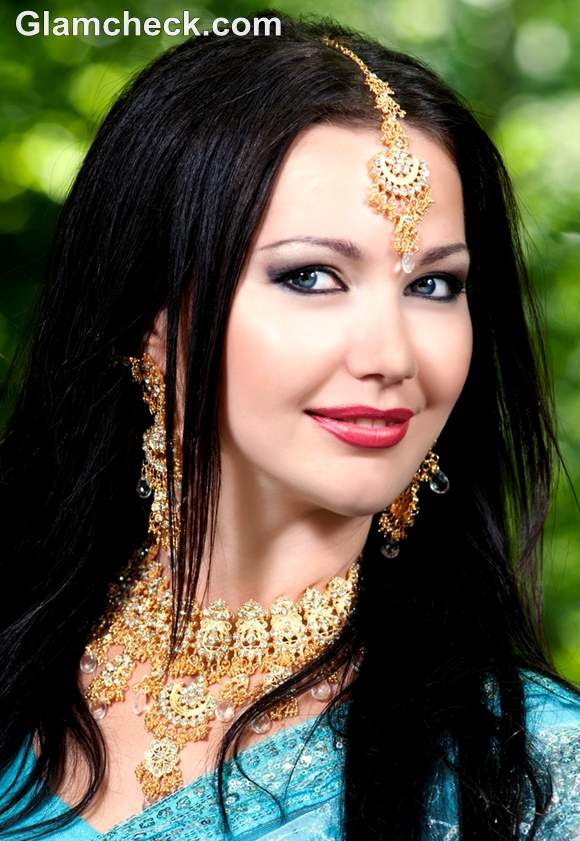 Beauty Advice for Karva Chauth –Tips That Make You Glow
The day usually starts with prayers and a light meal prepared before dawn. After that the fasting begins. All through the day not even a drop of water is to be had until the fast is broken at moonrise at the hand of their husbands. One of the most exciting parts of this festival takes place in the evening. It's when the women keeping their fast get ready for their husbands by beautifying themselves and wearing their finest clothes and jewellery.
The preparations for Karva Chauth are usually made a few days in advance. Women buy things that signify marriage like glass bangles, sindoor, mehndi, cosmetics, jewellery, puja items, red bindis and ribbon. Around this time, women start their beauty regime too. Here are a few beauty tips for you to follow a week before your big day.
Beauty Tips for Your Skin and Body
Drink a lot of water to flush out all your body toxins and also help keep you hydrated.
Moisturize your skin frequently and gently massage it to keep it from getting dry.
Pamper yourself a bit with body and head massages.
Avoid junk food even though it may tempt you. Spicy food is also to be avoided if possible. Stick to green leafy vegetables and fruits for glowing skin.
More and more women these days are going in for facial and body rejuvenation treatments like laser treatments, tummy tucks, and Botox. If you do opt for these treatments before Karva Chauth, make sure that you are aware of all the pros and cons and also keep in mind that the costs for these treatments increase at the time of Karva Chauth.
Beauty Tips for Your Eyes
Remove all eye makeup before going to bed.
You could put pieces of cucumber over your eyes to sooth them. You could also soak a cotton pad in some rose water and place the pads over your eyes.
Splashing water regularly over your eyes has a cooling effect.
Eye massages are great for helping heal, firm and soothe your eyes.
Make sure you sleep well in the nights leading up to Karva Chauth to avoid dark circles and a dull complexion.
Wear sunglasses while traveling.
Beauty Tips for Your Face
Face packs are great for younger, healthy looking skin. Make sure to choose a pack that suits your skin type.
Multani mitti packs are a great option.
Avoid leaving your makeup overnight on your face. Make sure to remove it before going to bed to avoid skin eruptions.
Beauty Tips for Your Hair
For your hair, go for a hair spa to a salon or use protein packs at home.
Massage your hair with coconut oil an hour before washing it.
Wash your hair thoroughly and frequently every few days. Make sure to use a conditioner while washing.
While drying your hair, avoid using a blow dryer. Let your hair dry naturally.
Keep your hair in good condition by getting regular trims and watch out for split ends.
While styling your hair, use ceramic coated irons. Use serums that help protect your hair from heat damage.
Nuts and other high protein food items like fish, eggs and soy products are great for your hair and skin.
Cover your hair before going out of the house so that it doesn't get dirty quickly because of pollution.
Beauty Tips for Your Finger and Toe Nails
Make sure to get a manicure and pedicure.
Hand and feet massages are great for relieving stress.
Use gloves while driving to protect your nails.
Apply a towel soaked in warm soapy water to keep your cuticles soft.
Tips for Your Big Day
It's just as important that you pamper yourself on the day of Karva Chauth as much as you did before it. Here are a few tips for your special day.
You could get your hands and feet filled with mehndi designs. Apply some lime juice or Vicks for a darker color. Refer a separate article on Mehndi designs for karva chauth.
The secret to not getting tired while fasting is not to stress yourself out. Don't overexert yourself at the cost of not looking your best for your husband.
Another good way is to keep for getting tired is to have your mind engaged in exciting things like getting your clothing ready or your jewellery in order.
Apply your makeup carefully. Make sure to use a foundation before you start. Don't forget to add a bit of color to your eyes and lips.
During the day, you could also watch movies or catch up with your friends before your evening puja. Decorating your puja thali with lots of accessories is another great option.
Dressing Tips
Red, gold and orange are considered to be auspicious colors. You could add a bit of these colors to your makeup. For example, you could wear red nail polish or use a gold eyeshadow to complement your clothing.
If you're wearing a saree, try draping it in a new way.
If you're a newly-wed bride, your first Karva Chauth is extra special. So make sure that you spend that extra time getting decked up in your bridal wear and look gorgeous in the evening.
Read more Karva Chauth Dressing Tips in detail.
This day is about women wanting to give themselves and their husbands a gift especially since it's considered a romantic day for both husbands and wives. So get ready to celebrate this Karva Chauth with a bit of glamor and style and look your very best.
Shutterstock