The classic blue denim has re-invented itself every season but, this time it has got its way around the color wheel.
Autumn hues have direct access to your wardrobe this season by means of your favorite cotton-twill textile; the denim. Denim has come a long way from being popularized on screen by 'Rebel Without A Cause' actor James Dean who portrayed denim as his key look in the popular teenage flick.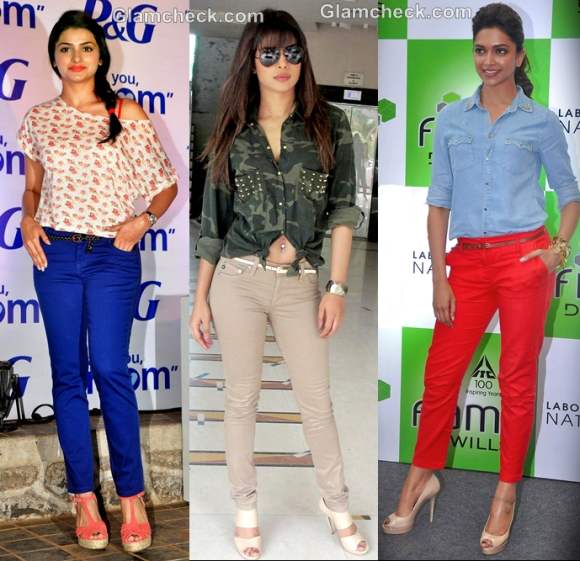 Bollywood Celebs Colored Denim Trend 2012
 Indigo-dyed Jeans

Prachi Desai was on-trend wearing indigo-dyed jeans with an asymmetrical top and  bright coral lips. The matching wedge-heels and braided hair added an edge to her casual style. We loved her Oh! So stylish look!
The Daring Red

Bipasha Basu Red Colored Denims
Red is a statement color for denim this fall. Bipasha Basu paired hers with a black tunic top with asymmetrical hemline and a long strand of neck-piece with tribal accents. This lady dares to go red!
The Warm Color Spectrum

Deepika Padukone Tangerine Colored Denims
Orange constitutes the ambit of warmer hues on the color wheel and when assembled with its complementary cousin, it is bound to set its own rules. Miss Paduone looks stunning and every bit of the fashionista with the studded denim shirt, a statement charm-bracelet in gold and nude peep-toes.
'Sands of Time'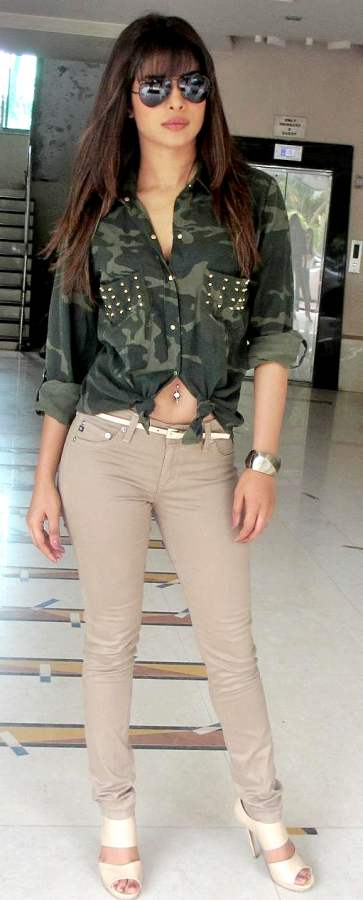 Priyanka Chopra Sand Colored Denims
The sand colored denim is a perfect way to begin autumn in a stylish note. Priyanka Chopra opted for this studded army shirt tied at the hem, a fad of the 80's, with rolled up sleeves to make a statement. The aviators and an over-sized cuff with killer heels packed a punch!
LikeWine

Priyanka Chopra Burgundy Colored Denims
If you are looking to turn heads wherever you go then opt for a wine/burgundy colored denim like PC. The diva combined a pin striped shirt tied at the hem and rolled-up sleeve to show-off her trendy look. It was a visual treat!
Aquamarine

Denim completed its color story with the addition of turquoise in it. Turquoise is a mixture of blue and green and is also termed as aquamarine.
Sonali Bendre wore a turquoise denim and complemented it with a coral top. She added a tribal- print shrug and a statement necklace with a large dial-pendant to complete her look. We were besotted by this lovely lady!
Mint-green

Designer Amy Bilimoria sported this trend with bright mint-green color and, to all those who thought neons were better left alone, she shows us just how to wear it with confidence. A neutral top in white was paired along with this tint of color and a chunky neckpiece in the same hue. Way to go Girl!
Sorbet Shades
 After the neon comes the sorbet.

Bhagyashree defined lemon-yellow denims with crisp white shirt and beige peep-toes. Colored denims always work well with neutrals and stars just know how to wear them with panache.
Tips to wear the trend
This fall your denims have exchanged colors with the chameleon. So, be ready to shop the colors for the coming season. Here is the ultimate style guide:
Wear colored denims; be it burgundy, beige, crimson or indigo. This is the season to experiment with your denims
Always pair neutral shades with them. It balances your look and the focus doesn't stray away from your coveted denim
Complement your attire with a bright mouth. Take a cue from the stars above
Heels add length and shape your legs making them look elegant. Peep-toes are a classic option for you
You are sure to turn heads wherever you go with this latest trend. Be the siren!
IANS, Indian Photo Agency