The colour orange has splashed across Bridal Fashion runways making it the hottest color for the brides-to-be. The tints, tones and shades of the hue has reiteratively been stated by designers for the bridal season. From Tangerine to coral, peach to citrus, bridal make-up has it all. Let us take a quick survey on this trend that is catching as fast as a forest fire.
The Tangerine Lips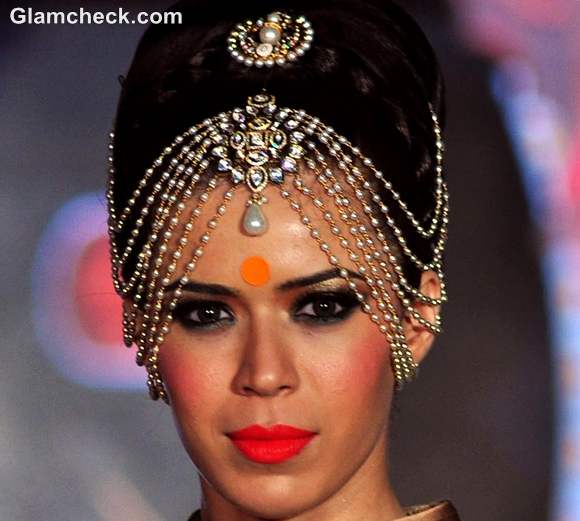 Indian bridal makeup trend 2012 orange tangerine
Rohit Verma's models sashayed down the ramp wearing tangerine lips and saffron bindis at a recent fashion show. The bridal make-up was striking with the citrus hues. It lent vibrancy and color to the face.
The lips were brighter and fuller; check out our article, How To Get Tangerine Lips for a more specific view of it.
Get the Look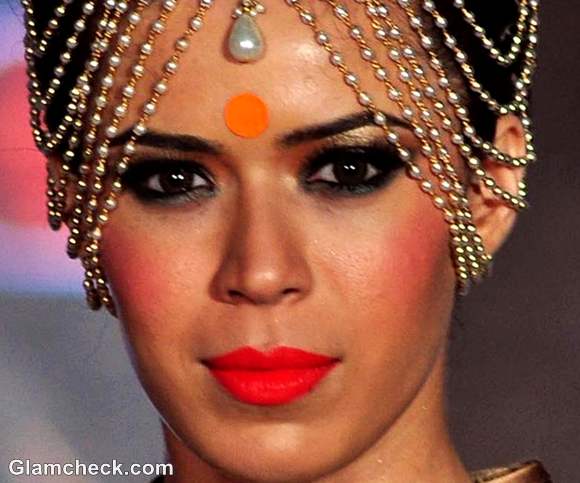 Indian bridal makeup trend orange tangerine 2012
Choose the shade that complements your complexion. Go for a lighter version if you are dusky and a brighter hue of orange if you are pale
The bold color will need a clean and fresh face without too much shine. But, brides need to look their best so, choose a shade that goes with the whole look
Apply the color on your lips and make full use of this attractive hue
A light peach or pink shade of blush will give freshness to your face
Look at the picture above for the boldness of the face
The dark eyes, shimmery eye-shadow and a hint of green on the lower lid is dramatic
Apply a little gold shadow on the inner corner of the eyes to open them up
The head ornament covers the bun and looks so bridal. We love!
The Orange Bindi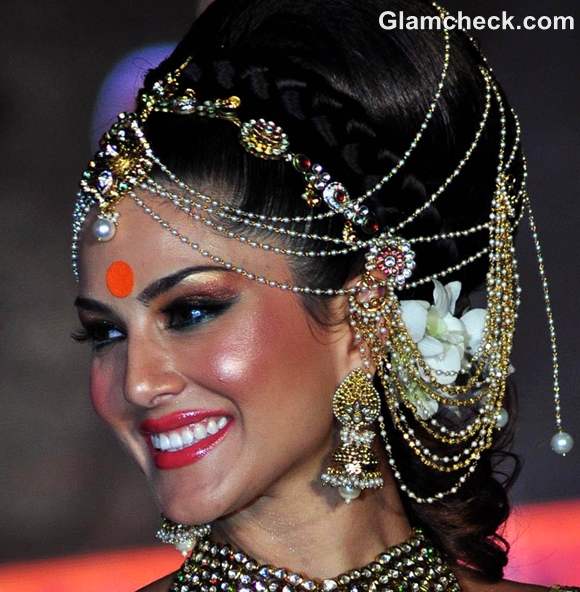 Indian bridal makeup trend 2012 orange tangerine makeup
Sunny Leone walked for designer Rohit Verma and sported the orange bindi. The large saffron dot on the forehead caught the attention of the audience.
Get the Look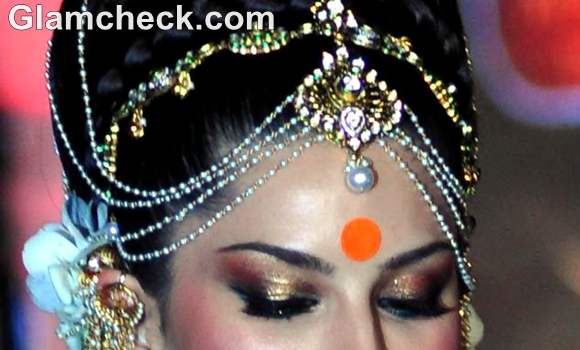 Indian bridal makeup trend 2012 orange bindi Indian bride

The bindi is an essential accessory for a woman; she hides all her flaws by focusing the onlooker's eyes towards her forehead
This bridal season designers will be opting for an orange shaded bindi to adorn their clients. You can be one of them by using our helpful tips. Wear a small or large orange bindi to go with your outfit and make-up
As gold is a must-have in the weddings, you can sport the color with elan
Variation of Style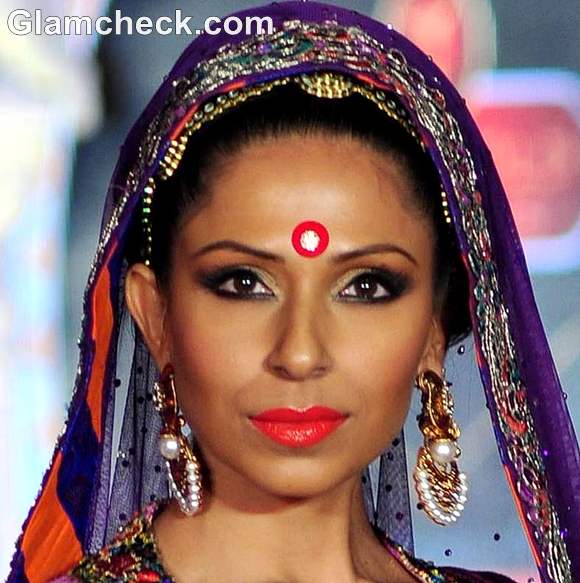 Indian bridal makeup orange 2012 trend tangerine
The colors need not be so orang-ey if you do not want to opt for it. Wear a fuchsia/fuschia lip color instead of coral and a light pink blush for your big day. The purple lehenga will perfectly complement your look.
Another way of sporting the bindi is wearing a stone on the dot itself
Place an orange bindi on the forehead and then, wear a stone on top of it
You can also place several tiny stone bindis inside the dot and make it artsy
The Total Orange Makeup Look: Glamcheck Style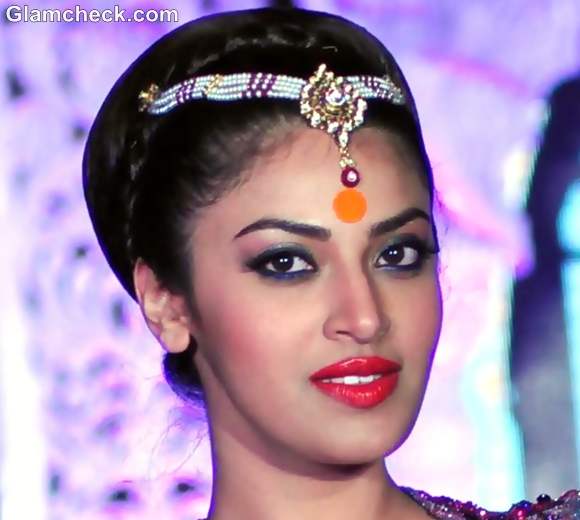 Indian bridal makeup trend 2012 orange makeup
Here, we present to you a complete look that will take you through the wedding in style. You are the bride and you need to look classy. Read on for the ultimate style guide.
Buy a lehenga-sari in darker hues of  wine with sufficient gold embroidery on it
Adorn yourself with traditional gold ornaments
Your makeup should consist of a concealer and foundation that goes with your skin tone
Cleanse, tone and moisturize your skin before applying make-up
Now, apply the concealer to hide the blemishes and dark circles
Brush the foundation smoothly on your face
Blend the peach blush well on your cheeks. Apply it lightly only on the cheekbones
After the blush, go for metallic eye-shadows. Colors like gold, wine, peach will go well with your outfit
Go for smoky-eyes if you want a bold look for the night
Place a large orange bindi on your forehead and adorn it with tiny stone bindis
A matte tangerine pout will elevate your look by several notches
Complete your look with French-manicured nails and a shy smile. Brides generally do that, you know!
Colors Other than Orange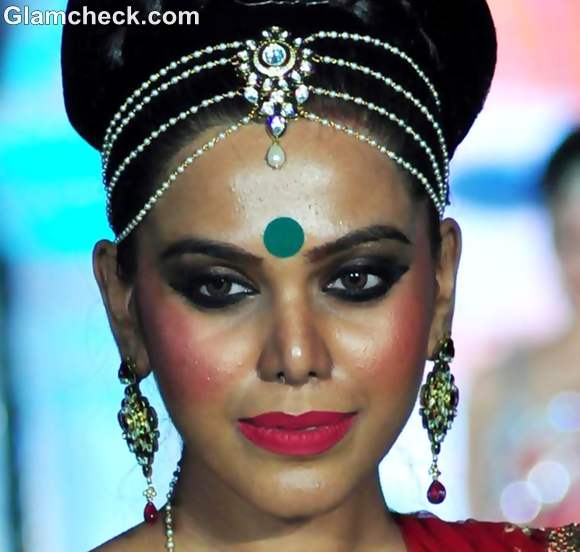 Indian bridal makeup trend 2012 pink green
Complementary and tone-on-tone are the flavor of the season. The colors on the other side of the color wheel can be worn for a contrast. The tints, tones and shades of orange can also be mixed and matched for a fuller appeal. Experiment with fuschia and you can go big with the color this season. A big green bindi is good with your pink pout. Glow with the bright face and smoky eyes. A nice bejewelled head will add drama to your lehenga. Go for a neat bun or curly chignon for the night.
Get the Look
Green, blue and purple are the colors that will add sufficient contrast to your look
Go for these shades for your outfit
Pair a lehenga-sari with gold embroidery and lots of gold jewellery to spruce up your look
You need to look your best during your D-day so, keep your look as fresh as possible
Tip: If you have an oily skin then, rub your face with ice before applying a concealer. If you have a combination skin then, rub ice on the oily surface only. For dry skin, moisturize your face and keep it for 5 minutes before application of makeup.
Indian Photo Agency