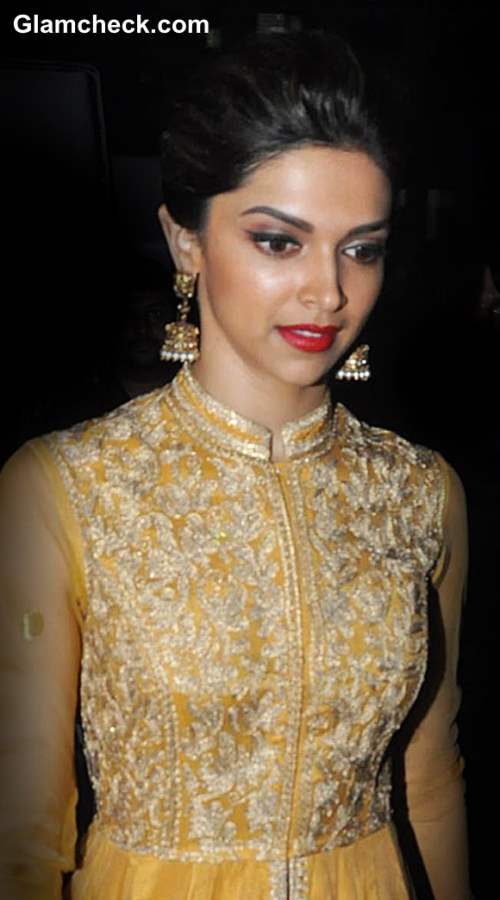 Bollywood actress Deepika Padukone recently visited the sets of television serial Madhubala – Ek Ishq Ek Junoon to promote her film Chennai Express.
Deepika Padukone 2013 Traditional Festive Season Look – Makeup
The ravishing star looked breathtaking in a yellow and golden ensemble. However, the showstopper for the day was definitely the beautifully applied makeup on Deepika's face. The look is perfect for sporting during on traditional events and the festive season. We bring you steps to do it yourself.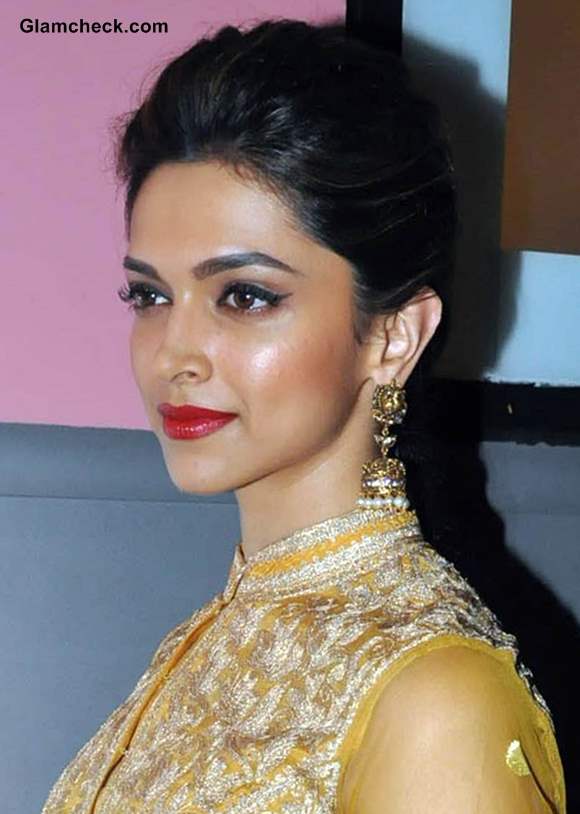 Deepika Padukone Traditional Festive Season Look  – Makeup
Makeup DIY
Makeup Items Needed:
Primer, foundation, concealer, compact/face powder, dark brown eyebrow pencil, creamish gold eyeshadow, reddish brown eyeshadow, light brown eyeshadow, black eyeliner, mascara, highlighter, reddish pink blush, dark red lip liner, crimson lip shade.
Base:
Start with the base by evenly applying a foundation, in a shade closest to your skin color, all over your face. Those of you who want to hide blemishes can apply a primer before the foundation. For hiding dark circles or pimples – use a concealer in a shade darker than your skin. If you have an oily or a sweaty skin tone, finish the base by using compact/face powder.
Eyes:
Fill in your eyebrows well with a dark brown eyebrow pencil. You can make the eyebrows look thicker, like Deepika does, by drawing a parallel line a centimetre above your natural eyebrow line. Fill the area in between deftly. Apply the creamish gold eyeshadow along the upper eye lash. Above this, use the reddish brown eyeshadow all over the crease of your upper eye lid. Use the same eyeshadow to line your lower eye lid – along the lash line. Apply highlighter on your brow bone. With the help of a black eyeliner – draw a precise line along the upper lash line (ensure it does not hide the creamish gold eyeshadow – which should show above this). Extend the liner at the corner of your eyes in an upward stroke to achieve the winged look. Finish the eye makeup with three coats of mascara.
Cheek:
Contour your cheeks by using the reddish pink blush from the middle of the cheek – extending upward to the top part of the ear. Use highlighter on the apple of your cheeks. 
Lips:
Fill the lips with the crimson shade of red lipstick and then line your lips with the dark red lip liner.
Finishing Touches:
Contour your nose by applying the light brown eye shadow across the length of the two sides of your nose. Make the nose look sharp and pinched by applying highlighter along the middle part – extending from the bridge to the tip of the nose. Use a bit of the highlighter subtly on top of your eyebrow too (till the point where the arch starts)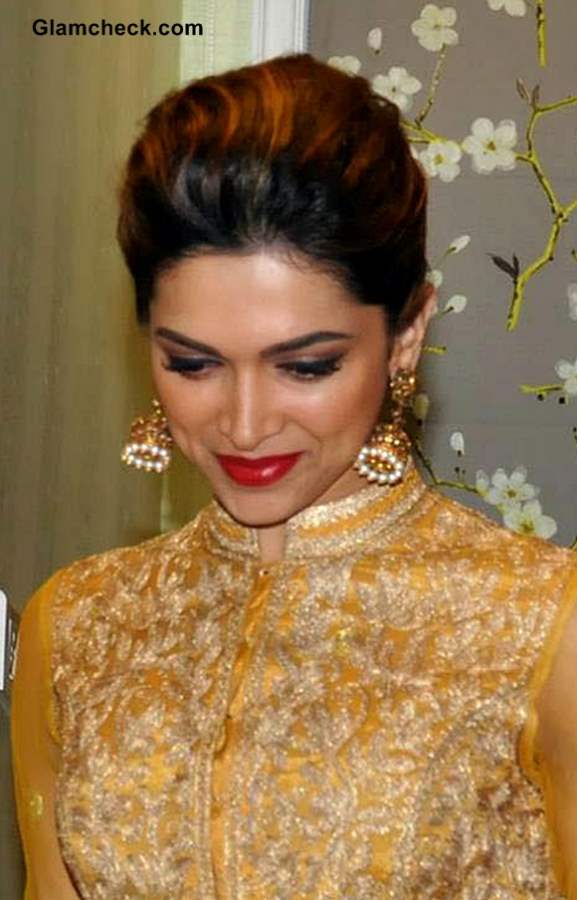 Deepika Padukone Traditional Festive Season Look 2013 makeup
Deepika Padukone looks like a goddess with this makeup, and we are sure you will too once you follow our DIY steps. 
Image: Indian Photo Agency