Fashion either trickles down to us from the catwalks or trickles up from the streets to a designer as inspiration. But whichever direction it goes, it all affects our day to day lives and that is where the essence of fashion lies.
No wonder in recent years street style blogs and photographers have proved their mettle and it is evident that the fashion you find on the streets is often astonishing. So here's to dressing up in style – real time not for a show but for the love of looking chic.
That is the very reason I share here through Glamcheck what I wore the other day – wide legged pants with peplum.
The Trend + Inspiration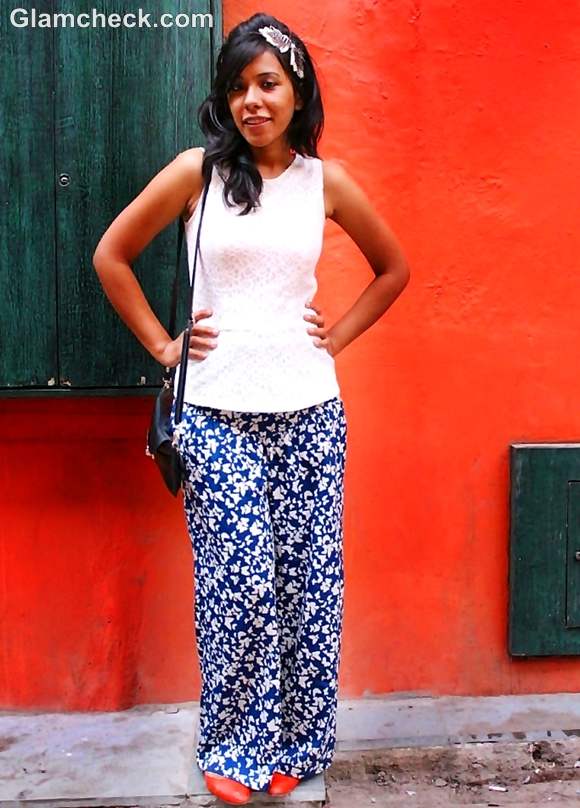 Look of the Day: Wearing wide legged pants with peplum top
I recently thrifted a gorgeous pair of wide legged crepe pants printed with butterflies. The realization came later that Deepika Padukone wore a printed trouser in a similar silhouette too in her recent flick – Cocktail. She wore it casually with a tank while I chose to dress it up.
The look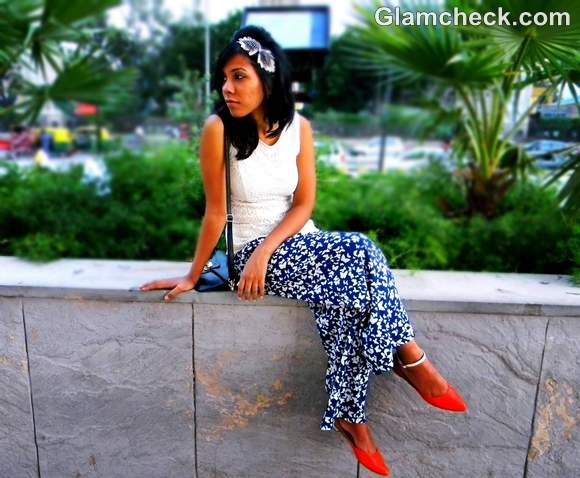 I decided to bring together a little bit of all the major top trends this season through this look. There is conversational print, and some lace, feathers, the color tangerine and the peplum silhouette. I decided to match the color of my blouse with the pants but contrast the shoes with a pop color. The mechanics can be successfully reversed by using a contrast blouse or tank instead and going for nude pair of shoes.
Since the pants fit languid and loose, a more tailored top works for this look. If you instead choose a semi-fitted tank top then be sure to tuck it in to define a waistline. A scarf around the neck when worn with a tank makes the look dressier instantly.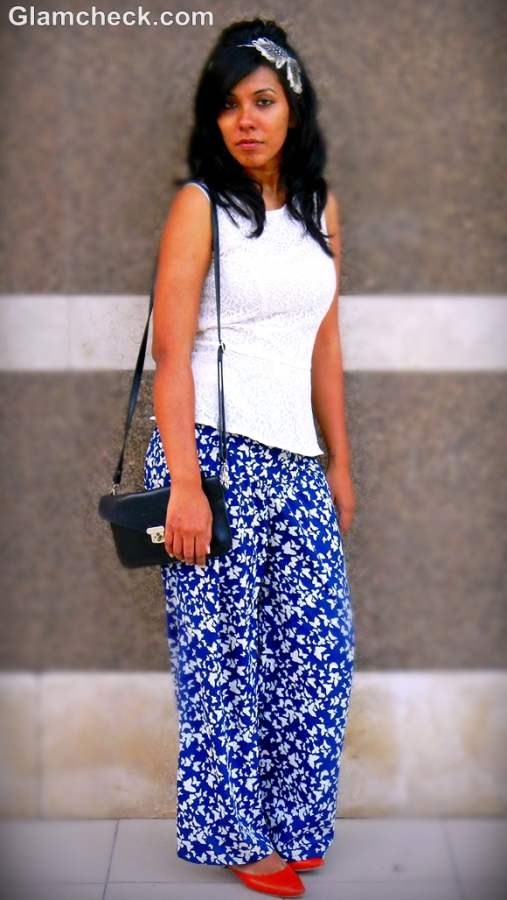 I am wearing
Butterfly print wide legged pants – Thrifted ( Sarojini Nagar Delhi )
 Lace blouse in peplum silhouette – Promod
Feather hairband – Accessorize
Tie-up footwear – Forever New
Bag – Splash 

Accessories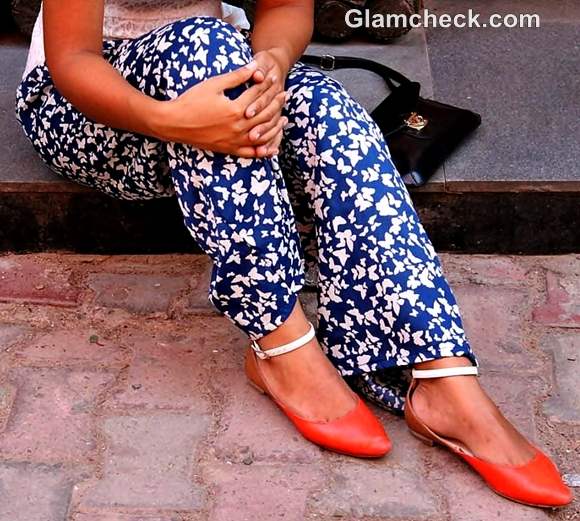 Once you put together the clothing separates, thoughtful accessories will make or break the look. Here I chose to focus to statement pieces. First one is the pair of shoes as talked about earlier and the second being the feather hairband. Two focus pieces can only work in a look if they are far apart visually. That is the reason I chose no earrings and no neckpieces whatsoever as they would have conflicted with the band. You can instead also go for a statement necklace that sits closely on the neck.
The bag I chose is a neutral black as it practically goes with everything and was there more for it's function than the aesthetic.
Hair and Makeup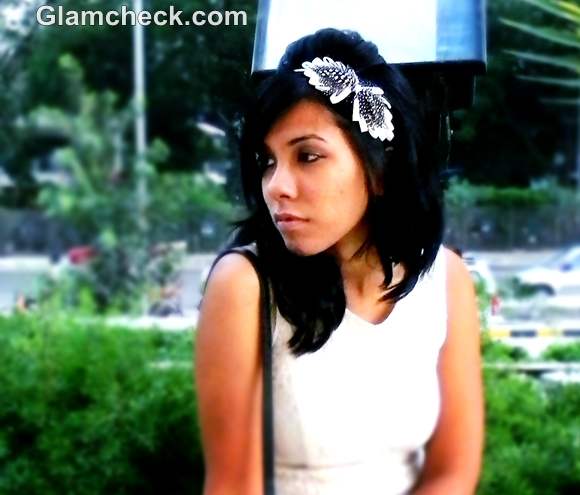 As I was off to a luncheon that day – makeup was bare minimum. I defined my eyes with an eye liner while also using a moisturizing gloss on the lips. For an evening socializing affair you could instead choose a tangerine lip color and go easy on the eyes.
I kept the hair naturally wavy, only pinning them up in a semi-bouffant behind the hairband. It is a wonderful technique to add volume and saving your hair from looking flat. If you have wisp hair instead, back comb the section of your hair that you want to appear raised and then pin them in place.
In case you are sporting a statement necklace or earrings; go for a high messy bun or a polished bouffant.
P.S If you think you are stylish enough to inspire others feel free to contact us at : sarita @ glamcheck.com